TI Ukraine team is engaged in development and support of Qlik-software-based public procurement intelligence modules.
Each citizen of Ukraine can see how the government spends his or her taxes.
bi.prozorro.org is a tool that enables the citizens to control the public procurement system and influence its development.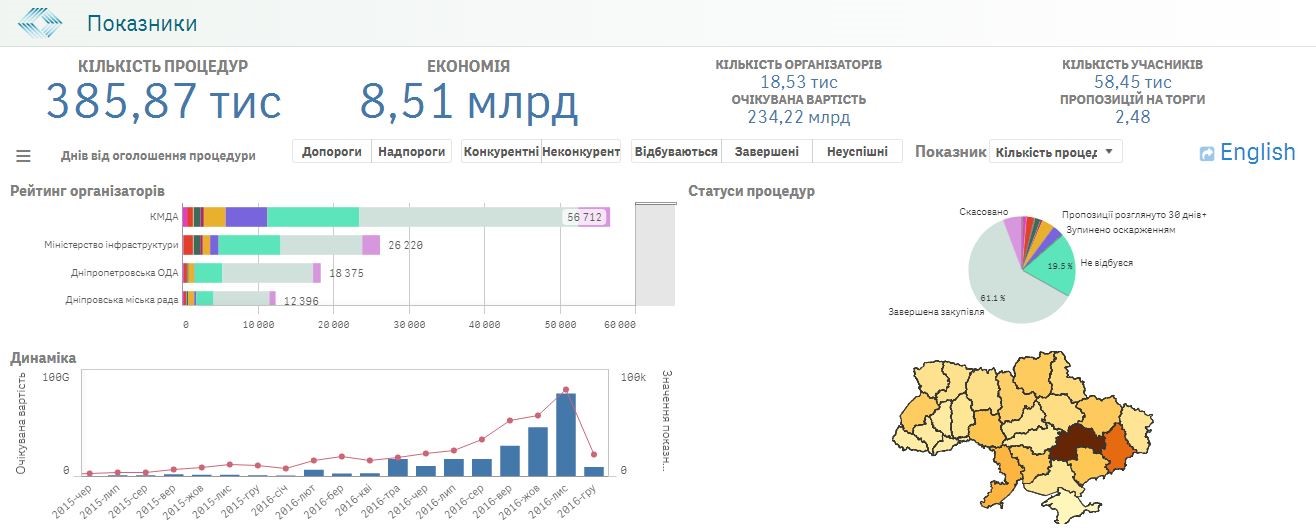 From the very start of the reform a question was raised about a user-friendly display of information from a public procurement database. In addition, it was clear that not all government procurement entities (buyers) will immediately realize that the new rules of the game are here, and that all irregularities would be made visible for the public. The ProZorro team saw it coming, and it was decided to establish a red-flag risk indicator mechanism: a system of public control and appeal procedure.
In early 2015, we met with the RBC company, the Ukrainian office of one of the largest providers of business-analytics systems Qlik (www.qlik.com). RBC launched the monitoring tools – intelligence modules of bi.prozorro.org and bipro.prozorro.org. These modules have a wide range of functions and enable deep analysis and monitoring of public procurement. In particular, the module displays information about each announced tender; each buyer (their codes in Unified State Register of Enterprises and Organizations of Ukraine and contact information); complaints; contract amounts; any document that is uploaded by a user into the system, and much more. By March 2017 TI Ukraine in cooperation with Kyiv School of Economics is planning launch of the first open source OCDS (Open Contracting Data Standard)-based business intelligence.
Visit the website to take a look at the business intelligence module or watch this presentation video.