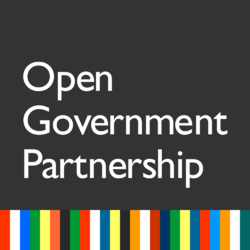 The Open Government Partnership is a multilateral international initiative that was formally launched on September 20, 2011 by the US and Brazilian Presidents during a United Nations General Assembly session. Its priorities include: a) securing concrete commitments from governments to facilitate transparency in governance; b) involving citizens in governance processes; c) fighting corruption; d) harnessing new technologies to strengthen governance.
All 70 OGP initiative countries adopted the Open Government Declaration, developed National plans, and agreed to an independent evaluation of its activity results. The countries annually report on their OGP initiative progress.
Ukraine signed on to the OGP implementation action plan for, and 2012-2013, 2014-2015, and 2016-2018.  In 2016, Ukraine joined the collective commitments of the Paris Declaration.
According to the "Open Government Index" and World Justice Project report for 2015, Ukraine ranked 43rd out of 102 countries. In group Ukraine ranked 4th in the "Eastern Europe and Central Asia category" behind Georgia, Bosnia and Herzegovina, and Macedonia.
They evaluated both members and non-members of the international "Open Government Partnership" initiative on four criteria: publicity of laws and government data, right to information, citizen participation, and efficiency of government response. OGP countries typically received higher ratings.
Transparency International Ukraine has partnered with the Ukrainian Government to facilitate the Initiative's implementation, and consistently monitors the its progress. In addition, TI Ukraine presented the chronology of the Initiative's implementation in Ukraine.
You may watch the "Five Years of OGP" video.