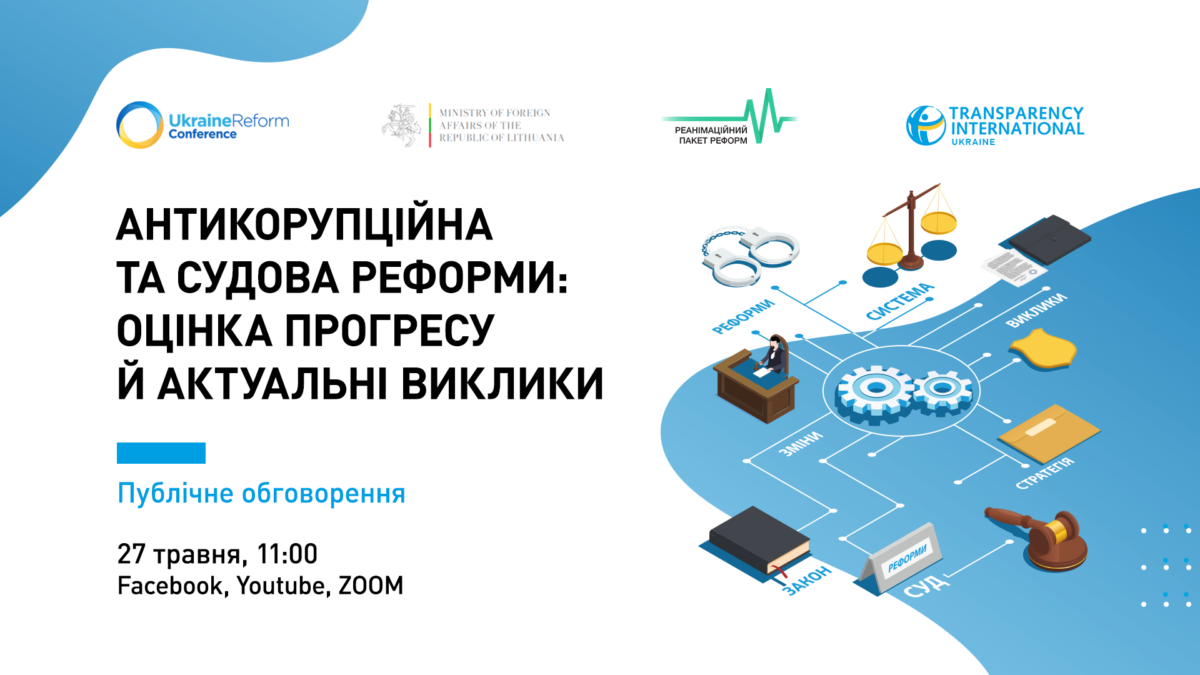 Date and time of the event:
27/05/2021
11 a.m.
After the Revolution of Dignity, Ukraine took an unquestioning course towards reforms. For 7 years now, we have been constantly talking about the fight against corruption and the need to introduce real changes in the work of the judicial system. However, to what extent do these conversations correspond to the real progress of our country concerning these issues?
On July 7 and 8, Vilnius will host the annual International Conference on Ukrainian Reforms — Ukraine Reform Conference.
That is why on May 27, from 11 a.m. to 2:30 p.m., Transparency International Ukraine and the Reanimation Package of Reforms Coalition invite authorities and the public to discuss and evaluate the implementation of anti-corruption and judicial reforms.
As part of this public discussion, everyone will be able to join panel discussions and ask the heads of anti-corruption bodies questions, as well as the representatives of state authorities and the public sector.
The program of the event can be found here.
Questions for discussing the anti–corruption reform (11:10 a.m. -12:40 p.m.):
What will the adoption of the Anti-Corruption Strategy and the draft law on whistleblowers give Ukraine?
How to ensure independence of the NABU and the SAPO?
How should the powers of the SBU and the Financial Security Bureau be distributed?
Questions for discussing judicial reform (1 p.m. – 2:30 p.m.):
What is the strategy of judicial reform in Ukraine?
Why are independent HCJ and HQCJ important for successful judicial reform?
How to ensure judges' integrity?
To participate in the event, please register here.
Event language: Ukrainian, English.
The broadcast will take place:
Media contacts: Iryna Mykulych — mykulych@ti-ukraine.org, 066 994 4247.
The public discussion is organized by the RPR Coalition in partnership with Transparency International Ukraine and the Embassy of the Republic of Lithuania in Ukraine with the support of the Ministry of Foreign Affairs of the Republic of Lithuania in preparation for the Ukraine Reform Conference 2021