Who we are
Mission
To reduce the level of corruption in Ukraine by encouraging transparency, accountability and integrity of the government and the civil society.
Strategy 2016-2018
– open and good governance
– effective anti-corruption campaigners
– zero tolerance to corruption
Strategic priorities for Transparency International Ukraine for 2016-2018
Vision, priorities and initiatives for Transparency International Ukraine 2018
Our Story
Transparency International is a global anti-corruption NGO with over 100 chapters worldwide, founded in 1993 by Peter Eigen, former Director of the World Bank, and currently chaired by Delia Ferreira. This global anti-corruption network is known, among other things, through its signature analytical products: the Corruption Perceptions Index and the Global Corruption Barometer study. In the 2016 Global Go To Think Index Tank report, Transparency International was rated 27th out of 175 think tanks globally.
Transparency International Ukraine (TIU) grew from a Ukrainian NGO Creative Union "TORO" that started operations in 1999 in Kropyvnytskyi (Kirovohrad). Since 1 June, 2012 the organization officially evolved into Transparency International Ukraine with 10 employees on board.
The small but dynamic team managed to become one of the leading Ukrainian anti-corruption organizations working on transparency in public finance, open governance, development of effective anti-corruption policies, and nurturing a network of skilled anti-corruption activists. Among other things, TIU created a wide regional coalition "Declarations without Decorations" to monitor high-ranking officials' declarations and their lifestyles. TIU was also in the lead of the Open Government Partnership Initiative for Ukraine, and has been overseeing its implementation for the last 6 years.
In October of 2014, Transparency International Ukraine received the official accreditation as a chapter of Transparency International, granted at the annual meeting of members of the global anti-corruption movement.
Throughout the Revolution of Dignity, TIU was a source of unbiased information on the situation in Ukraine for journalists and international partners. At that time, TIU joined a nucleus of organizations that would later on form the Reanimation Package of Reforms Platform, and together with its partners developed the foundation package for anti-corruption laws.
After the Revolution of Dignity, as a team, we focused on monitoring of anti-corruption reform implementation and inauguration of new anti-corruption bodies. In addition, TIU assisted in development, administration and promotion of the ProZorro e-procurement system, has implemented the system of sales of public assets and property ProZorro.Sale based on the same principle and is helping with implementation of the healthcare reform through eHealth. We were one of Ukraine's first organizations which charted the course for challenging negative perceptions of whistleblowers and blueprinted systems for their protection. In addition to this, TI Ukraine has been conducting large-scale national awareness-raising information campaigns for three years now, aimed at changing citizens' perceptions of corruption ("I Don't Bribe," "Wake Up! Corruption Kills!", "They Would Not Keep Silent" and "Corruption Must Be Spotted". TI Ukraine also builds transparency on the local level with the Transparent Cities project.
On 1 July, 2016, Yaroslav Yurchyshyn became the new executive director of the organization, and its head office moved to Kyiv. We also revised our mission which now features our ambition to reduce corruption levels in Ukraine by promoting transparency, accountability and integrity of public authorities and civil society.
Today our team includes about 40 specialists. We are a strong chapter of the global movement that embraces the TI global vision of a world, where public authorities, business circles, civil society and everyday life of citizens are free of corruption.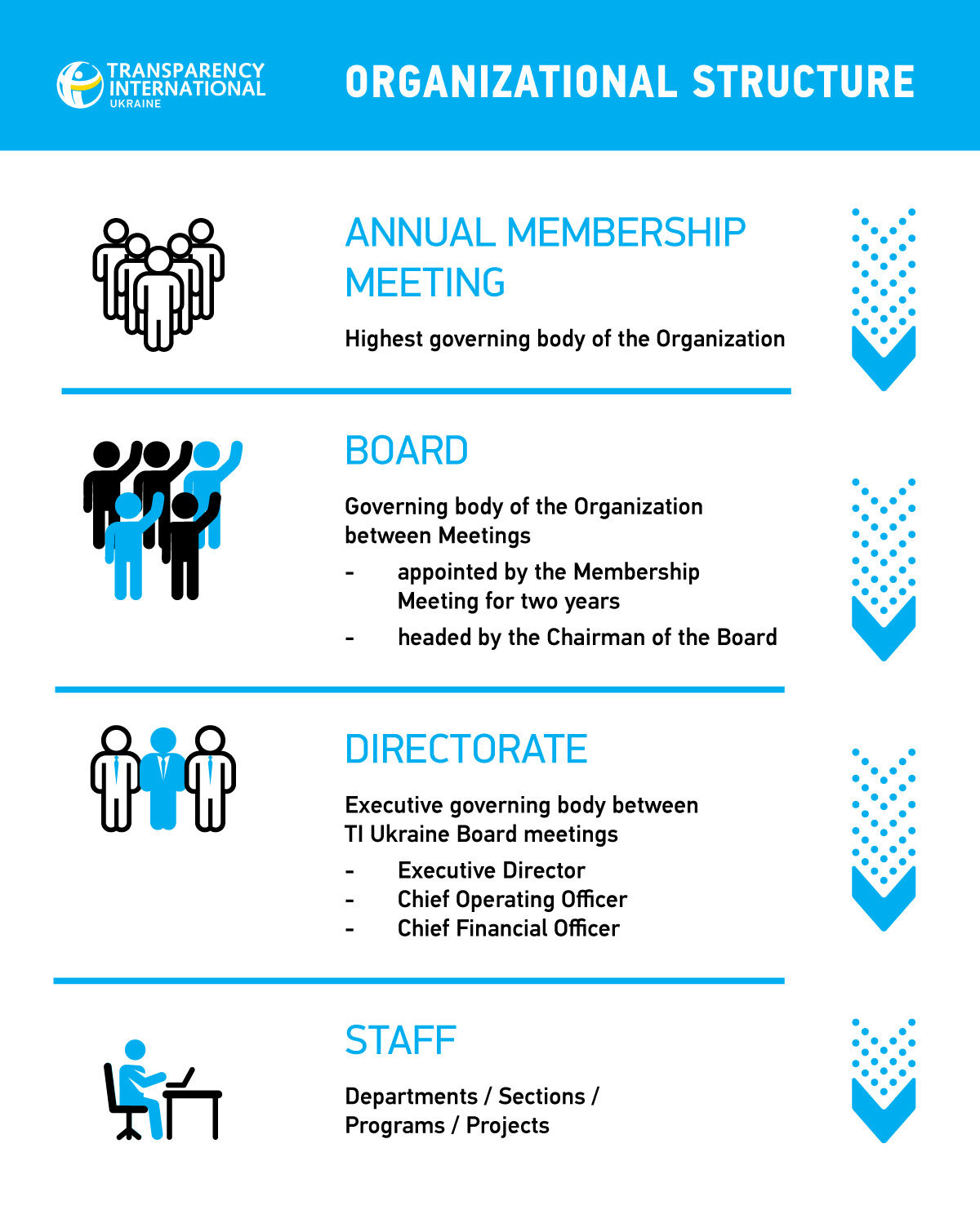 Membership
To become an individual member of TI Ukraine:
What is the deadline for submission of documents to join the members of TI Ukraine?
Submissions are open constantly.
Where should you submit an application and recommendations?
The application and recommendations from two current members of TI Ukraine are to be sent by e-mail in a PDF format to: borovyk@ti-ukraine.org or by post: Transparency International Ukraine, 04053, Kyiv, 37-41 Sichovykh Striltsiv st., 5th floor
When will the decision on your membership be made?
Your application will be considered by the TI Ukraine Board at the next meeting. You will be notified about this decision additionally.
Board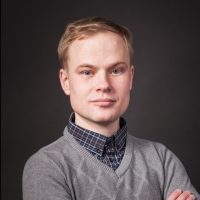 YAROSLAV YURCHYSHYN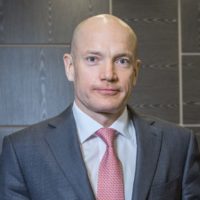 TOMAS FIALA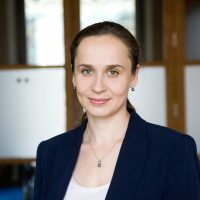 YULIA KLYMENKO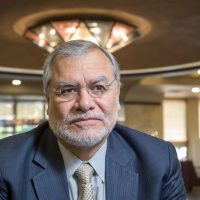 JOSÉ UGAZ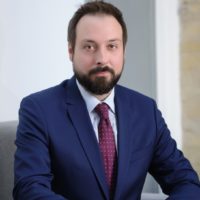 ANDRII VYSHNEVSKYI
Executive Director of Tomorrow's Lawyer CSO
Annual Reports
What do we do every day? What results do we have? What levers of influence do we have? Find out in our reports.
We are here