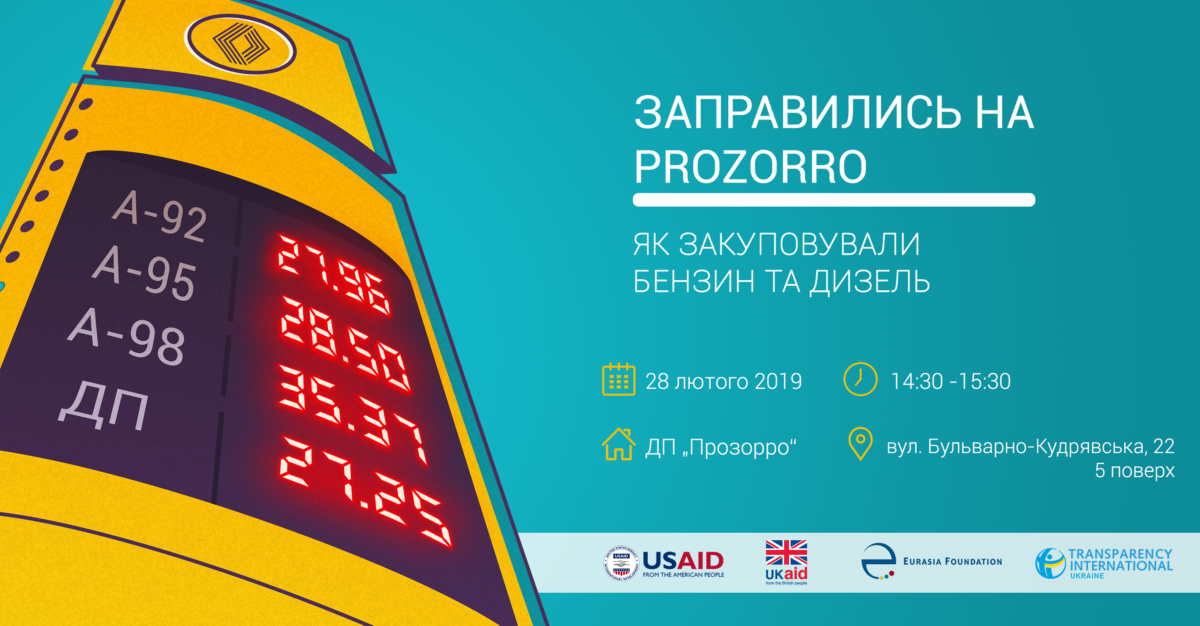 Date and time of the event:
28/02/2019
2:30 p.m.
Without fuel, you have no ambulance, no police and no trains. In 2018, the government bought UAH 13 billion worth of fuel for budget funds – 7 tonnes of gas and diesel oil fuel. Most state-owned enterprises and institutions need them. 
The anti-corruption organization Transparency International Ukraine will present a new sector-specific report on 28 February at 2:30 p.m. in Prozorro enterprise (22 Bulvarno-Kudriavska Street, 5th floor) – Getting the Fuel Via Prozorro: Procurement of Gas and Diesel Fuel. DOZORRO analysts have researched procurement of gas and diesel oil fuel through the electronic system ProZorro in 2018 and identified key trends and problems of this sector in Ukraine, including the following:
Who are the main suppliers?
What share of the national market is controlled by OKKO and WOG?
What fuel do the army, the police and the railway use?
How do prices for fuel fluctuate throughout the year?
How much procurement is done non-competitively?
How often did the price change after the agreement was signed?
Who still purchases non-eco-friendly and prohibited brands of fuel?
Event speakers:
Petro Matiaszek, Chief of Party, TAPAS
Artem Davydenko, head of analytical department at DOZORRO, co-author of the report
The meeting will be facilitated by Ivan Lakhtionov, DOZORRO coordinator and director of the Innovation Projects program at Transparency International Ukraine.
Media point of contact: Artem Babak (telephone number +38-099-916-49-18 or email [email protected])
Please note that to attend the event, you will be required to present an ID or to register ahead of the event at https://goo.gl/forms/MOY726NJWSw7AtFv2