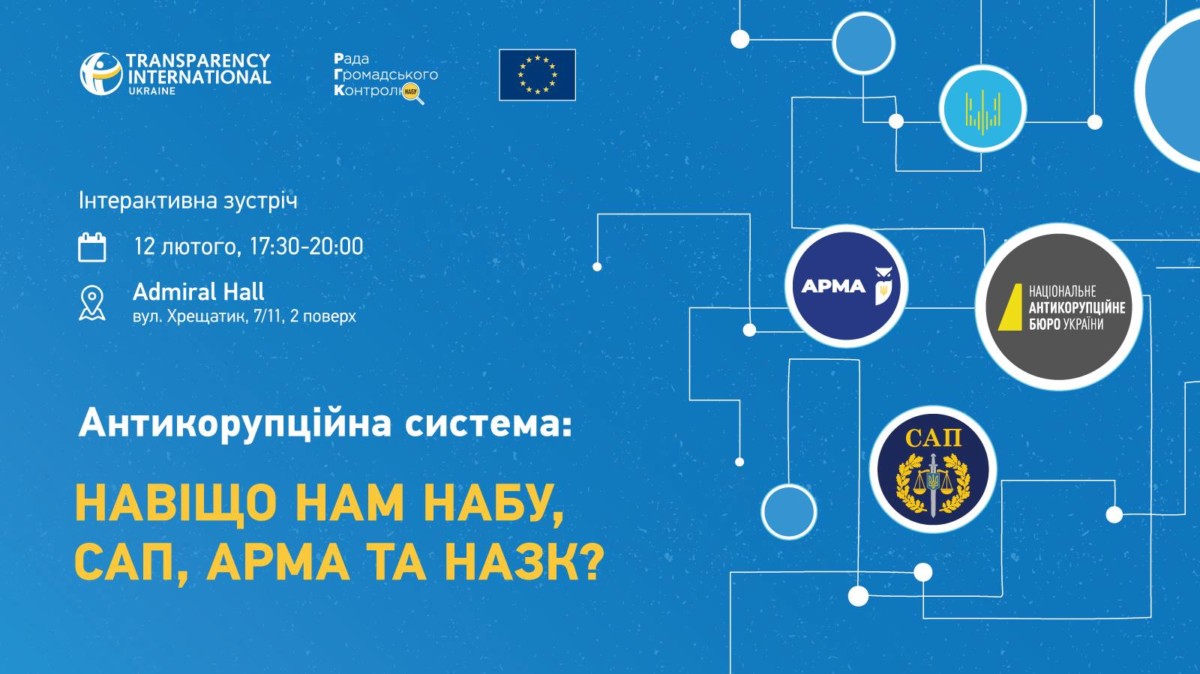 Date and time of the event:
12/02/2019
6 p.m.
On February 12, the interactive meeting "The Anti-Сorruption System: Why We Need the NABU, the SAPO, the ARMA and the NACP" will be held in Kyiv with the participation of representatives of anti-corruption bodies and the NGO sector.
During the event, we will discuss the role and interaction of anti-corruption institutions, peculiarities of solving corruption crimes and management of seized assets, the technicalities of automatic verification of declarations and the launch of the High Anti-Corruption Court. Participants will also be able to find out about the details of doing an internship or working with anti-corruption bodies.
The event will consist of two parts: the statements by representatives of the institutions and informal communication with the officials of the NABU, the SAPO, the ARMA, the NACP and civil society organizations.
5:30 PM – 8:00 PM
Kyiv, 7/11 Khreshchatyk Street, 2nd floor, Admiral Hall.
Registration: http://bit.ly/2CXOmPO.
Contacts: Olesia Koval, koval@ti-ukraine.org, +38 093 808 82 78.
The event has been organized with the financial support of the European Union. Its content is the sole responsibility of Transparency International Ukraine and does not necessarily reflect the views of the European Union.
Transparency International Ukraine works with the National Agency within the project Enhancing the Role of Civil Society in Public Finance Oversight, financed by the European Union. The project aims at empowering civil society and journalists with effective anti-corruption, asset recovery and anti-money laundering tools to perform the public finance oversight, support the launch of Asset Recovery and Management Agency (ARMA) and to update the list of Politically Exposed Persons. Find out more at https://goo.gl/Jgr9ic