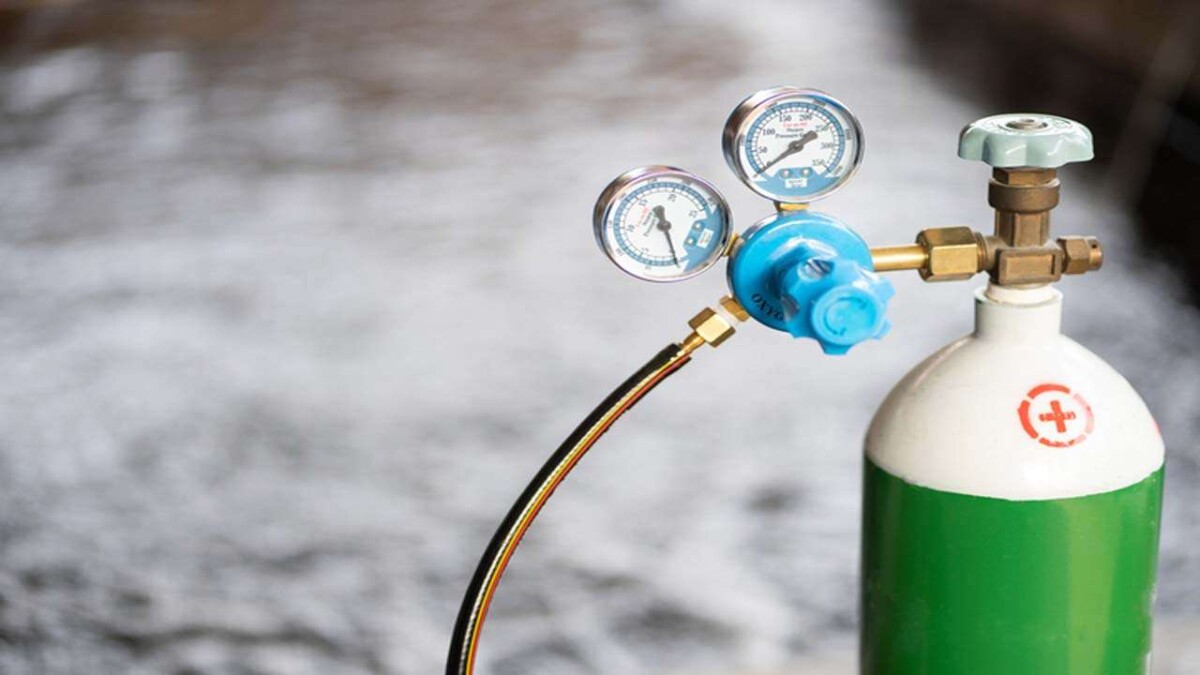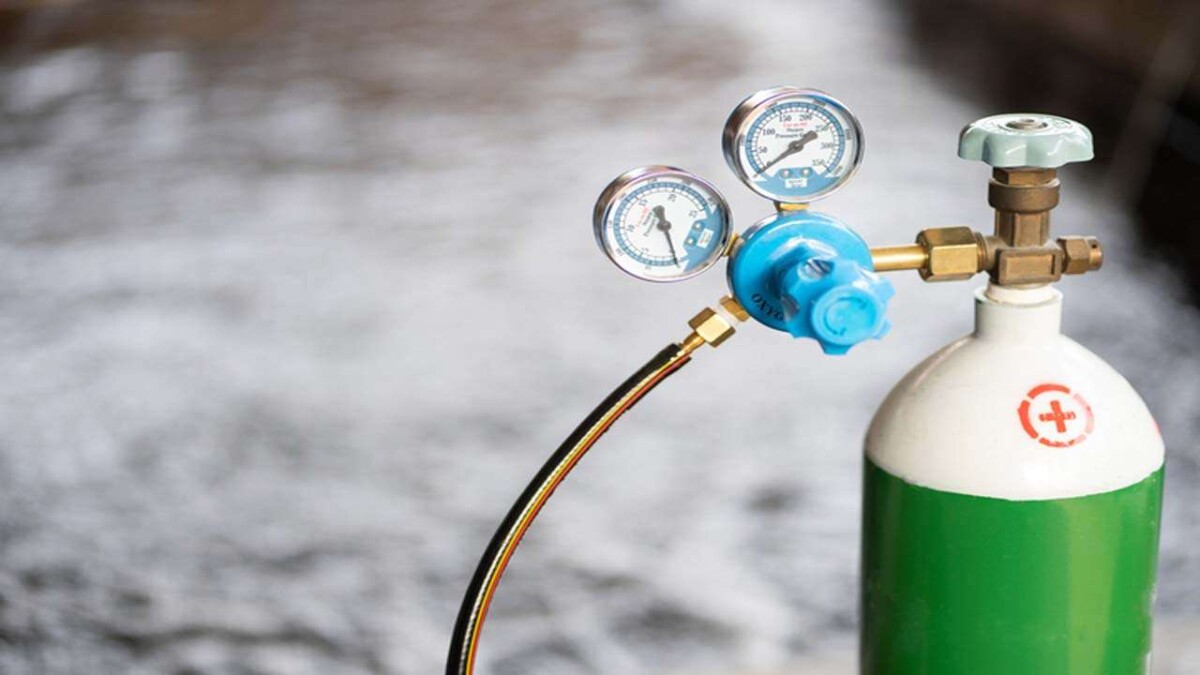 Autumn has come to Ukraine, and so has a new wave of coronavirus: if in early September doctors recorded 2-3,000 cases of infections daily, then at the end of October their number increased to 23-27,000 a day. At the same time our country entered the top three world leaders in deaths from coronavirus. These are, in particular, the results of the spread of the Delta strain — according to Viktor Liashko, head of the Ministry of Health, 95% of those infected were affected by it.
For such patients, oxygen consumption increased by 5-6 times compared to patients of previous waves. The national average is 68% of beds occupied, however, in some places the situation with oxygen supply has become critical. For example, the Odesa oblast faced a shortage of it, as well as the Kherson, Sumy, Chernihiv, and some other oblasts. To compensate for the lack of oxygen, Ukraine has even started buying it from Poland — up to 240 tons per week.
What is the reason for oxygen deficiency?
The specifics of the impact of coronavirus on the human body are such that it is often impossible to cure a patient without connecting them to artificial respiration devices (ventilators) or oxygen supply. Oxygen is needed both to compensate for respiratory failure during pneumonia, and simply to maintain the maximum volume of lung tissue.
As of the end of October, 35 businesses produce oxygen in Ukraine. 23 of them produce medical gas, while other companies create technical oxygen. It is usually used in industry, but in the spring of 2021, the Ministry of Health allowed to use technical oxygen to support coronavirus patients as well; of course, only the one that meets the requirements for medical treatment.
Last month, two main producers in Ukraine stopped for scheduled repairs. Because of this, the country began to produce less oxygen. Therefore, the Ministry of Health urgently negotiated its delivery from Poland. The ministry does not specify which distributor and at what price supplies medical oxygen from Poland. We have prepared the appropriate request, however, at the time of publication of the material, no response was received.
Another side of the problem is that during the time between the waves of the coronavirus pandemic in Ukraine, the main covid hospitals were not provided with their oxygen stations. Such installations produce oxygen themselves, which is then linked up with the beds. In this way, oxygen stations can make hospitals more autonomous. There are cases when money was allocated for such stations, but they couldn't be mastered for various reasons.
Free oxygen from Ukrainian businesses.
According to the data of Forbes.ua, Ukrainian businesses supply more than 400 tons of medical oxygen to hospitals every day. Medical institutions receive some of these volumes free of charge. After all, for enterprises of metallurgy, energy, and chemical industry, oxygen is a by-product that is formed during the manufacture of basic products.
To supply technical oxygen to hospitals, factories must obtain special product quality certificates. Cherkasy PrAT Azot, Rivneazot, Zaporizhstal, and others supply medical institutions with vital gas.
Oxygen procurement through Prozorro
According to estimates of the DOZORRO project, for 10 months of 2021, medical oxygen for a total of UAH 926.4 mln was purchased in Prozorro. This is three times more than in 2020.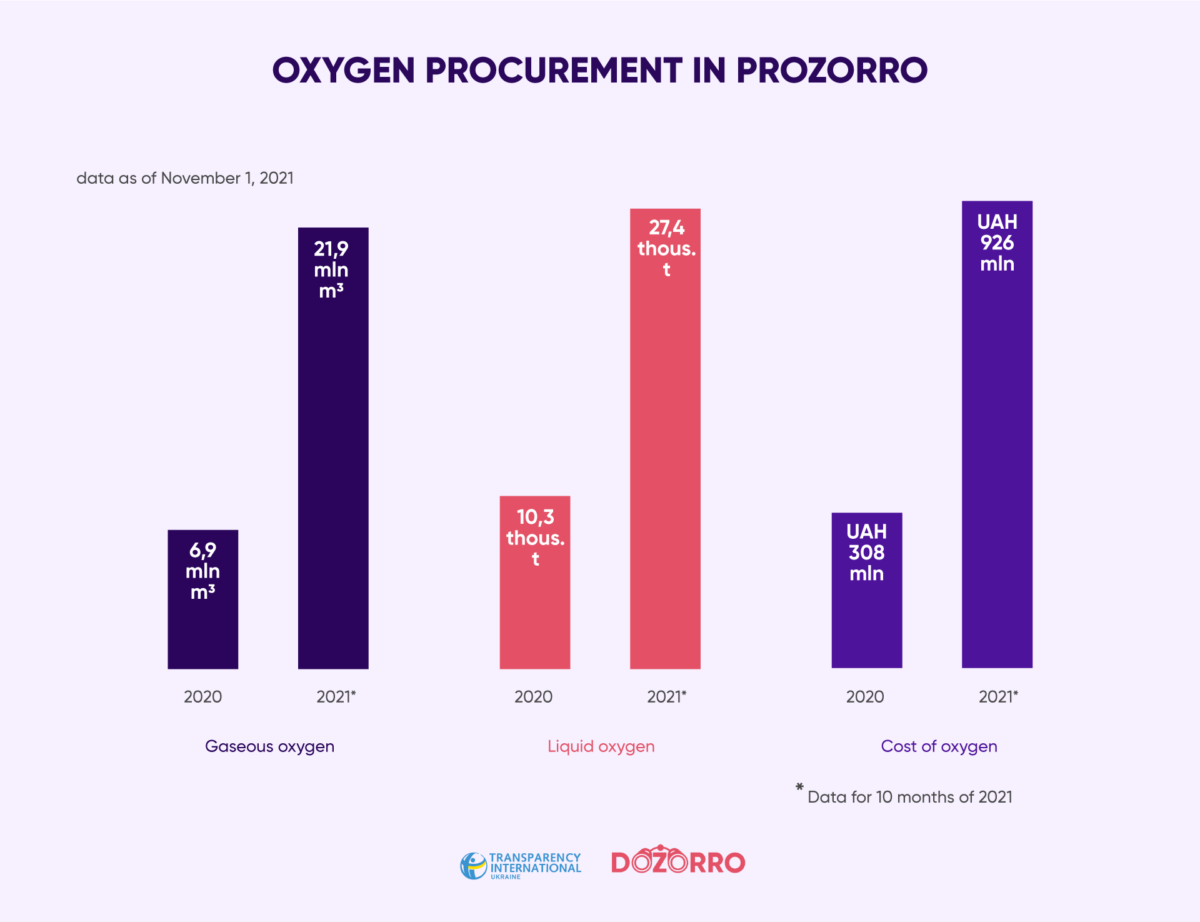 Most medical oxygen was purchased in January — for UAH 175 mln. Then there was a dip in February, and in March, oxygen costs started to rise again. This is directly related to the increase in the number of COVID-19 patients during the spring wave of the pandemic. Accordingly, from May to the beginning of autumn, the volume of procurement mainly decreased — in August, only UAH 33 mln was spent on oxygen.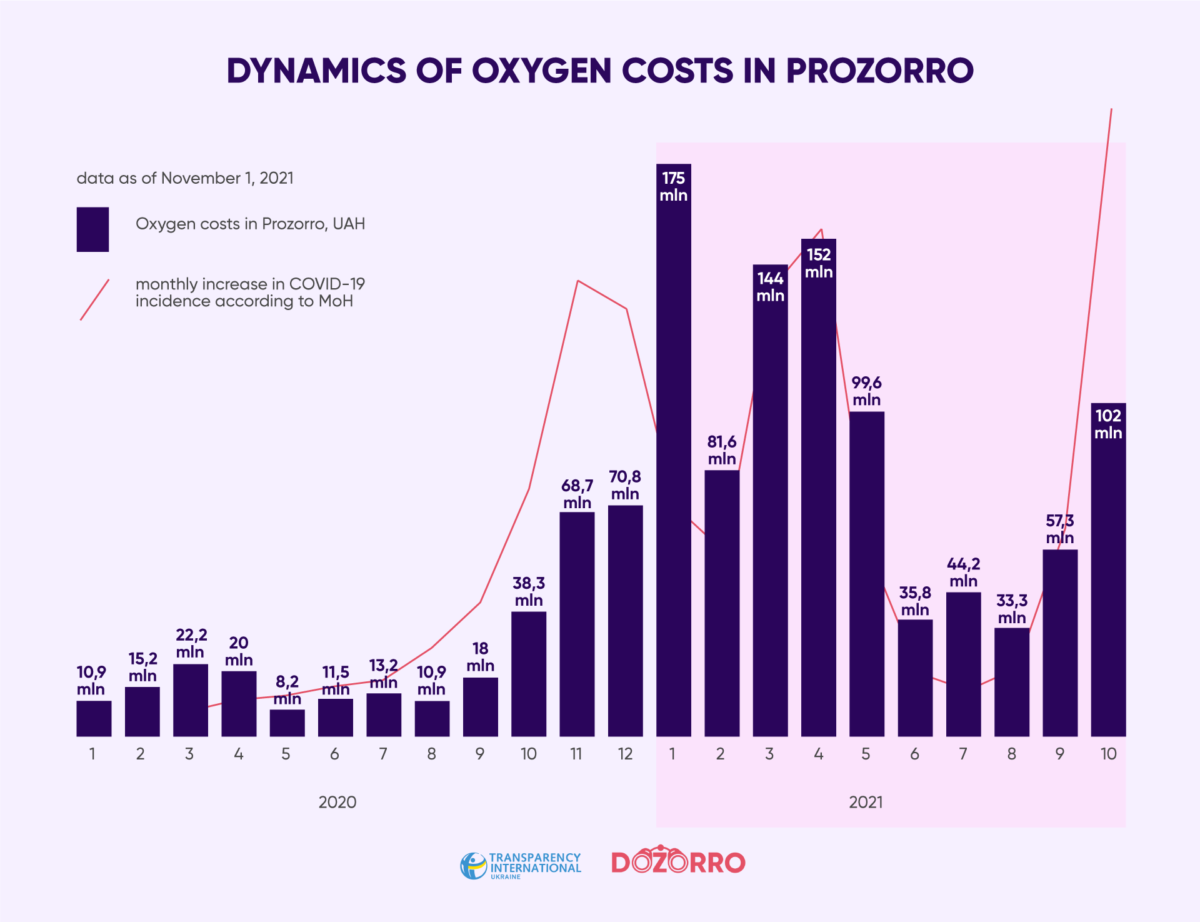 In early autumn, the number of infected people began to grow again. Therefore, every month the cost of oxygen also increased by 1.5 to 2 times. This demand was caused both by the deterioration of the epidemic situation and the fact that at the end of September the government additionally allocated UAH 395 mln to provide oxygen to hospitals that treated patients with COVID-19.
The leading oblasts in terms of the volume of the purchased medical oxygen are:
Lviv oblast — UAH 121 mln, 4.3 mln m3 of gaseous and 200 tons of liquid oxygen;
Kyiv oblast — UAH 112 mln, 1.3 mln m3 of gaseous and 9,800 tons of liquid;
Kharkiv oblast — UAH 75 mln, 3.5 million m3 of gaseous and 1.5 tons of liquid oxygen.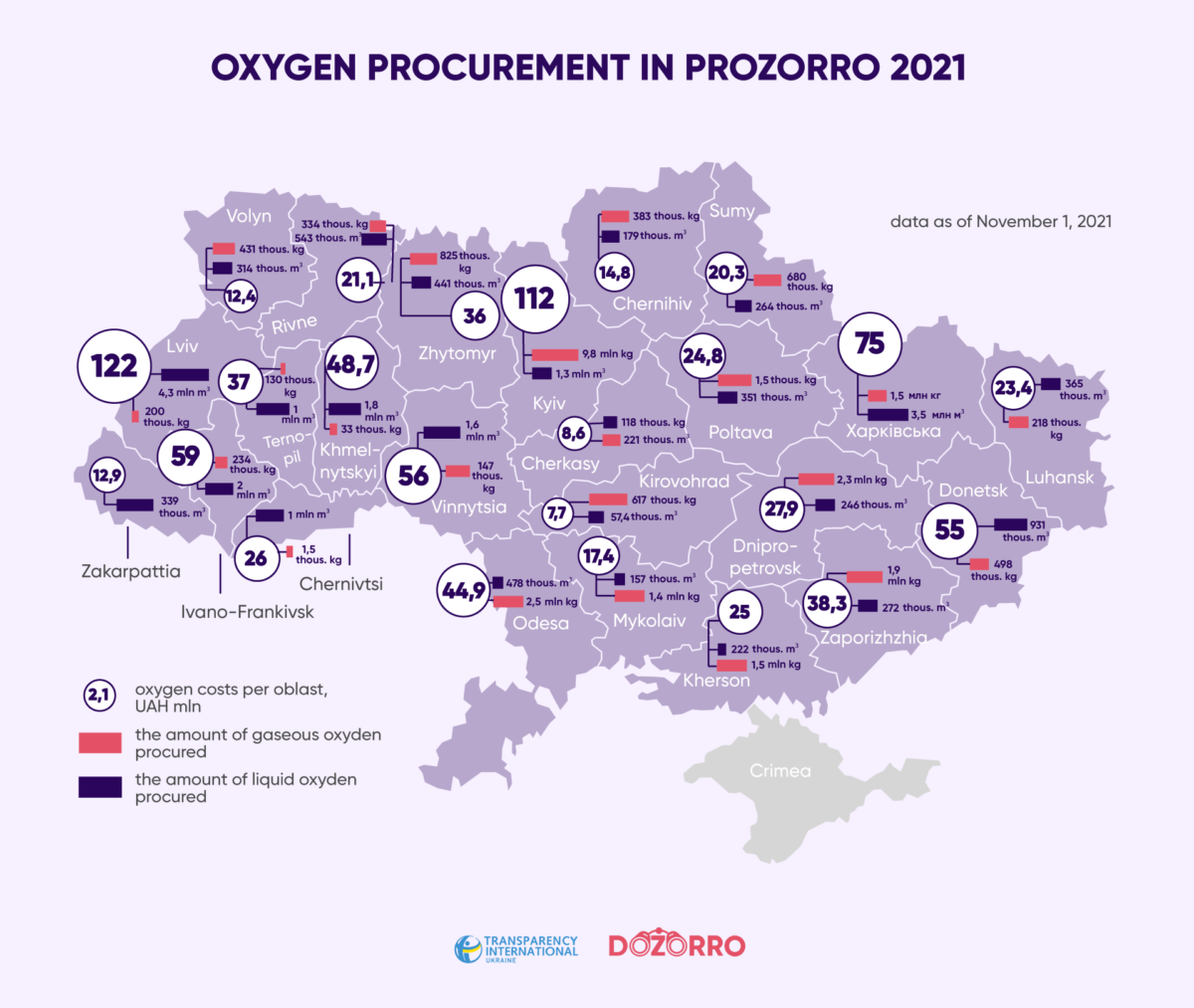 While the least amount of medical oxygen was purchased in such oblasts:
Kirovohrad — UAH 7.7 mln, 57,000 m3 of gaseous and 617 tons of liquid;
Cherkasy — UAH 8.6 mln, 117,000 m3 of gaseous and 221 tons of liquid oxygen
Volyn — UAH 12.4 mln, 313,000 m3 of gaseous and 431 tons of liquid
Although in some regions the volume of procurement of medical oxygen is several times less than that of their neighbors, this does not necessarily indicate a lack of oxygen in these oblasts. After all, as we have already mentioned, businesses can supply oxygen to hospitals for free.
Medical oxygen prices
In contrast to the prices of most products that are used to fight the coronavirus, the prices of medical oxygen in Prozorro were quite stable. However, sometimes they were very different from the average value. This can be explained by the volume of procurement and the distance of the procuring entity from the supplier. Medical oxygen is difficult to transport because it is explosive in gaseous state. Therefore, the longer the delivery distance, the more significantly the total transaction amount increases. At the same time, some state-owned enterprises supply oxygen to hospitals much cheaper. Thus, Khmelnytskyi NPP sells it to hospitals of the region at a 99% discount, that is, at the price UAH 2.8 for a 40-liter cylinder. In general, oxygen production was also established at the nitrogen-oxygen stations of the Rivne and Zaporizhia NPPs.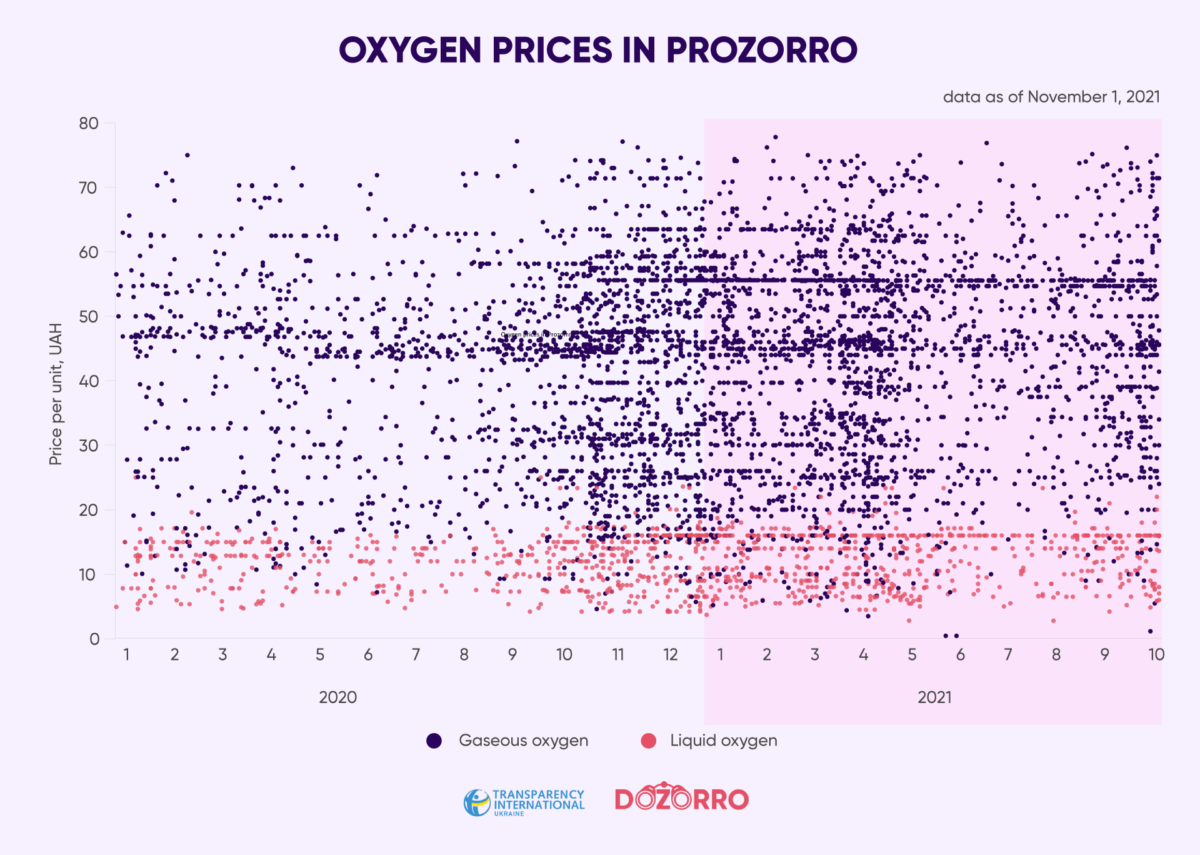 Median price for medical oxygen gas was UAH 44-48 per 1 m3 (i.e., UAH 280-310 for a 40-liter cylinder). The same indicator for liquid medical oxygen amounted to UAH 12-18 per 1 kg. The median price is very similar in nature to the mean value. It is located in the middle of the entire price range, so it is not affected by abnormally high or low indicators.
Suppliers 
The leader in the amount of medical oxygen delivered in 2021 is AT Lviv Chemical Plant. The company sold it to medical institutions for UAH 216.3 mln, which is 23.3% of the total amount of oxygen costs this year. In particular, the company delivered 6.9 mln m3 of gaseous and 804 tons of liquid oxygen. This company has been on the market for a long time, since 1993.
TOV DP AIR GAS comes second regarding the number of sales of medical oxygen having concluded contracts with healthcare institutions for UAH 128.2 mln. This is 13.4% of the total value of all transactions. According to estimates of the DOZORRO project, the company delivered 1.9 mln m3 of gaseous and 981 tons of liquid medical oxygen to hospitals. In early November, the company appealed to the Ministry of Health and the AMCU regarding the opaque distribution of oxygen delivery services to hospitals between companies. This refers to the supply of oxygen that businesses provide free of charge — it is the ministry that deals with its logistics. TOV DP Air Gas drew attention to the fact that the Ministry of Health chooses TOV Kriohenservis to supply almost every time.
TOV Linde Gas closes the top three. Since the beginning of the year, the company has sold 969,000 m3 of gaseous and 85,800 tons of liquid medical oxygen in the amount of UAH 111.9 mln, which is 12.1% of the total amount of oxygen costs.
Although the government and the Ministry of Health were assuring all summer about active preparations for the autumn wave of coronavirus infection and that hospitals will be provided with everything necessary, reality shows the opposite. Doctors and relatives of patients no longer believe in a prompt solution of the problem by the authorities, the latter again turn to volunteers and businesses for help.
On, November 4, the Verkhovna Rada allocated UAH 800 mln for equipping hub hospitals with oxygen stations. UAH 650 mln will be spent on centralized procurement of oxygen stations for basic healthcare institutions and another UAH 150 mln — on a corresponding subvention to local budgets. However, such a reaction is rather late: the procurement of installation and configuration of oxygen stations will take time, which for those infected with COVID-19 is worth gold. According to the calculations of MPs, if to start these works immediately, hospitals will potentially receive new oxygen stations in 4-6 months. Therefore, parliamentarians propose to purchase works and services for equipping hospitals with oxygen stations using simplified procedures. The relevant draft law was registered on November 8 in the Verkhovna Rada.