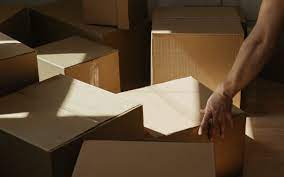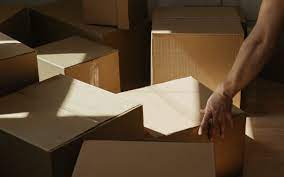 After the beginning of the full-scale russian invasion, Ukrainian enterprises faced a difficult choice: to stop their activities, temporarily suspend them, or relocate to safer regions and try to resume work there. The state tries in every way to support those businesses that decide to continue working.
To do this, since mid-March, the government has launched a business relocation program. It helps with searching for premises, transporting equipment, accommodating employees, and selecting new staff.
At the same time, the state introduced preferential rent for its property. This helps to reduce the financial burden on both relocated enterprises and those that continue to operate where they used to.
Let's find out what kind of support from the state Ukrainian companies can expect.
State relocation program
Currently, the program operates in 15 regions of the country. According to the National Institute for Strategic Studies, the leaders in the placement of relocated businesses are Lviv, Chernivtsi, and Zakarpattia oblasts. Enterprises of the IT and processing industries — food, light, chemical, metalworking, woodworking — are mainly relocated.
To help with relocation, a digital interaction platform has been launched. There, entrepreneurs from the affected regions can apply for relocation, and businesses from safe regions can offer premises, equipment, and other resources for relocated enterprises.
Since the middle of March, the state has helped relocate 661 enterprises from the territories that are close to or in the combat zone. 458 of them have already resumed their work. Another 475 enterprises are currently in the process of relocation — looking for premises and moving.
According to the latest survey, 18% of representatives of Ukrainian small, medium and large businesses are interested in relocation. If active hostilities continue, this number is likely to increase.
Preferential rent
Moving production to another region is a serious financial burden. Not all entrepreneurs have the opportunity to buy premises, and the prices for commercial real estate rental in the western regions of Ukraine have significantly increased. A reasonable alternative is the rent of public and municipal property.
However, after relocation, the business is actually forced to start almost from scratch. Therefore, the issue of introducing preferential terms of rent for the period of martial law has become acute.
Moreover, some relocated enterprises already rented public or municipal property before February 24. They faced the problem of double payment — for new and for abandoned premises in the combat zone.
Because of this, in May, the government adopted a simplified procedure for leasing public property during the martial law. To relieve the burden on lessees, several benefits were introduced:
–       the business that rents premises from the state through relocation can pay UAH 1/m² during the first six months of the year;
–       the advance payment and security deposit have been reduced to the amount of one monthly rent;
–       lessees of public property in the temporarily occupied territories may not pay rent;
–       lessees who joined the Armed Forces are also exempt from paying rent;
–       for the rest of the lessees, the rent has been reduced.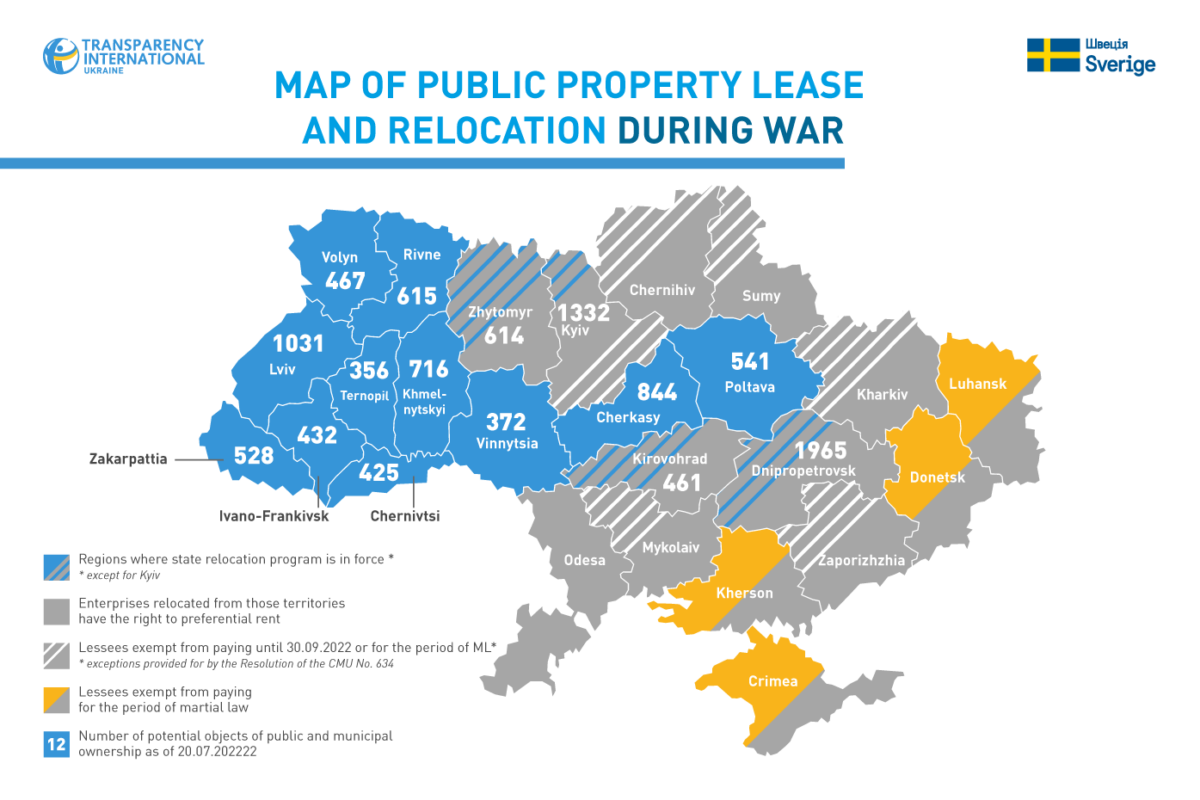 Consequently, businesses may not pay the state for rent in the occupied territories. At the same time, if they choose a public or municipal facility for relocation, they will have to pay UAH 1/m² for the first half of the year. This tariff is not only valid for businesses participating in the state relocation program. Even if a company competes for premises at an auction in Prozorro.Sale, it is possible to claim these preferential terms. It is necessary to apply to the regional military administration before the auction at the location of the desired lease object in order to receive a petition to facilitate the relocation of production.
What can be rented for relocation?
We have selected, in our opinion, some of the most attractive properties that can be rented through Prozorro.Sale.
○      Zakarpattia oblast
Concrete site and administrative buildings for 4,800 sq. m to arrange a sawmill.
Application for rent is expected;
○      Dnipropetrovsk oblast
A building of 284 sq.m for the production of printing products.
Starting cost — UAH 607, the auction will be held on 09.08.2022;
○      Lviv
Premises with an area of 36 sq.m for a bank branch.
Starting cost — UAH 10,804, the auction will be held on 18.08.2022;
○      Kyiv oblast
A facility with a total area of 656.5 sq. m. to arrange a workshop for the manufacture of metal structures
Starting price — UAH 35,566, the auction will be held on 05.08.2022
Carpentry shop and warehouses with a total area of 1,455 sq. m.
Application for rent is expected;
○      Zhytomyr
Premises with an area of 17.5 sq. m. for the implementation of private medical practice
Starting cost — UAH 2,895, the auction will be held on 09.08.2022;
○      Khmelnytskyi oblast
A granary building of 276 sq. m.
Application for rent is expected;
The premises of a production building with an area of 416 sq. m.
Application for rent is expected;
○      as well as premises for offices in Uzhhorod, Odesa, Ternopil, and Lutsk.
In total, since the beginning of the full-scale invasion, more than 3,800 auctions have been completed in the Prozorro.Sale system, which brought more than UAH 649 million to the budgets of various levels. But there are still enough objects for relocation — today, approximately 500 auctions for leasing real estate or property complexes that are publicly or municipally owned have been announced in the system. More than 10,000 more facilities can become a platform for relocation and business recovery — just apply.