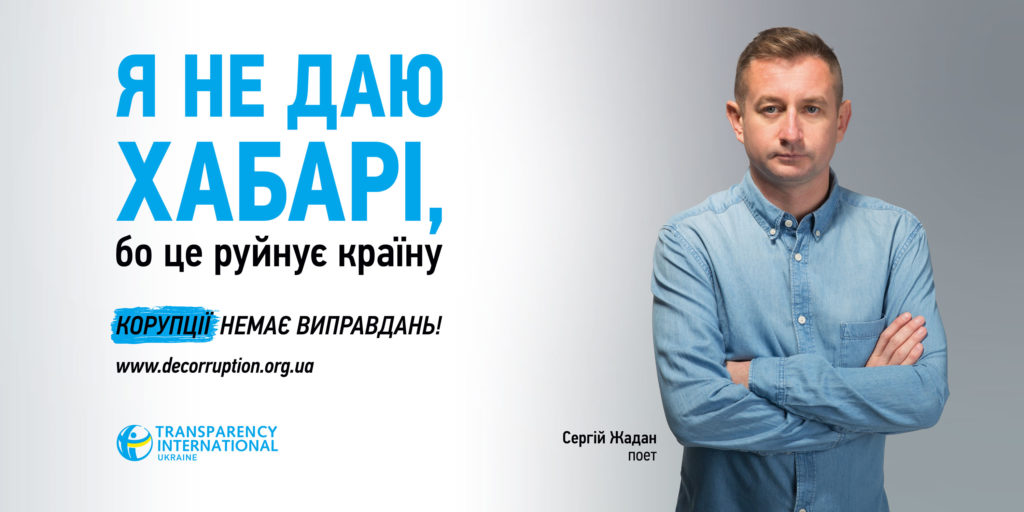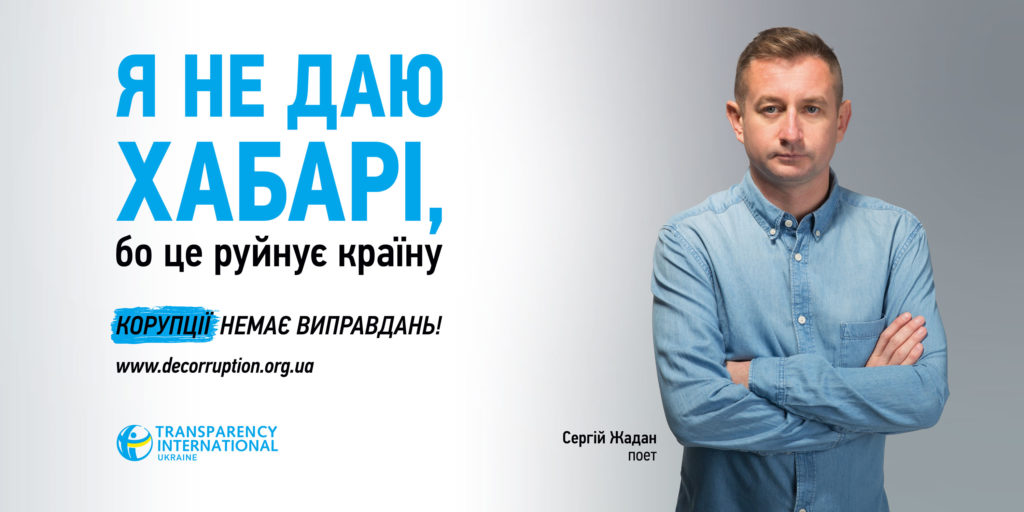 "I don't bribe because it ruins the country," says poet Serhii Zhadan. "I don't bribe because it's humiliating!" explains journalist Tetiana Danylenko. "I don't bribe, because screw 'em!" jokes TV presenter Michael Shchur. Social advertising with these personal messages has appeared in 17 Ukrainian cities. This is the continuation of TI Ukraine's recent communication campaign #IDontBribe, which has already collected over a hundred stories from regular people about how they refuse to give bribes.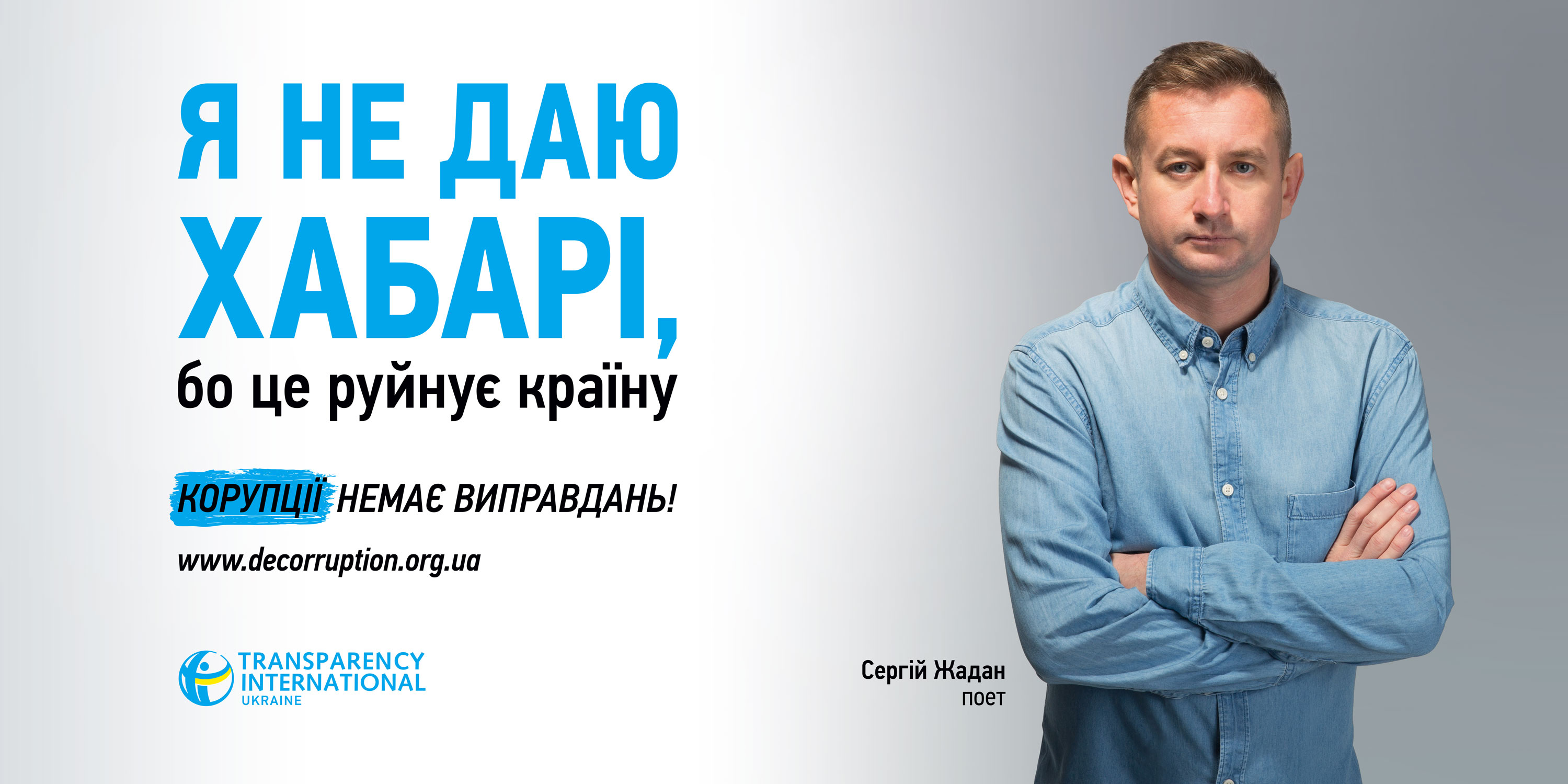 The movement of people who reject bribery and are ready to report corruption has escalated in Ukraine. On Thursday, December 7, at the press conference How to Stand Up to Corruption, experts told who had already refused to play the corruption game and what we can do to encourage more people to join in.
"In the current situation, it's hard to report corruption, since whistleblowers face pressure and even physical abuse, like it happened to whistleblower judge Larysa Holnyk," said TI Ukraine's Executive Director Yaroslav Yurchyshyn. "At the same time, the society has this idea that there are very few daredevils who don't gie bribes. But the results of our communication campaign "I Don't Bribe" show just the opposite – there are quite enough people like that!"
TI Ukraine's communication campaign had a simple goal: to collect positive stories of people about personal resistance to corruption. The first wave of the campaign in November asked an open question: "Why do you give bribes?" People got actively engaged in the campaign #IDontBribe in social media, writing over a hundred stories. The second wave of the campaign in December is offering the answer to this question. Celebrities like Tetiana Danylenko, Serhii Zhadan and Michael Shchur are telling about their attitude to corruption from billboards. "There are no excuses for corruption!" they say.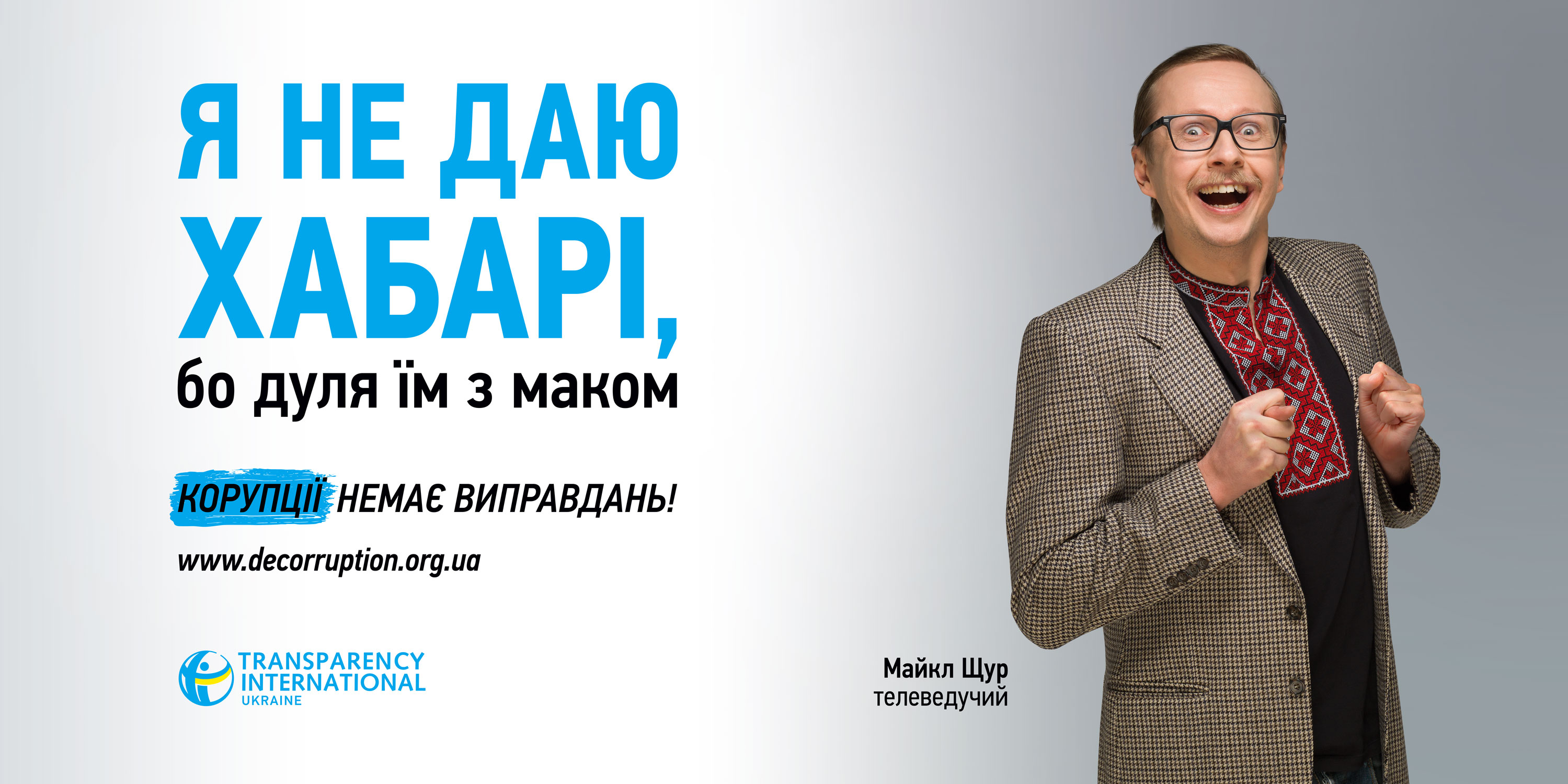 Most citizens are convinced that corruption is a number one obstacle to Ukraine's development, and almost everyone (90%) believes corruption to be very common in our society. At the same time, Ukrainians' attitude to corruption is ambivalent: while believing this phenomenon to be shameful and immoral and condemning corrupt officials, they give bribes themselves. "People give bribes for certain services and while they believe it's evil, it's a necessary evil, because it makes resolving certain problems easier and quicker. Moreover, a third of the population believe that bribing is an inherent part of our national tradition. And if this mindset prevails in the society, we won't do anything with top-level corruption, because those officials at the top are quite in line with the national philosophy," emphasized Iryna Bekeshkina, director of Ilko Kucheriv Democratic Initiatives Foundation. "Over a half responded no to the question whether the authorities can stop the corruption on their own. Only 20% believe it. Over half the respondents answered yes to the question whether the population and CSOs have to participate in the fight against corruption. At the same time, they are not ready to participate in the activities of these CSOs themselves," said the sociologist.   
In his turn, Algirdas Shemeta, business ombudsman, initiator of the All-Ukrainian Integrity and Compliance Network, told what Ukrainian business is already doing to fight against corruption: "Corruption has two sides – demand and supply. Not much has been done from the supply side so far. The goal of the All-Ukrainian Integrity Network is to fill this gap. Our task is to create a critical mass of responsible companies with immunity against corruption."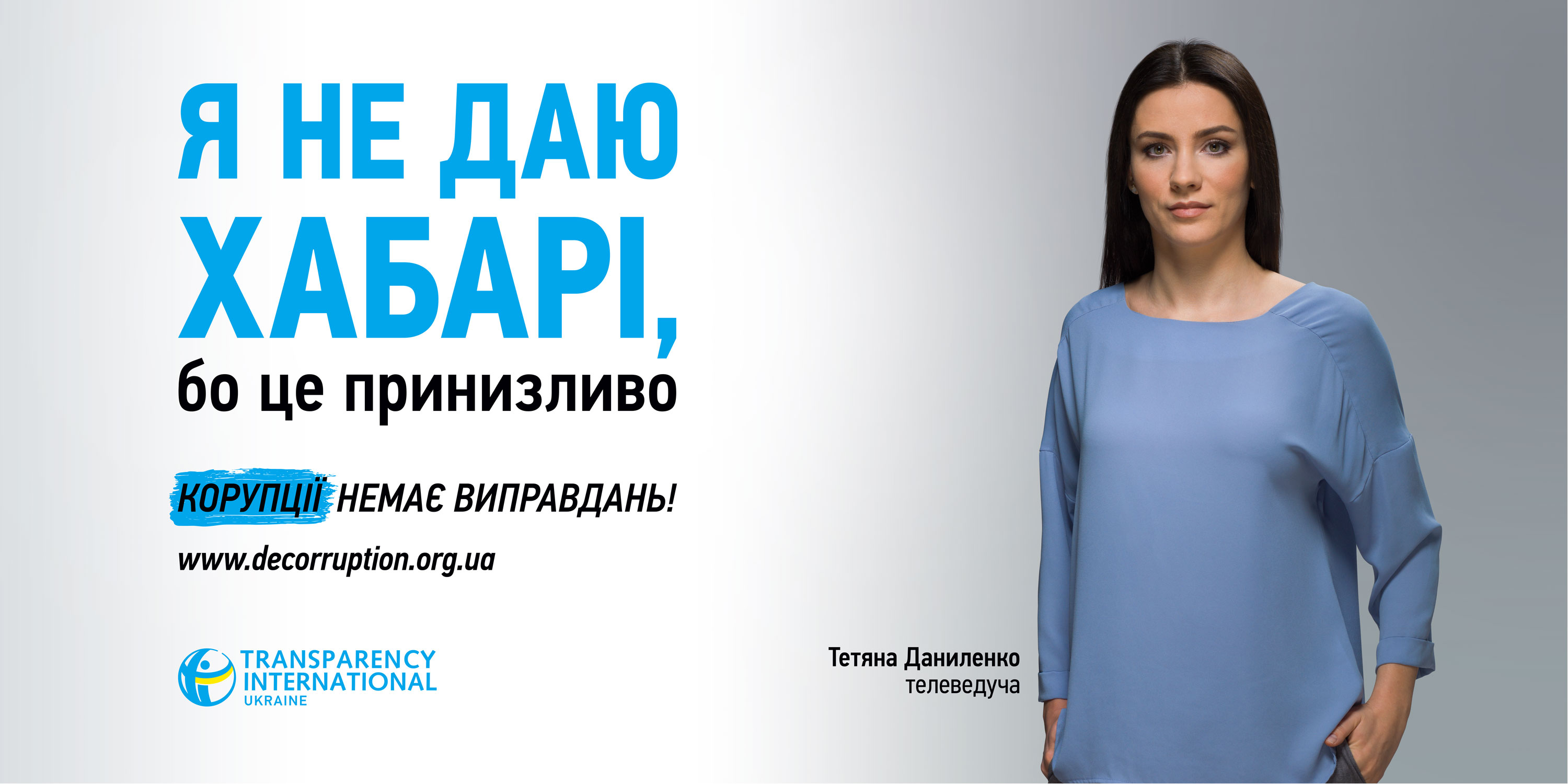 Detective Artem of the NABU provided some important advice. He listed the following steps that a novice whistleblower has to take to protect himself or herself and make his or her report effective:
"If you get a hint that you need to "reward" somebody for a certain service, there are five first necessary steps.:
If somebody demands you to give a bribe, the most difficult and important first step will be to keep it quiet. Don't call the police, don't write Facebook posts, blow it up, because the only proof will be your word against theirs.
Don't agree to the bribe, don't provoke, don't do anything out of the ordinary – take a neutral position and try to postpone the meeting about corruption.
While talking to the corrupt official, try to remember as many details as you can (full name, date, time, location (address, office number), the amount of the illegal reward etc.)
Try to obtain the cell phone number.
File an application with a law enforcement agency of respective jurisdiction and be ready to actively collaborate with the investigation (participate in measures of inquiry, give testimony etc.). Don't tell anyone about the proceedings except for the investigator and the prosecutor alone.
The social campaign I Don't Bribe has been supported by numerous partners who, too, care about the problem of corruption. They are the Ministry of Information Policy, LIGA.net, Ukrainska Pravda, Era FM radio, Hromadske Radio, radio Voice of Donbas, radio group TAVR MEDIA (Kiss FM, Radio Roks, Relax, Russkoye Radio Ukraina, Melodiya FM). Video teasers have been broadcast by Hromadske TV, UA:Pershyi. We are grateful for their support and participation to Serhii Zhadan Charity Fund, Shoot Group Video&Photo Production studio. All information products have been developed by the creative agency PROVID. External advertising is placed in 17 cities: Kyiv, Dnipro, Zaporizhia, Khmelnytskyi, Kherson, Kharkiv, Lutsk, Kropyvnytskyi, Mykolaiv, Poltava, Sumy, Ivano-Frankivsk, Chernihiv, Cherkasy, Rivne, Lviv.
The campaign is created by Transparency International Ukraine as part of the project USAID/ENGAGE (Enhancing Governance, Accountability and Engagement) and is implemented by Pact in Ukraine. The content of campaign materials is the exclusive responsibility of Pact and its partners and does not necessarily reflect the views of USAID or the Government of the United States of America.
#
Media contact: Olha Tymchenko, Head of Communications Department at Transparency International Ukraine

Cell: 050-352-96-18,

e-mail: [email protected]

Transparency International Ukraine is a national chapter of Transparency International, an anti-corruption NGO with over 90 national chapters; which operates in more than 100 countries. TI Ukraine's mission is to limit the increase of corruption in Ukraine by promoting transparency, accountability, and integrity in both the public authorities and civil society. You can learn more about the organization's activity on the website www.ti-ukraine.org