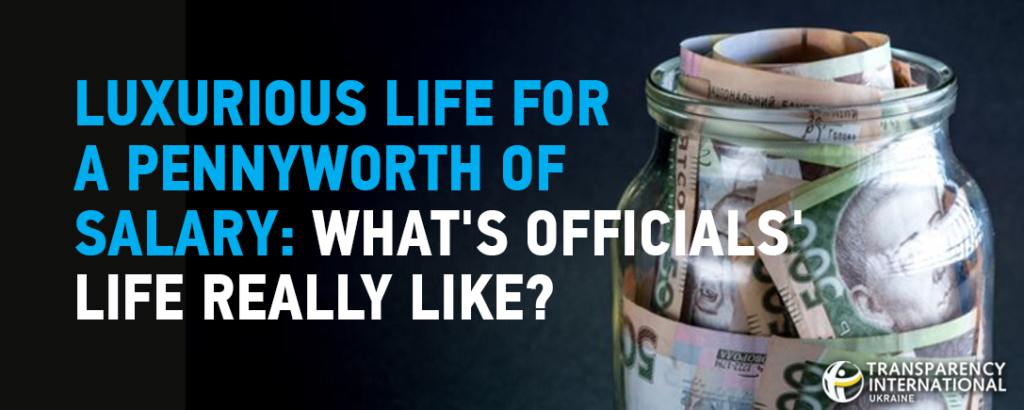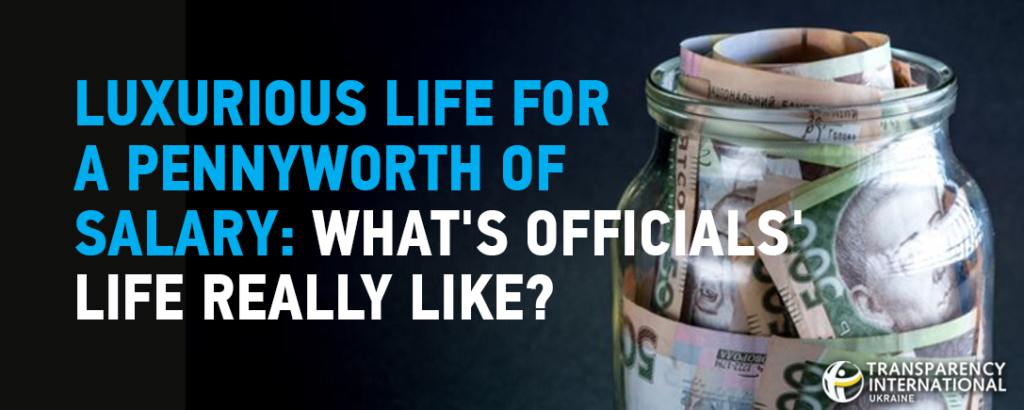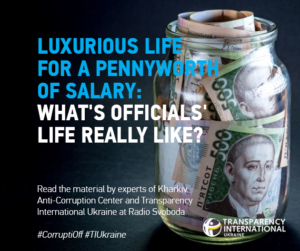 Who can be considered middle class in Ukraine? They are said to be people who spend 25% of less or their income on food. Currently, experts consider people who make 8 to 32 thousand UAH per month the middle class.
Kharkiv Anti-Corruption Center together with the Ukrainian chapter of the global network Transparency International decided to analyze what class some Ukrainian officials should belong to and how they survive on their salary alone.
For instance, Artem Heorhian, head of State Ecological Inspection in Kharkiv oblast, with his monthly paycheck only slightly exceeding UAH 8 thousand, barely makes it to the middle class status.
If you take into account his wife's salary, you sincerely wish to sympathize and support the Kharkiv official's family. After all, the chief ecologist of the oblast and his beloved Halyna got UAH 12 175 per month in 2016, including sick leave compensation, warranty compensation, bonuses for participation in the examination committee, which means just slightly over UAH 6 000 per family member per month. These data come from Heorhian's declaration.
Hard to imagine how the couple is holding up and not going bankrupt, taking into account that they need to pay the bills for a 124.1-sq.m apartment in a top-class apartment complex Grand in Kharkiv (the other apartment with the area of 69 sq.m is located in the occupied Donetsk).
But there's more! The family of the chief ecologist of the oblast has to spend money on fuel and maintenance of two cars: Audi Q7, which Heorhians purchased in 2015, and Mercedes C200, which was bought in 2016 for UAH 900,000.
Here comes the question, though: where does the official's family get the money for a Mercedes if in 2015, the family had an even lower income, about UAH 10,000 per month for both of them?
Could it be from the previously sold for UAH 890,000 car?
The answer can be found in other sources of income of the inspector's family. They are really interesting. For instance, Artem Heorhian had USD 677,000 on his accounts in 2016, while his wife had USD 50,000, EUR 15,000 and UAH 700,000. In 2015, the amounts were USD 1,000 and UAH 200,000 more.
How does an official who has been in public service since 2011 and receives a rather low compensation have such an amount of savings? Especially given his wife's official salary is even lower.
Since we only have access to Heorhian's e-declarations for the past two years, it's hard to answer these questions. Yet, there are some weird "gifts" stated in the official's declaration of 2015. Heorhian's wife received him from a certain Yurii Mamiedov Kambar Ohly. The first gift was UAH 1,200,000 and the second one – UAH 375,000. Who is this man to the Heorhian family? Where did he get the money? Why did Mamiedov give it to the wife of the main ecologist of the Kharkiv region? Had Halyna received any such gifts before? We can only keep guessing. We did not manage to find any information in the registers that Mamiedov was a registered entrepreneur or had corporate rights.
As of now, based on Heorhian's messages to the NAPC in 2017, we can see that the family is actively working on building a new house. The expenses for construction materials have already almost reached 3 annual incomes of Artem Heorhian.
So it turns out that the official barely crosses the poverty line based on his income, but judging by his expenses, he is truly rich. According to the media, Heorhian is one of the country's three richest inspectors.
Public Servant as the Best Paid Job
It looks like a dramatic discrepancy between a rather low income of public officials and the amount of their expenses is hardly new for Kharkiv region. Of course, there are mistakes in declarations of many officials across the country. But those from Kharkiv do not even hide that they lead a wealthy lifestyle despite their modest earnings. They do not even hide the fact that while they have barely gotten to the middle class level on paper, their expenses clearly show they belong to rich people's club.
Let's take director of KP Miska Molochna Fabryka-Kukhnia Dytiachoho Kharchuvannia Yevhen Antipov, who declared an income of UAH 334,900 last year. He received as much as his salary, pension and income from entrepreneurship. This is about UAH 20,000 per month. But does the official live only for this money? He has recently bought a 2017 Range Rover Sport, for which he paid UAH 3 million. Antipov's car is mentioned in the message on a significant change of a financial status. It is probably about his savings. The official's accounts compile UAH 4,230,000. You can only guess where the head of a municipal enterprise could get this kind of money. After all, if Antipov had been saving up from his monthly paycheck without ever spending a single cent, he would've needed over 17 years!
The same weird story is happening with First Deputy Head of State Audit Service and deputy of Kharkiv City Council Stanislav Kosinov. According to his declaration, the official made slightly more than UAH 20,000 per month last year. At the same time, the official's family owns four apartments, two garden houses and 27 land plots!
It turns out the main breadwinner in the house is Stanislav's wife Mrs. Oksana Tatsii. Her income from entrepreneurship last year was UAH 3,685,000, and the year before that – UAH 2,610,000. At the same time, Oksana Tatsii does not disclose the information on who she got the money from to her husband.
Money from Nowhere
The same situation is with civil servant Volodymyr Chumakov – head of the construction department of Kharkiv City Council. With his paycheck of UAH 8,200, he manages to buy and maintain a car worth of UAH 2,370,000, a 104-sq.m apartment and a 240-sq.m house. As it was with Kosinov, the millions' worth of income comes to the family through the wife in mysterious ways.
A similar situation can be seen with director of lossmaking municipal enterprise Kharkivski Teplovi Merezhi Serhii Andrieyev. With a monthly paycheck of UAH 24,300, the official lent UAH 1.07 million to another municipal enterprise in Kharkiv, which he mentions in his declaration. How he managed to accumulate enough savings to be able to afford to lend a million UAH remains a mystery
Director of municipal enterprise Kharkivvodokanal Vitalii Panov doesn't lag behind either. A man who has been a public official since 2006 and now has a paycheck of up to UAH 19,000, miraculously obtains savings in the amount of USD 300,000. The civil servant also purchased a Mercedes-Benz GLE 400 worth of almost his annual income. The official's family also has a collection of valuable watches, the last item having been purchased in August for USD 5,000.
Declaration as a Tool of the Future
Anti-corruption civic organizations together with international partners, some representatives of the authorities and journalists had been struggling for a long time to create such an important anti-corruption body as the NAPC and introduce electronic declaring for public officials. After difficult negotiations with the authorities, receiving technical advice, the pressure from the international community, numerous protests and even the beginning of review of the constitutional validity of the declaration requirement in the court, the #victory happened. In the autumn of 2016, e-declaring was introduced after all. Now everyone interested can track officials' wealth on the Internet. Their fortune is widely discussed in the society: some people are surprised by the amount of money, land and number of apartments they possess, some are mad at the discrepancy between modest paychecks and generous expenses, some compile lists of the wealthiest officials in various sectors. But there are no serious legal consequences for those who have provided misguiding or revealing information in their declarations.
Why?
First of all, because electronic declaration is not a quick tool for prevention of corruption. It will definitely get there, but it may take years. After all, now, officials who receive low salaries and spend millions may not even violate the anti-corruption law, formally. After all, they could have accumulated their millions back in their "past life," in the tumultuous nineties. Secondly, the quality of inspection of declarations is highly questionable as of now, which indicates a crisis in the NAPC. Back in March of this year, the public called for a change of the NAPC management and offered a plan to normalize the work of this body. Yet, after half a year, no significant developments in this area have been made.
Thirdly, NAPC has no automatic system which would enable faster inspection of the declarations. Even though, back in September, 2016, UNDP in Ukraine offered to provide the NAPC with the respective modules. Then it repeated the offer in February, 2017. Yet, such negotiations between the NAPC and were not successful. Against this backdrop, the NAPC's explanation about a lack of resources which impedes fast inspection of the declarations looks not quite complete and understandable.
Recently, the NAPC has announced that they are testing an automatic system of declaration control, with the inspection of the UNDP as well. So we expect that the inspection of the next wave of declarations will not be quite as delayed and such an important tool for identification and prevention of corruption will finally start working.
Yevhen Lisichkin, Kharkiv Anti-Corruption Center
Iryna Rybakova, Transparency International Ukraine