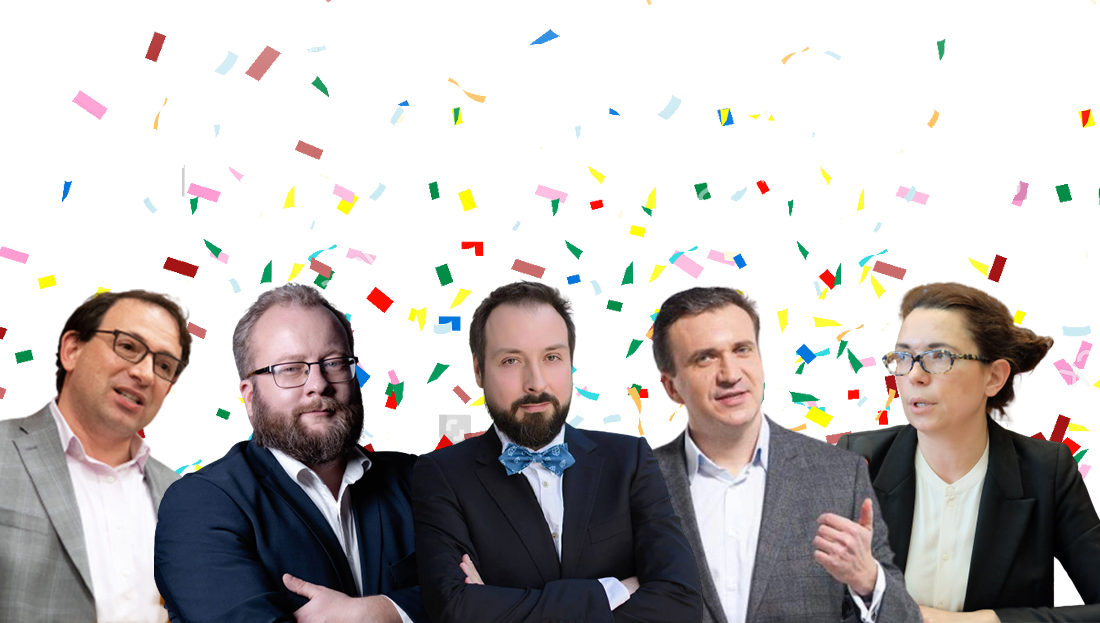 At the Conference of Transparency International Ukraine on 5 December, new Board members were elected: Andrii Vyshnevskyi, Andrii Rozhdestvenskyi, Matthew S. Stephenson, Tanya Khavanska, and Pavlo Sheremeta.
On 4 November 2020, the accredited Ukrainian chapter of the global movement Transparency International announced an open call to select members of the Board, the governing body of the organization. 7 candidates applied before the application deadline, submitting their CV, and their personal vision of the organization's development.
At the Conference of the Organization, the members elected Andrii Vyshnevskyi, Andrii Rozhdestvenskyi, Matthew S. Stephenson, Tanya Khavanska, and Pavlo Sheremeta among seven other candidates by secret vote.
Andrii Vyshnevskyi is one of the co-initiators and executive director of the Tomorrow's Lawyer program; management and organizational development consultant; member of the Supervisory Board of the Coordination Center for Legal Aid Provision. For almost a year and a half, Andrii was the Chair of the Board of TI Ukraine.
Andrii Rozhdestvenskyi is the Executive Director of UCU Leadership Center and a teacher of Lviv UCU Business School. Andrii also already has experience of working with TI Ukraine: he was the Board member for a year and during that time showed great interest in the development of the organization.
Matthew S. Stephenson is a member of the Advisory Board of the Interdisciplinary Corruption Research Network and editor-in-chief of the Global Anticorruption Blog.
Tanya Khavanska is an anti-corruption legal and policy analyst at the OECD. Once, she was an anti-corruption adviser and deputy country director for Ukraine at the American Bar Association.
Pavlo Sheremeta is a manager and economist, an initiator of Kyiv-Mohyla Business School, former president of Kyiv School of Economics. In 2014, he was the Minister of Economic Development and Trade of Ukraine. He has experience working on the Supervisory Boards at different Ukrainian and international organizations in the private and public sectors.
"The new Board means new opportunities for our organization," said Executive Director of TI Ukraine Andrii Borovyk. "It is great that the Board includes both people who already have successful experience working with us, and those who will be able to deepen our expertise in anti-corruption issues. We are very grateful to the previous Board members: Tomas Fiala and José Ugaz. They helped our organization a lot because they really supported systemic reforms in Ukraine and did everything possible to eliminate corruption."
At the next meeting, the Board will select its Chair and start its work.
The Board of TI Ukraine is the governing body of the organization, which is elected by the Membership Conference of the CSO for a term of two years and consists of five people.
The Board of TI Ukraine considers and approves the organization's focus areas, annual budget, and operational plan, as well as program documents The full powers and responsibilities of the Board of TI Ukraine are set out in the Charter of the organization.