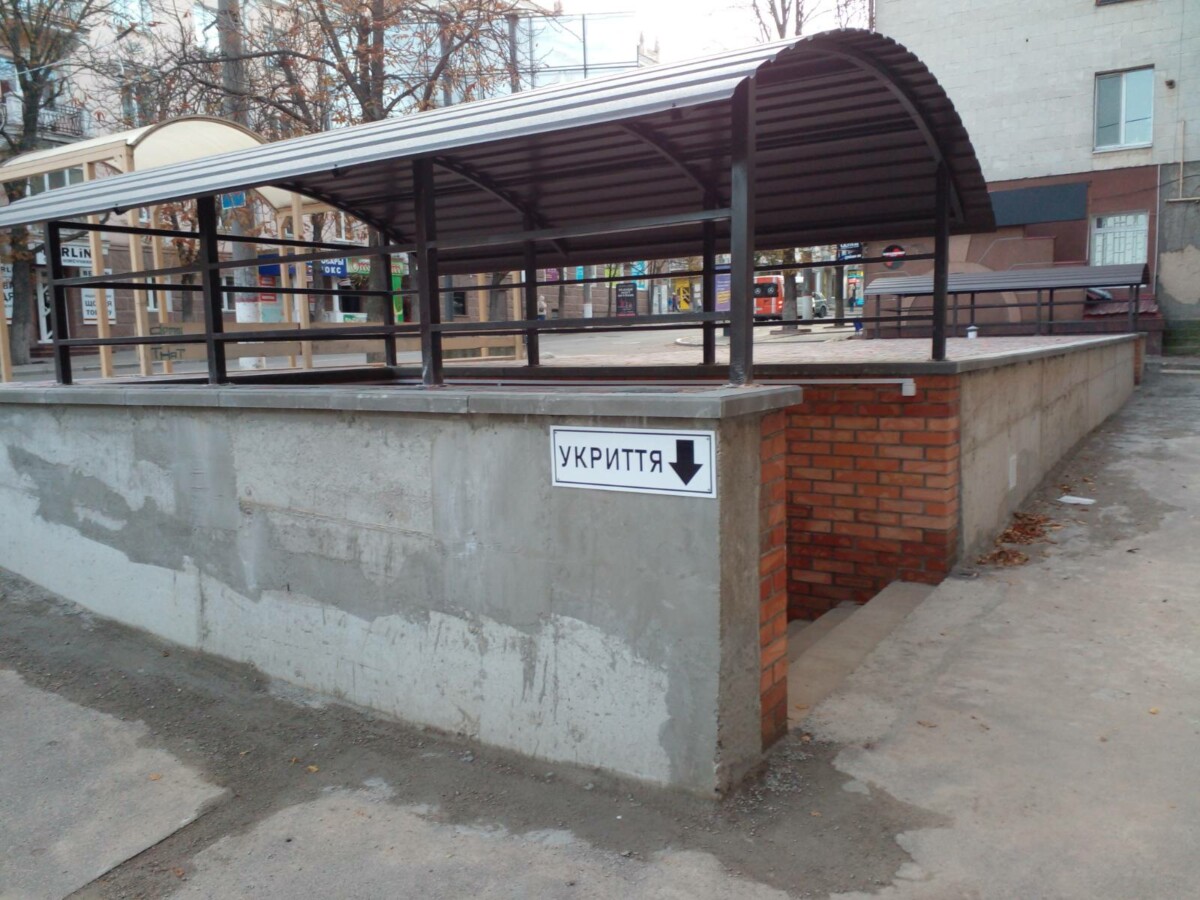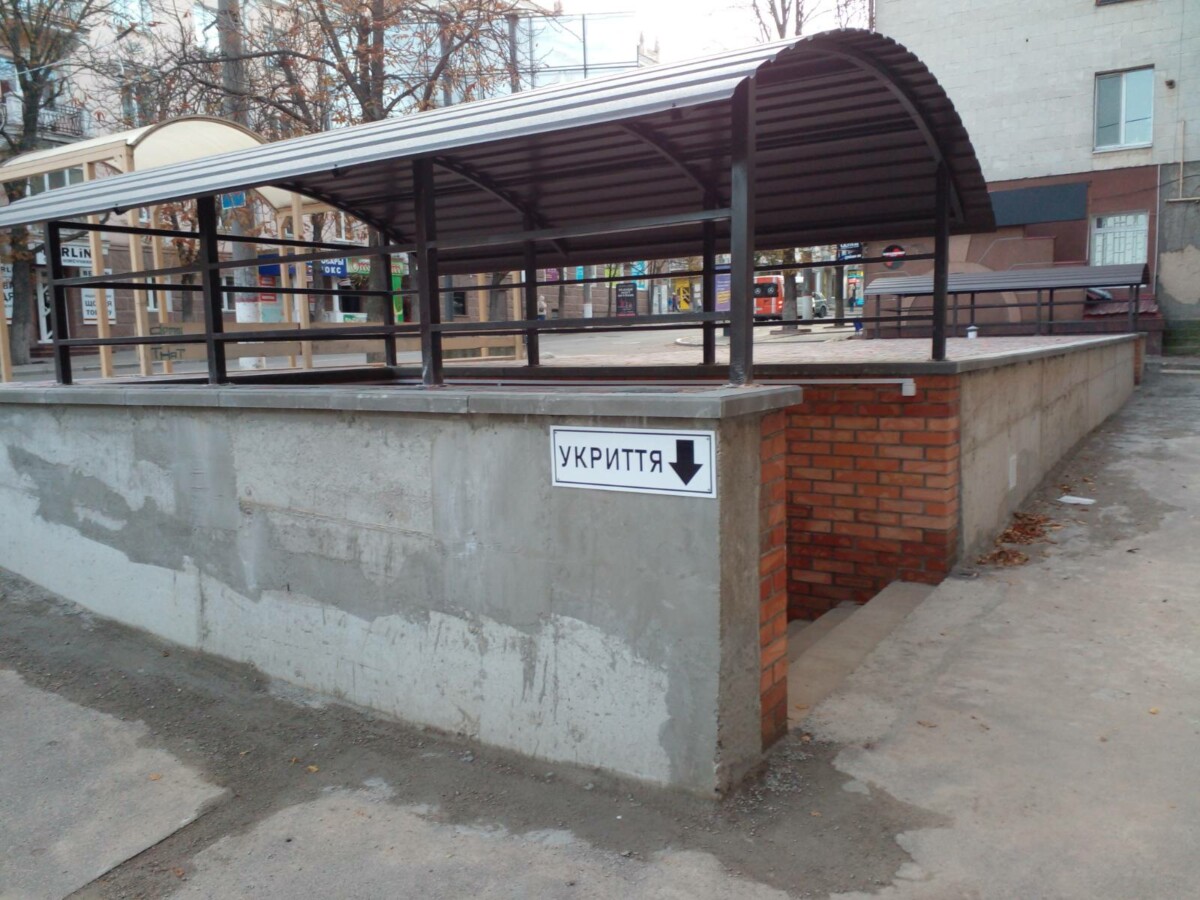 Since February 24, there have been approximately 17,700 air raid alarms in Ukraine. They have become so common that Ukrainians do not always go to the shelter when they hear a siren. However, strikes with missiles, drones, and other weapons are a constant reminder that the danger should be considered. And if in February most shelters were opened for the first time in the last decade, then in 8 months of the full-scale war at least part of them should have been equipped.
We looked at how money was spent on this in Prozorro.
How Many Shelters Have Been Arranged?
First of all, it should be noted that in the electronic system, we do not see all procurement transactions of shelter repairs. Procuring entities were allowed to conclude contracts for such works directly and report on them after the end of martial law. Therefore, we will be able to see the full picture later. In addition, sometimes procuring entities purchased the repair of several protective structures at once, and indicated only one address in the system — so it is not possible to automatically extract data on the full list of shelters in this contract. You need to open the scanned PDF files of the agreements and check everything manually.
However, we can see some repairs and contractors who perform them now. In 10 months of 2022, UAH 2 bln worth of agreements were signed for such works. With these funds, a minimum of 3,400 shelters have been repaired. The biggest expenditures visible are in Kyiv Oblast — 592 shelters for UAH 482 mln, in Dnipropetrovsk Oblast — 307 facilities for UAH 234 mln, and in Lviv Oblast — 429 for UAH 234 mln.
Almost 90% of the contracts were signed directly, in 10% of cases procuring entities chose simplified procurement. There are also isolated cases of open bidding.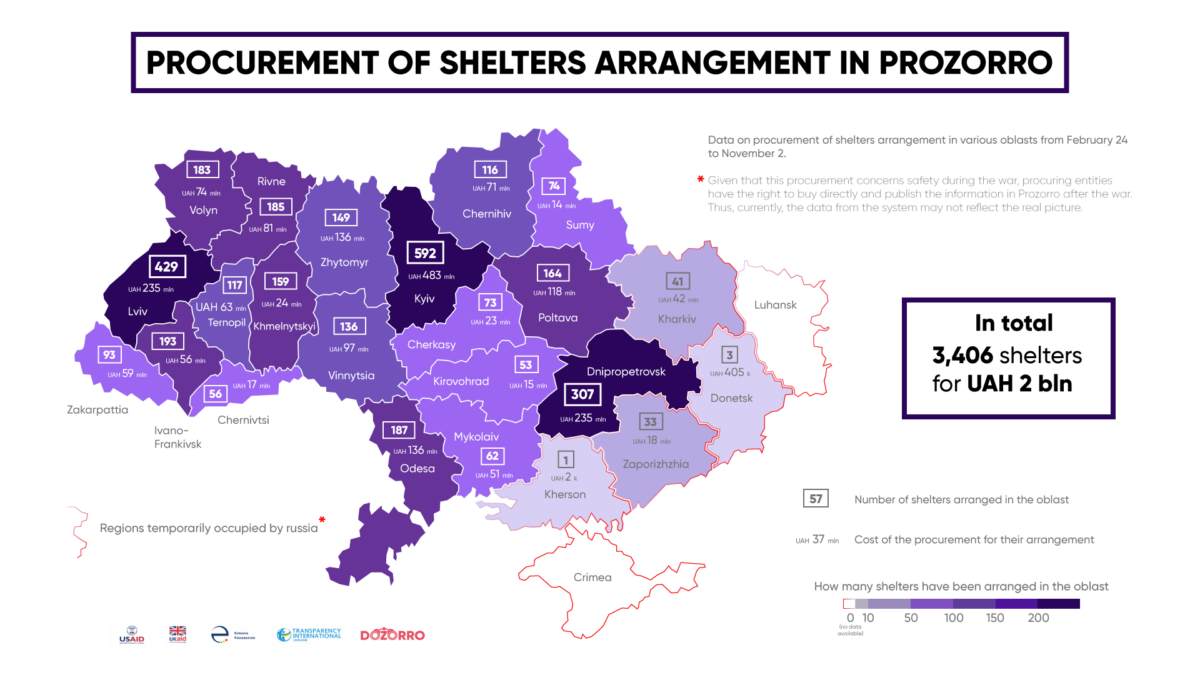 UAH 993 million, that is half of the costs, was allocated for the current repairs of shelter facilities. Such services generally include:
repair or implementation of engineering networks — water supply, sewerage, ventilation, lighting;
repair of premises — painting of walls, ceilings, flooring;
replacement of doors;
arrangement of toilets.
Earlier, we calculated how much was spent on arranging toilets in shelters of schools and kindergartens.
All other funds were spent to purchase various goods that are required for civil protection structures: furniture, first-aid kits, flashlights, fire extinguishers, as well as building materials, if utility workers made repairs on their own. Less often, generators, solid fuel boilers, refrigerators are purchased for the arrangement of shelters.
Largest Procurement Transactions
All three most expensive contracts for the repair of shelters among those already visible in the system were concluded in Kyiv Oblast.
For UAH 14 mln, the simplest shelter in the MNE "Vyshhorod Central District Hospital" is to undergo capital repairs and arrangement. The procurement was carried out outside Prozorro, the contract was concluded on September 16. The works are scheduled to be completed by March 31, 2023. In addition to the repair and arrangement of engineering networks, the contractor must install and adjust the equipment. However, what exactly this equipment is, it is not specified in the contract. The works were ordered from LLC GREEN MAETOK, owned by Pavlo Krasenko. Until January 2022, he and Svitlana Shelest owned LLC Kyiv Develop Group.
UAH 11 million will be allocated for the arrangement of a shelter in the building of the Hatne Secondary School. The agreement was concluded based on simplified procurement, with only one participant — LLC ALTANA Engineering and Construction Company. Probably, other entrepreneurs would have come to the tender unless a number of ISO certificates had been required, in particular in the field of accounting and audit. Potential participants wrote about the inappropriateness of such documents, but the procuring entity decided not to change the procurement conditions. We turned to him with questions to understand why so.
In 2019, LLC ALTANA ECC was involved in criminal proceedings. At that time, the police of Kyiv region investigated the possible embezzlement of budget funds by officials of the Department of Education of Kyiv-Sviatoshyn DSA. In particular, the investigators analyzed the procurement of the construction of a pool in the lyceum in Boyarka for UAH 60 mln, where LLC ALTANA ECC should have been the contractor. However, then the procuring entity terminated the contract due to lack of financing.
Almost UAH 11 million more will be spent on repairing the shelter of the lyceum "IDEAL" in Vyshneve. What kind of work the contractor should do is unclear, as it is not described in the contract. The contract does not specify exactly what works the contractor should perform. According to the head of LLC METRA BUD Serhii Palienko, with whom the contract was directly signed, the order provides for the replacement of heating and water supply systems, installation of ventilation and sewerage systems, floor renewal, wall plastering, lighting and emergency lighting, lavatories, Internet with the installation of Wi-Fi routers, etc. Serhii Palienko added that today, most of the main works have been completed, except for the power grid and lavatories.
LLC METRA BUD was founded in 2021, and a month after its registration, it began to participate in tenders. Almost all contracts fall for 2022 — for UAH 38 mln out of 39 mln in total. According to our estimates, this company will receive the largest amount for contracts for the repair of shelters in Kyiv Oblast, UAH 36.8 million. In addition to the repair of the shelter of the "Ideal" Lyceum, the enterprise will equip 7 more protective structures, including in the "Osnova" Lyceum for UAH 8.9 mln and the "Rosynka" kindergarten — for UAH 8.2 mln.
Shelter Stops 
In addition to shelters in basements, protected stops began to appear in Ukraine. The first such stop was opened in Kharkiv on 19 August. Kharkiv Mayor Ihor Terekhov noted that "the stop is equipped with a direct connection to the dispatcher, free Wi-Fi, as well as a screen that allows passengers to see public transport approaching. The shelter can accommodate about 30 people. However, it has a modular design, so depending on the district and passenger traffic, the size of the shelter may vary."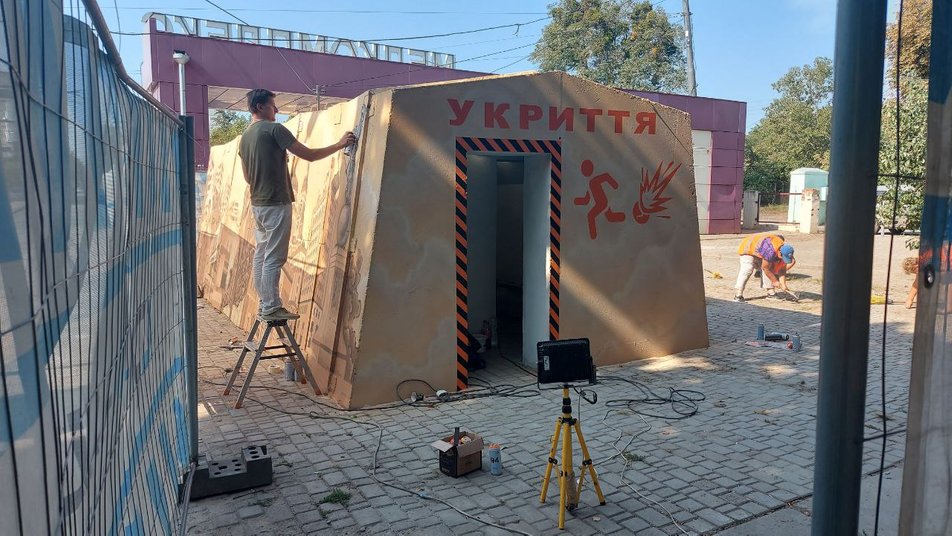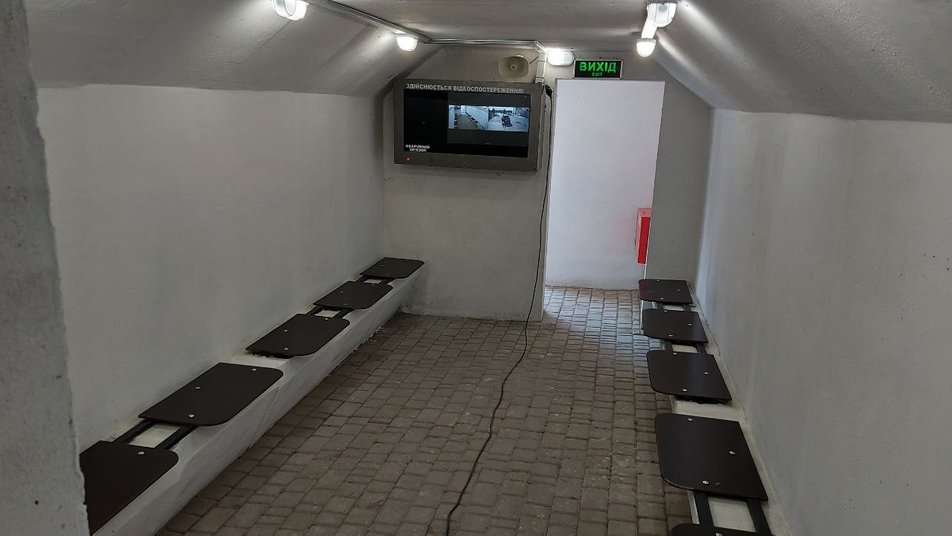 According to information on Prozorro, there are currently 5 such shelter stops planned. They are to be installed by November 21. Four stops cost UAH 783,000 each, one more — UAH 1 mln.
Shelter stops were ordered from Kharkiv LLC CITYRAIL TECHNOLOGY. Currently, the director of the firm is Vadym Sinhutskyi. According to Nashi Groshi, he headed a company that made money repairing tram crossings in Kharkiv.
The total amount of contracts of LLC CITYRAIL TECHNOLOGY is UAH 171 mln. All these contracts are concluded only with two Kharkiv procuring entities: the Infrastructure Department of the Kharkiv City Council — UAH 136.3 million, and ME MISKELEKTROTRANSSERVIS — UAH 34.7 million.
Moreover, a shelter stop appeared in Mykolaiv in September. This is a gift from Odesa businessman Anatolii Reder. The shelter was made of reinforced concrete according to the Israeli model, it is designed for 24 people. According to the media, the cost of such a structure is UAH 400,000.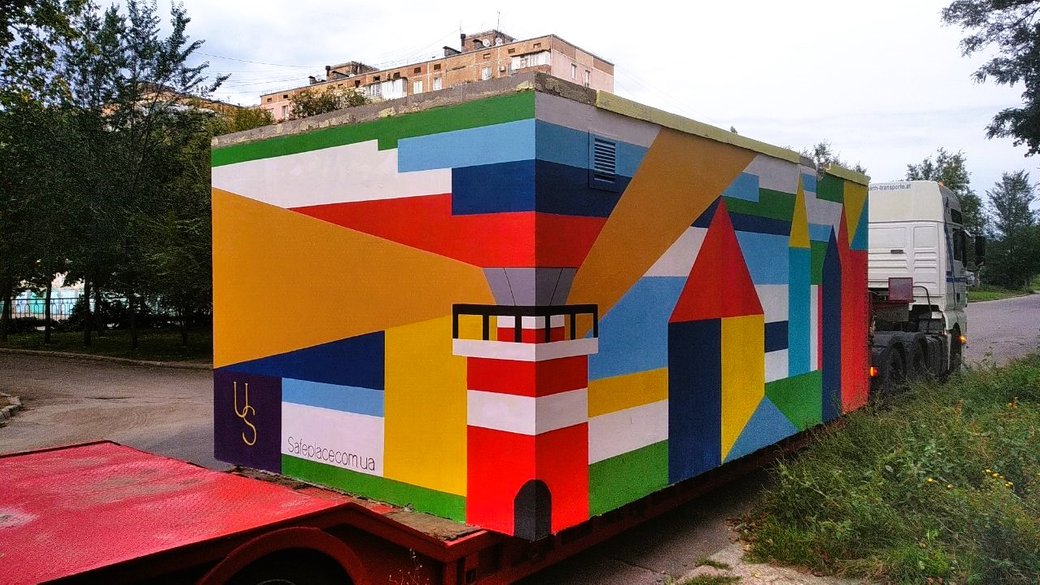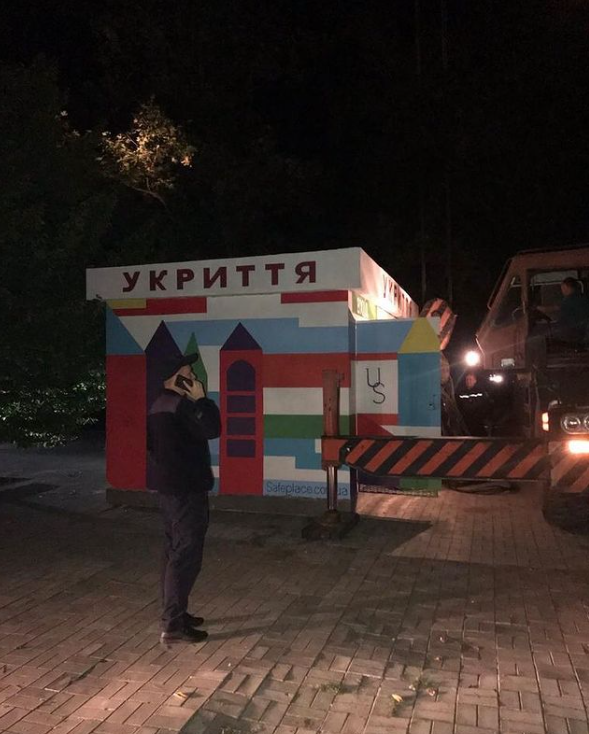 Subsequently, Kropyvnytskyi joined the arrangement of shelters at the stops. Here it is 3 meters underground, designed for 12-15 people. In Kropyvnytskyi, the protective facility was also financed by private investors.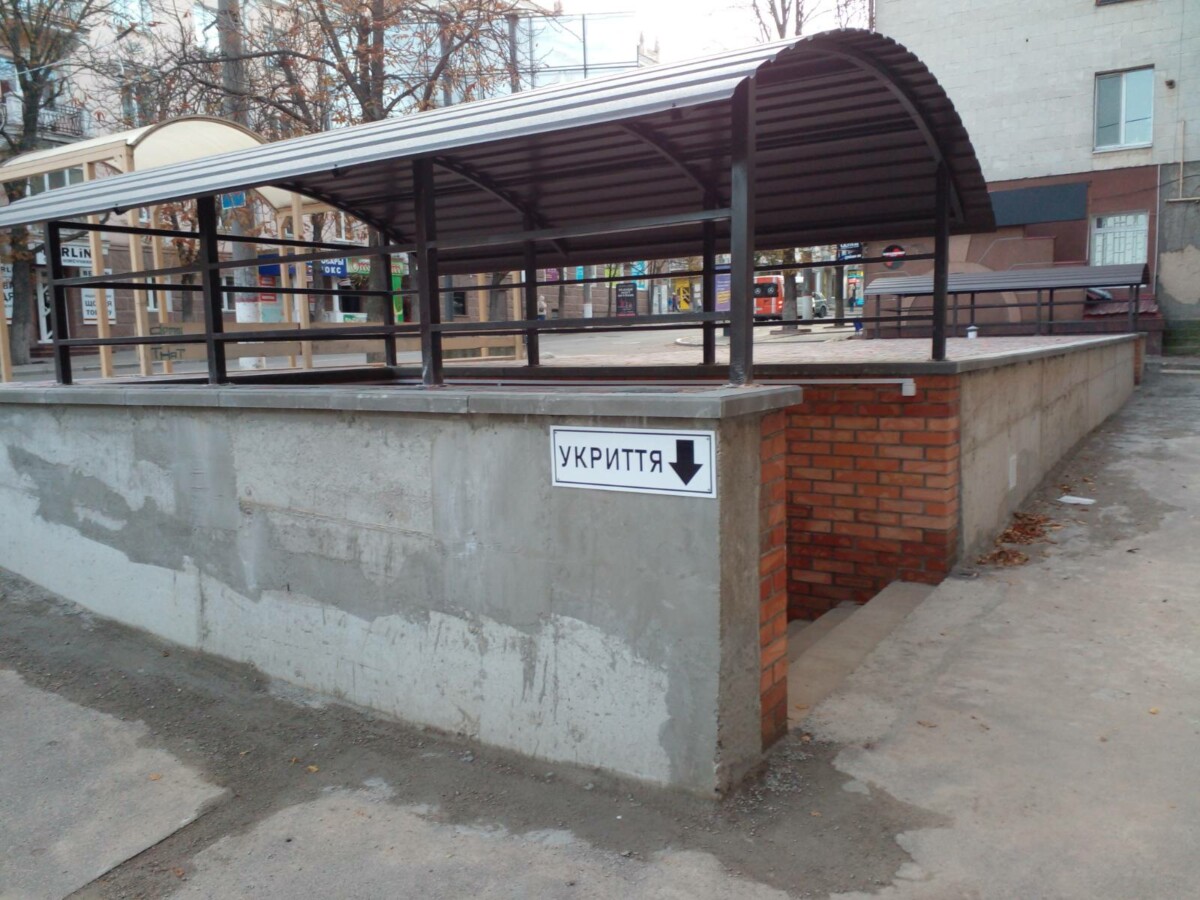 Another city where there are already works underway on shelter stops is Dnipro. It is planned to make 28 such protective structures for 28 people each, with light and benches. They are made at the expense of the budget, however, so far, there is no information about the price in Prozorro. LLC "Avtomahistral 2016" arranges the shelters.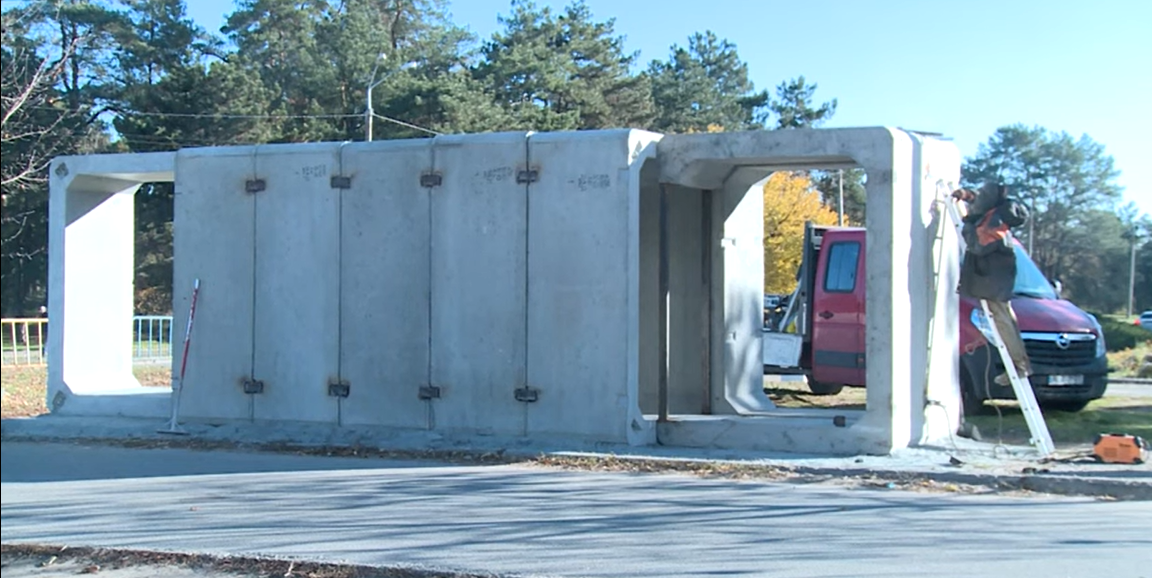 Another unusual shelter appeared in Lviv region, not at the stop, but in the kindergarten. A modular shelter of concrete was arranged there, which is used for the construction of bunkers. Namely, the shelter is not completely dug under the ground — it was lowered by 1 meter, and from above, an embankment was made for another 2+ meters. The technology was developed by local companies "Industria LV" and "Hobbit House." The shelter is designed for 25 places, it cost the community UAH 201,000.
A similar structure was also installed on the school grounds. However, it can accommodate already 100 people. For this shelter, there is a contract for UAH 89,000 on Prozorro. The third shelter was arranged near the local school of arts.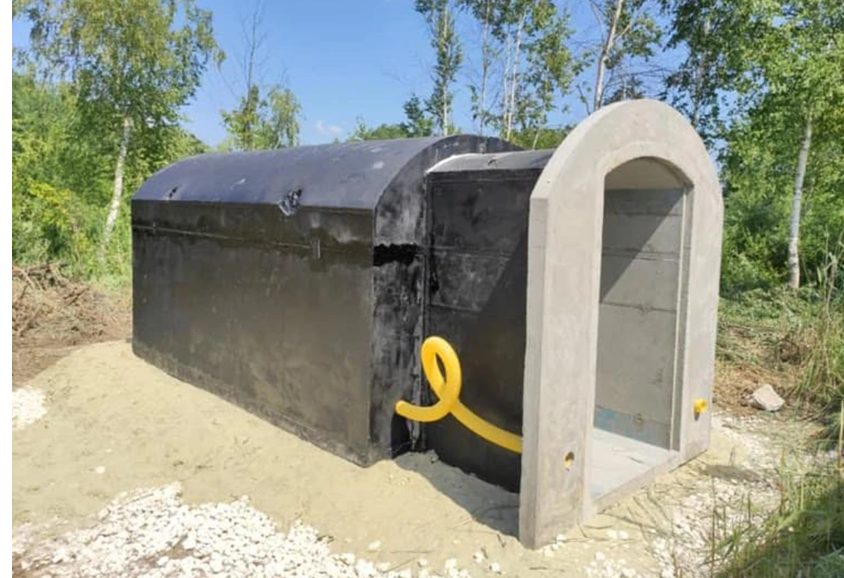 Contractors Involved in Criminal Cases
Sometimes, direct contracts for the arrangement of shelters are signed with companies involved in criminal proceedings. On the one hand, it is not forbidden because the fault of the business has not yet been proven. On the other hand, there is a question to procuring entities whether it was possible to conclude contracts with companies without a questionable past.
For example, in Cherkasy, a contract for the repair of a shelter in a school was received by an entrepreneur accused of appropriating metal for UAH 800,000 during the reconstruction of the premises for the Court of Appeal.
The same situation is with shelters in educational institutions of Odesa region — there, the persons involved received contracts in at least 4 communities. And most of the local journalist's questions to procuring entities remained unanswered.
Who Is Responsible for Ensuring that Shelter Is in Proper Condition?
According to "Slovo i Dilo," at the beginning of the year, there were 5,704 shelter facilities in Ukraine (sealed structures for long-term stay), 15,393 anti-radiation shelters. The simplest shelters — a variety of underground spaces — can also be used to protect people.
Those who have them on the balance sheet are responsible for their condition.
Therefore, if the shelter closest to you is in an improper condition, and you have not found the procurement transaction of repairs on Prozorro, please contact the balance holder. You can find out if a direct contract was concluded for the arrangement of the premises, how much money is allocated for its maintenance, as well as encourage the procuring entity to improve the conditions unless they did so.
The access to shelter cannot be restricted. Thus, in Kyiv, local authorities reported that emergency workers would cut off locks from shelters if they were not opened during an air raid alarm.
In July, MPs adopted a law stipulating that city-planning documentation at the regional and local levels should contain a section on shelters. Unless it is available, it is forbidden to approve the relevant documents. Moreover, the structure cannot be put into operation if there is no shelter in it. In Lviv, new construction standards for residential complexes, etc., were adopted back in May. According to them, all buildings should have an underground parking, part of which will be arranged for a comfortable stay for a long period.
The material was prepared within the framework of the USAID/UK aid TAPAS Project/Transparency and Accountability in Public Administration and Services.