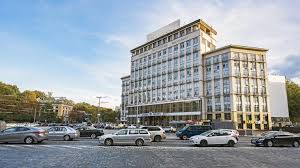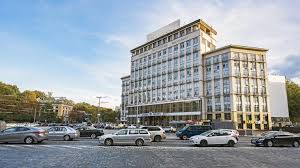 On July 15, an auction will be held for the sale of the largest object in the history of privatization — the Dnipro hotel.
Here are a few fun facts.
What is the price of the Dnipro hotel?
THe State Property Fund is selling 80,923,400 shares, which are fully owned by the government. The total cost is UAH 80,923,400.
Under the Law "On Privatization of National and Municipal Property," the initial price is established at the rate of the nominal price of these shares, that is, the price at the moment of their issue.
This does not mean that the hotel will be sold for these this money. The auction is needed exactly to understand the real market price and, perhaps, sell the hotel for way more.
What property is included?
The Dnipro hotel is located on a 2,931-sq.m land plot in the very center of Kyiv. The building itself has a total area of almost 13,000 square meters, with 186 rooms, premises for rent, a parking lot of 1,580 sq.m, three conference rooms, a business center, two pars and restaurants, and a SPA center. As of today, there are 15 lease agreements for almost 630 sq. m of the hotel's territory.
The finance sheet of the company for 2019 showed about UAH 250 million.
How much does the hotel make?
Last year, Dnipro's total revenue constituted UAH 63 million. In the first quarter of 2020, the hotel "made" UAH 9.1 million.
What will change after the acquisition of the hotel?
The new owner of the shares will be obliged to maintain the primary activity of the enterprise and the category of at least 4 stars. Within three months, arrears of salaries taxes and overdue accounts payable have to be paid off.
The new owner will also have to retain the staff of 159 employees.
How will the hotel be sold?
You can observe the auction in the Prozorro.Sale system.