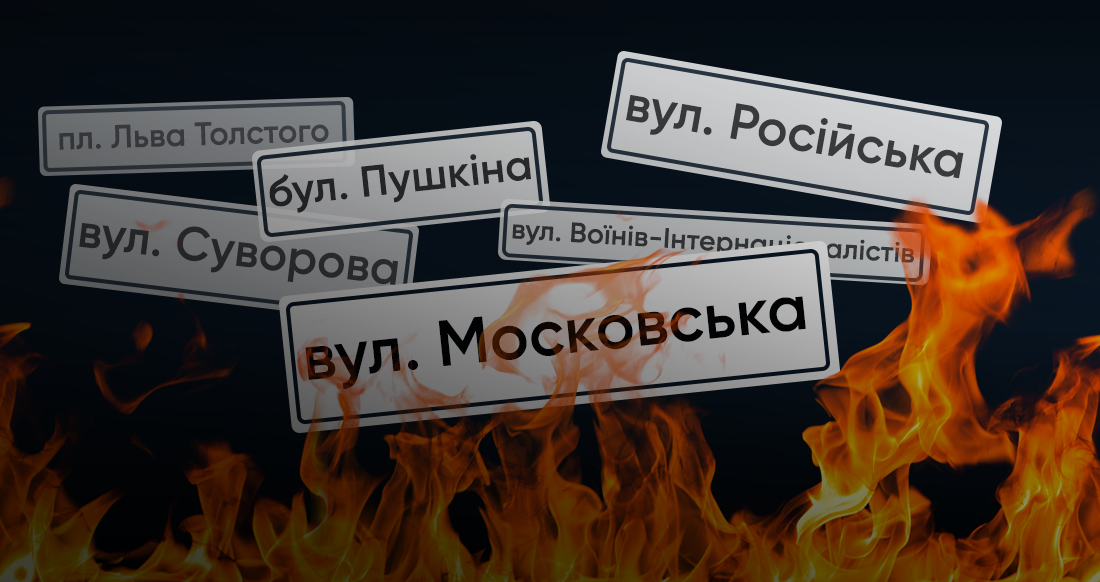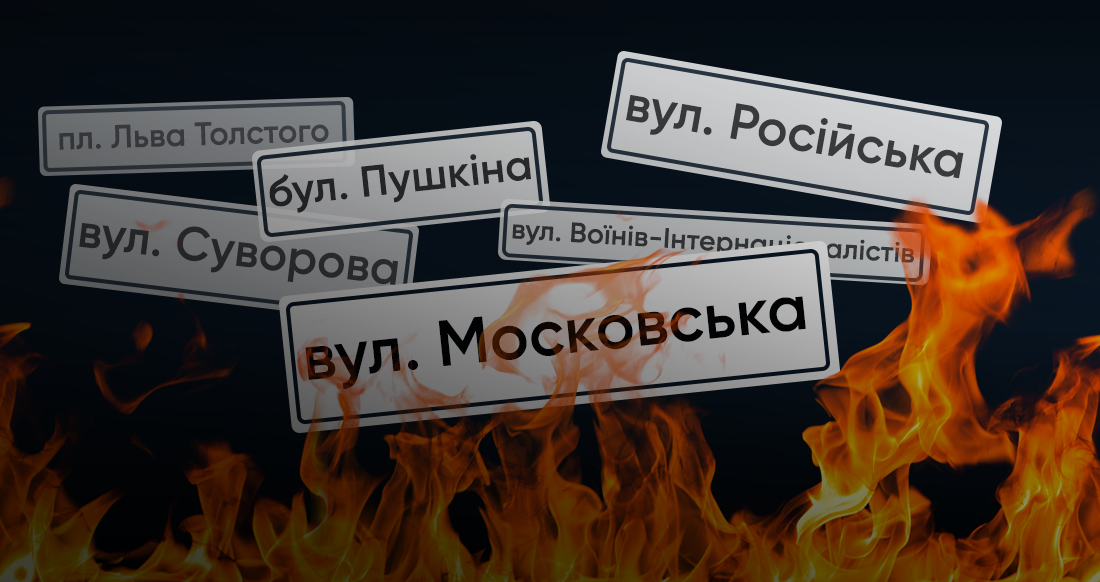 russian names still remain in Ukrainian cities and streets, although they have been shelled by the russian army for more than a month.
Since February 24, 2022, russia has been waging a full-scale war in Ukraine. Earlier, in 2014, the rf occupied a part of our country, launching military aggression in the Donetsk and Luhansk oblasts of Ukraine and occupying Crimea. These are terrible times for our land.
However, there is also a hybrid information and cultural war against the independent existence of the Ukrainian nation and culture, which russia has long been waging against our country.
Thus, for a long time, russia tried to create a common cultural space that clearly marked the zone of the "russian/soviet world," for which the kremlin is now actively fighting. In particular, the register of names was unified — cities, oblasts, streets, squares, institutions, etc. We already have some success in decommunization, so, it is time to turn to derussification.
We urge local authorities to initiate renaming of streets of russian origin. For example: moskovska, rosiiska, pushkinska, or radianska. Instead, they can be renamed Chernihivska, Mariupolska, Khersonska, or after last names of our heroes or after the Armed Forces of Ukraine.
Why is it important??
Now, every Ukrainian's life is filled with russian and soviet toponyms, which, among others, create a distorted perception of our culture and self-awareness. When using such names, we do not leave, or we reduce the space for the spread of specific Ukrainian cities, heroes, hero cities, etc.
We ask the local authorities to honor OUR cities, OUR people, and OUR culture with names.
Such renaming is already taking place in Ukrainian cities. In Chop, the moskovska street was named after Heroes of Ukraine. In Mykolayiv, the moskovska street is planned to be renamed to Mariupolska. In Chervonohrad, the Pushkina street and others are to be renamed. In Vinnytsia, a petition was filed to rename several dozen streets, including the streets of Leo Tolstoy, Suvorov, moskovska, etc. In Mukachevo, there are large-scale plans: all the names of streets that have relations with russian figures are to be changed. The petition to rename the moskovska street in Kyiv has been created back in January 2019!
Streets are being derussified all over the world. Yes, one of the streets of Gdańsk will be named after Mariupol. The capitals of the EU countries rename the streets near the russian embassies: in Riga, it will be named Ukraine's Independence Street, in the capital of Albania Tirana, it will be named the street of Free Ukraine, and Prague will name a street after Heroes of Ukraine (moreover, one of the railway bridges of the city will be named after the Ukrainian soldier who died). What is more: the campaign to rename streets with rf embassies in honor of Ukraine was launched all over the world!
We have prepared a draft petition that can be used by all those willing to collect signatures on renaming.
Let Ukrainian toponyms in your cities become a new space of life for Ukrainians, their new routine, and better let them be heard every day in conversations than those imposed by the kremlin.
Now, every Ukrainian's life is filled with russian and soviet toponyms, which, among others, create a distorted perception of our culture and self-awareness.