Find out more about TI Ukraine's team focus areas and achievements last year.
The accredited chapter of the global anti-corruption movement Transparency International Ukraine has presented Annual Report 2019. The report contains detailed information on the implementation of the Strategy 2019–2021 and the organization's achievements in each strategic priority: prevention, punishment, engagement and institutional development.
Prevention
In this area, TI Ukraine focused on mitigating corruption risks at the national and local levels through increasing transparency and accountability of the authorities. The teams of Transparent Cities and Innovation Projects, as well as TI Ukraine's lawyers, did a lot of work on prevention.
Here are our successes:
Laws on NACP reboot and on corruption whistleblowers have been approved;

TI Ukraine's Head of Legal served as the co-chair of the Selection Commission for the Head of the NACP;

The ProZorro.Sale system, which is a result of three years of our work, has been transferred to the government;

In partnership with the MEDT team, we have created ProZvit, a public portal of analytical reporting for state-owned enterprises;

We created DOZORRO bot, which can help you subscribe to a tender and follow its updates;

We carried out and published three analytical studies on public procurement: procurement of petrol, gas, and the level of trust in ProZorro;

We advocated an increase in transparency in 38 Ukrainian cities, which led to the cities becoming more transparent and successful.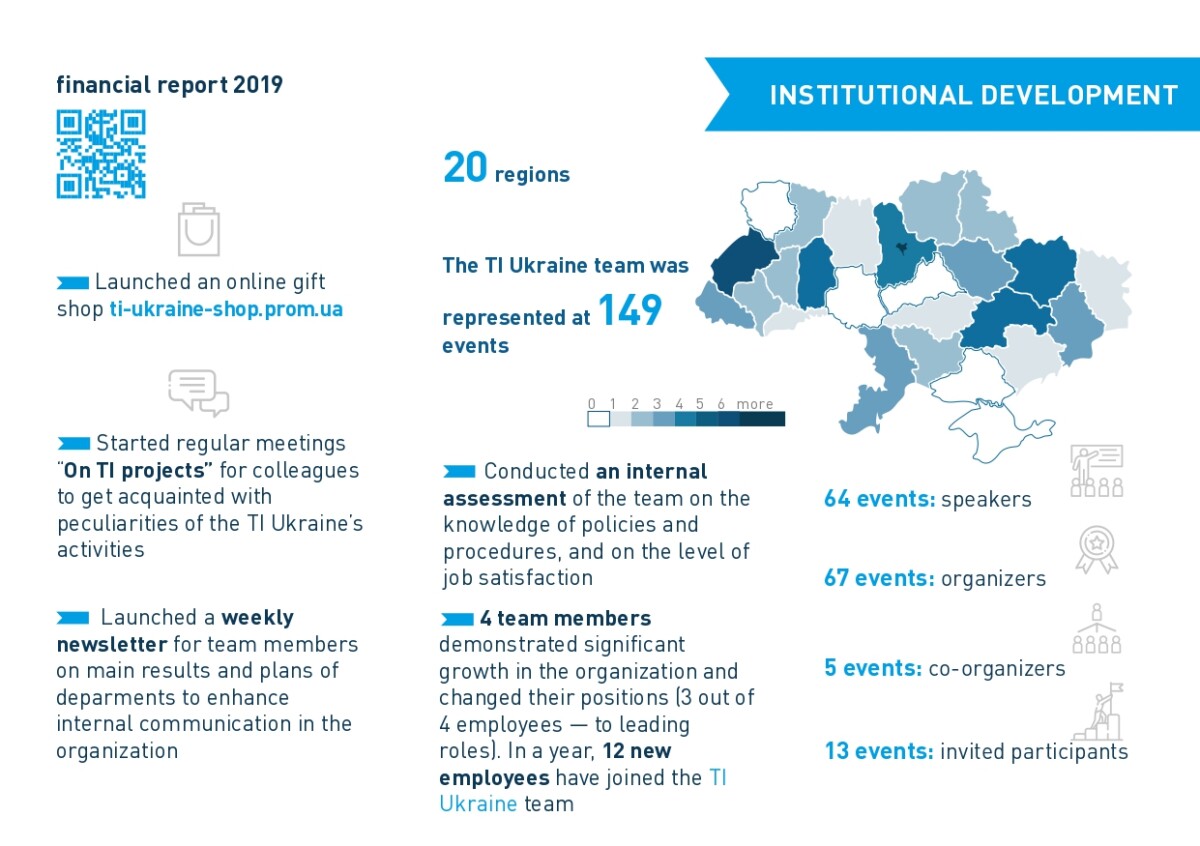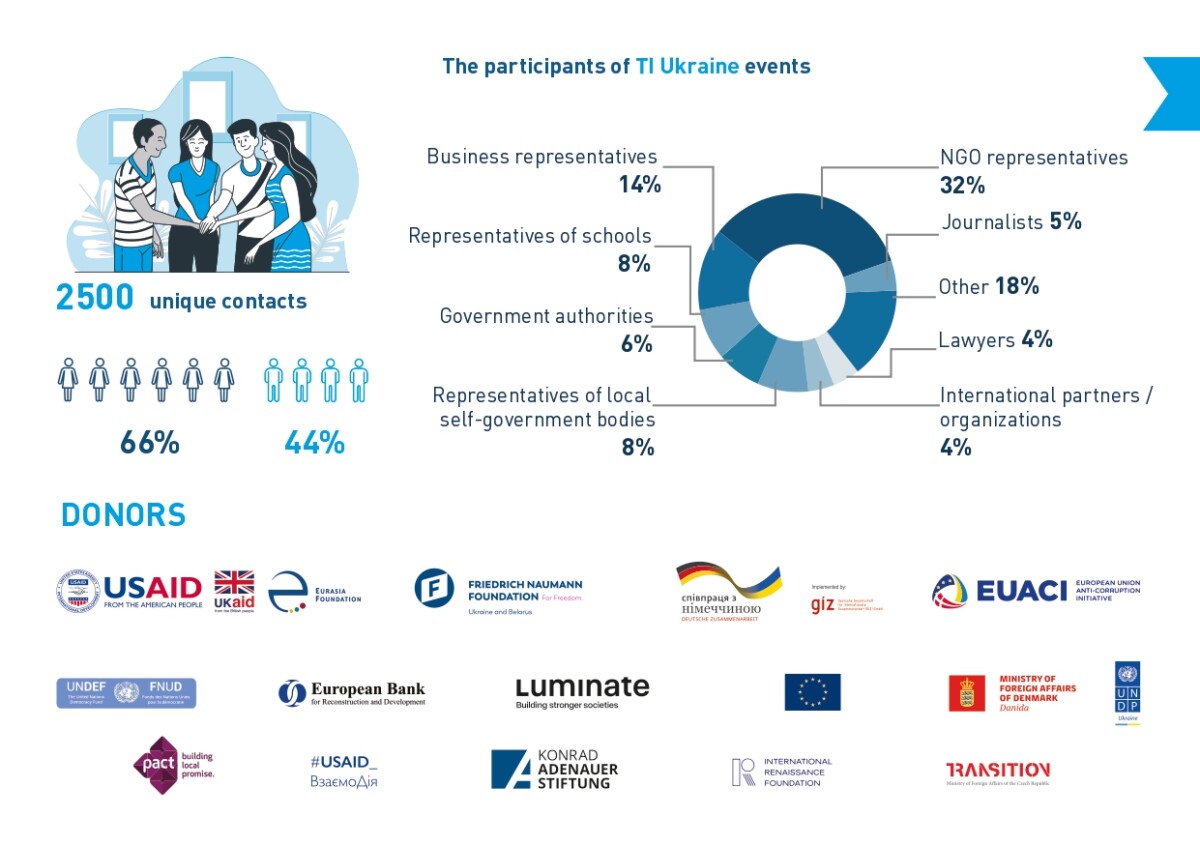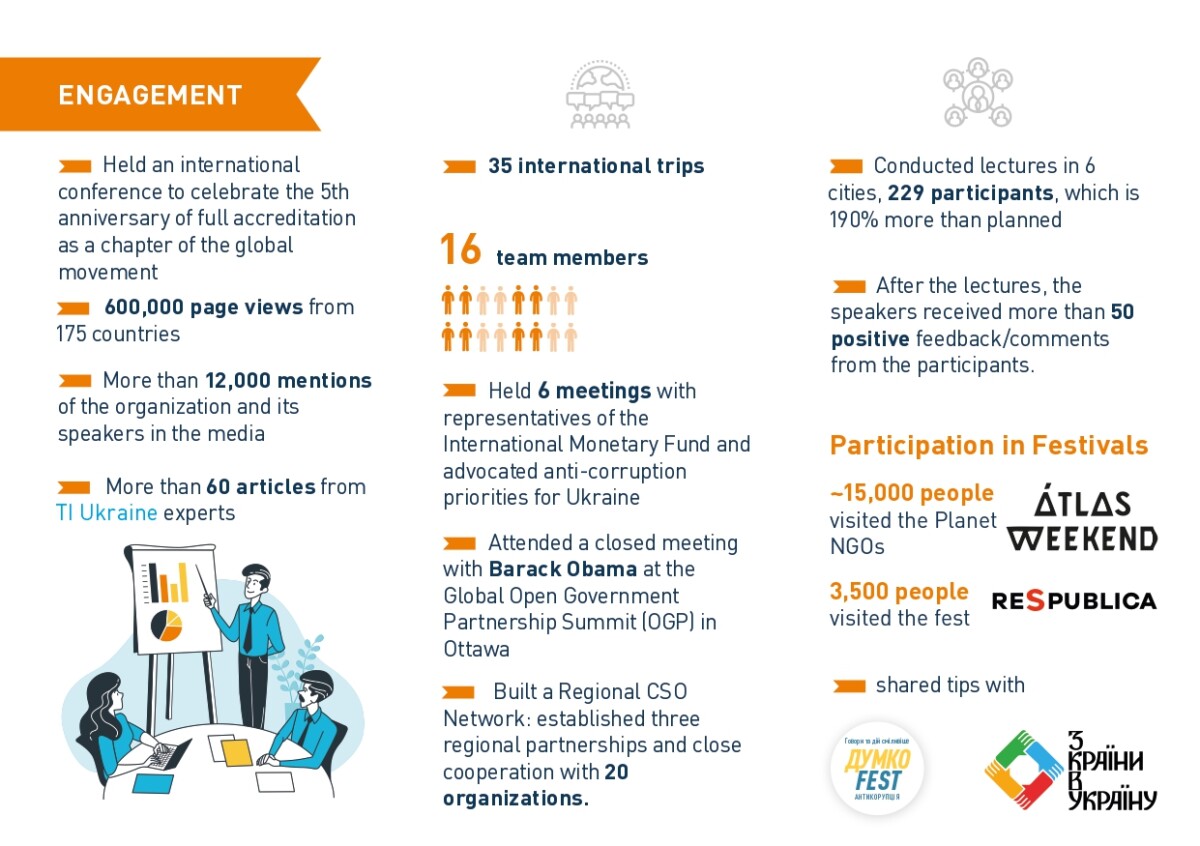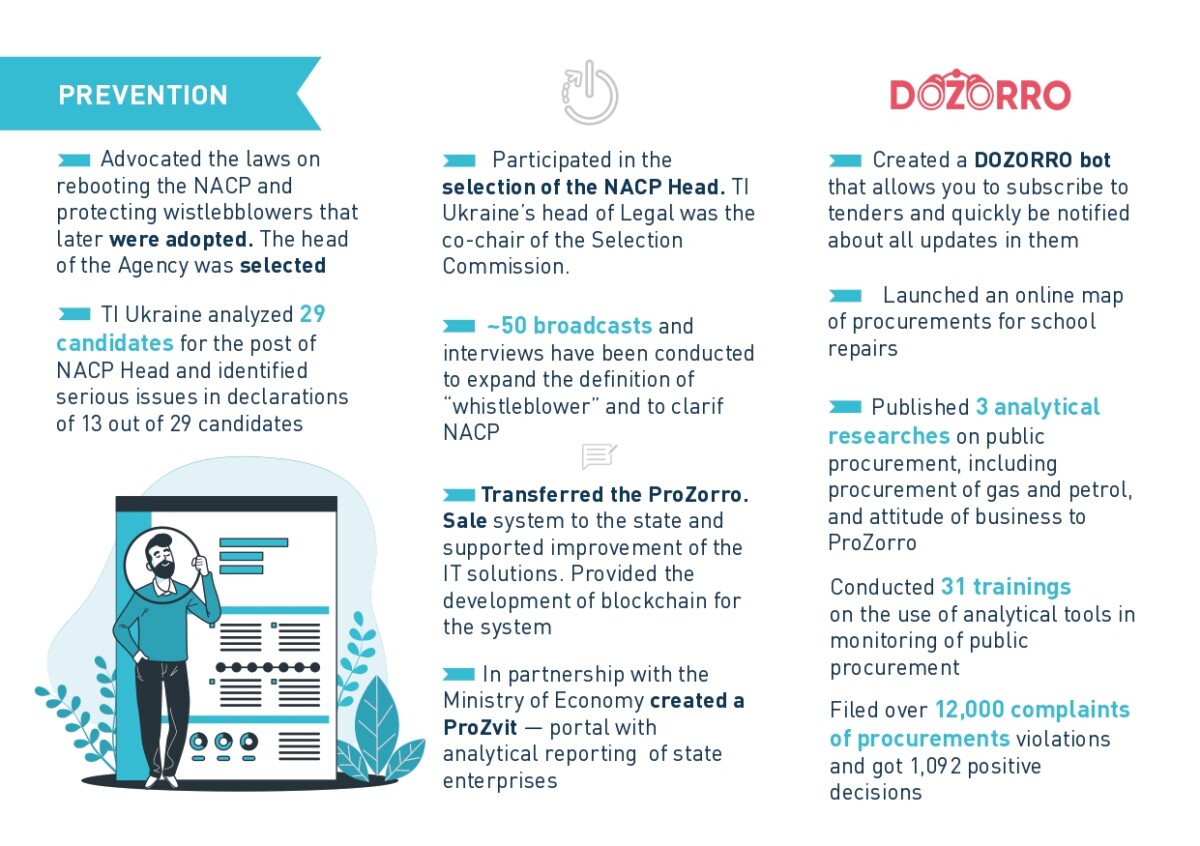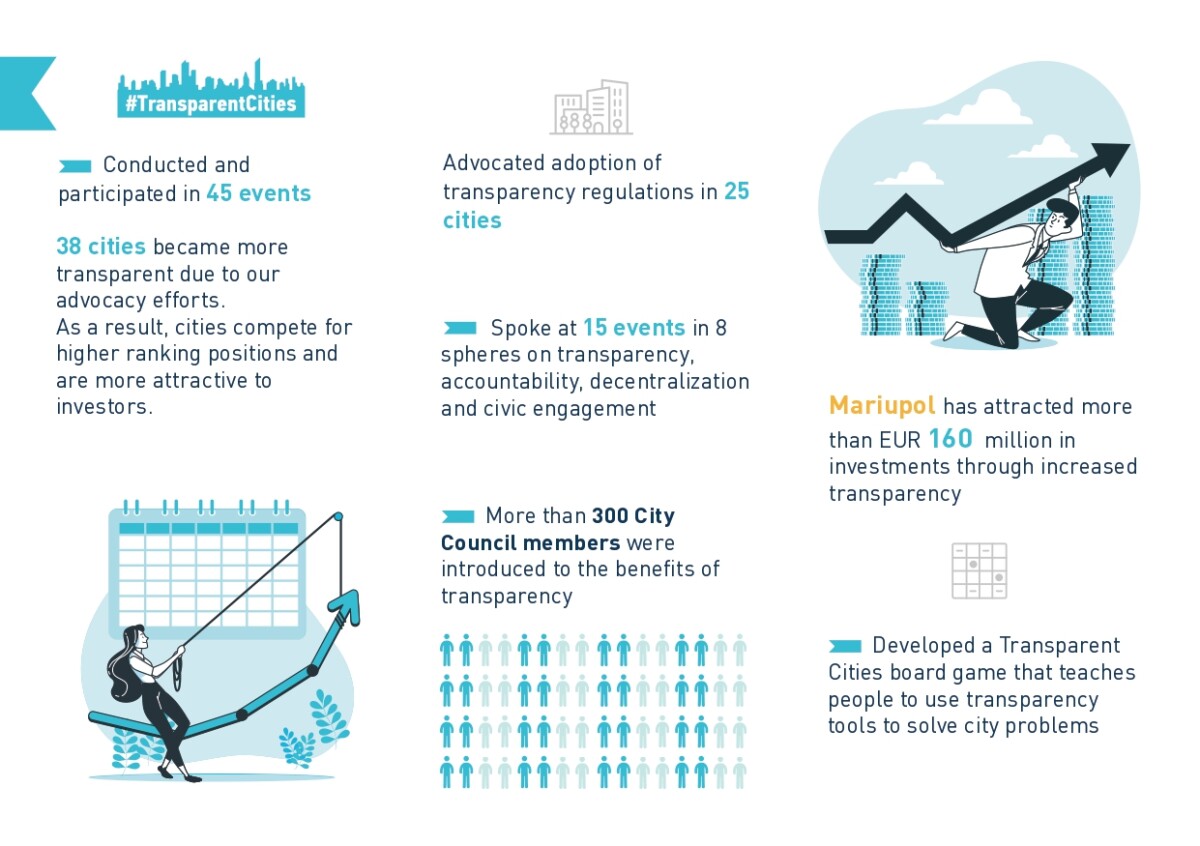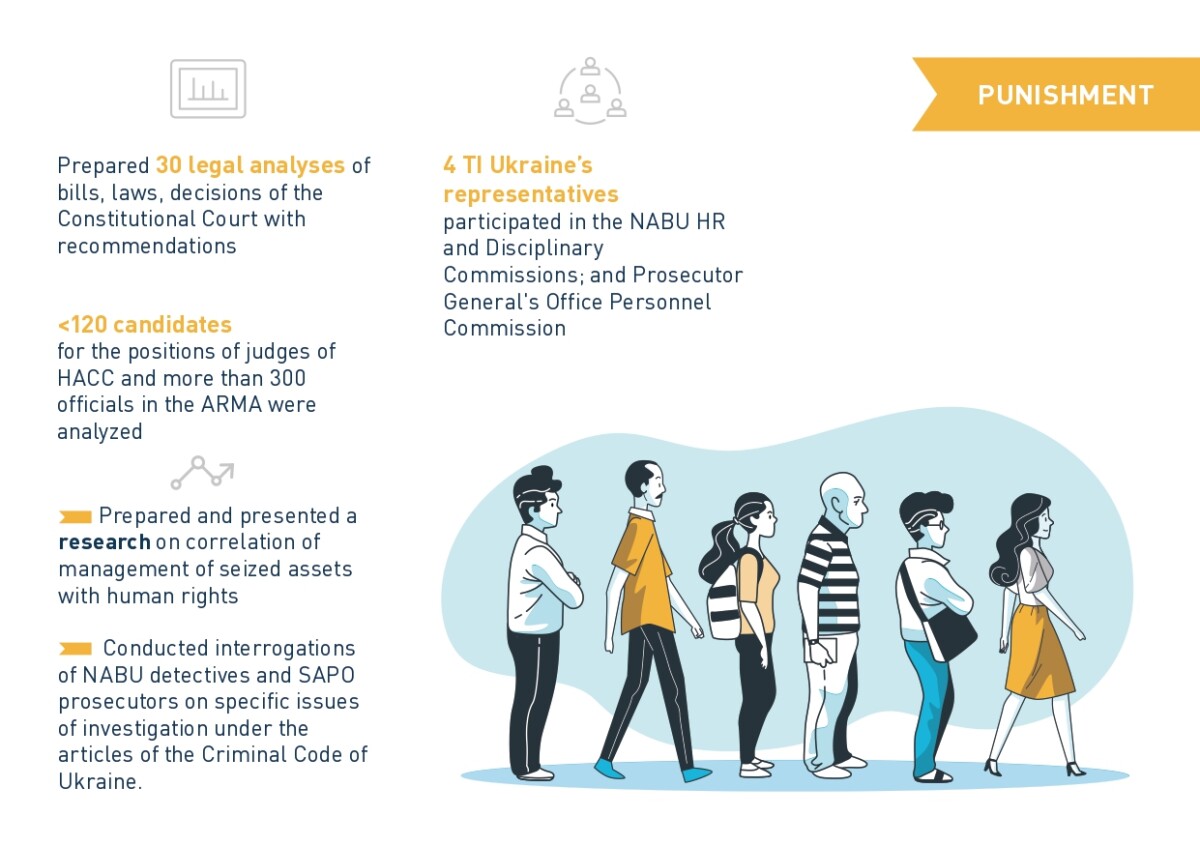 Punishment
Our goal in this focus area was to ensure an effective system of punishment for corruption-related violations. In this sphere, we:
Analyzed 30 draft laws, laws and Constitutional Court opinions;

Analyzed over 120 candidates for the positions of HACC judges and 300 candidates for jobs in the ARMA;

Published a study on consistency of the ARMA's functions with human rights;

Surveyed NABU detectives and SAPO prosecutors on certain issues with investigations on Criminal Code of Ukraine articles;

4 representatives of TI Ukraine were on the selection and disciplinary commissions of the NABU and the HR commission of the Prosecutor General's Office.
"First, you should always engage in dialogue. We are ready to speak with everyone as long as there is an opportunity to change something. Second, don't give up! We often talk about combating corruption, but we at TI know that this is impossible. We can only help mitigate corruption. Third, do not forget the values. You always have to make compromises in your work, but there is always a limit you are not ready to cross. That is why it is important to keep in mind the values you carry with you to any system, especially a government agency." Andrii Borovyk, Executive Director of TI Ukraine
Engagement
One of our strategic priorities was to engage as many allies as possible, unite them into an effective network and to ensure its stable support. To do this:
We held an international conference on the occasion of TI Ukraine's five-year anniversary.

Our experts wrote over 60 articles.

We had six meetings with representatives of the IMF and advocated anti-corruption priorities for Ukraine.

We participated in a closed meeting with Barack Obama as part of the Global Summit of Open Government Partnership in Ottawa.

The team of TI Ukraine participated in 149 events during the year.