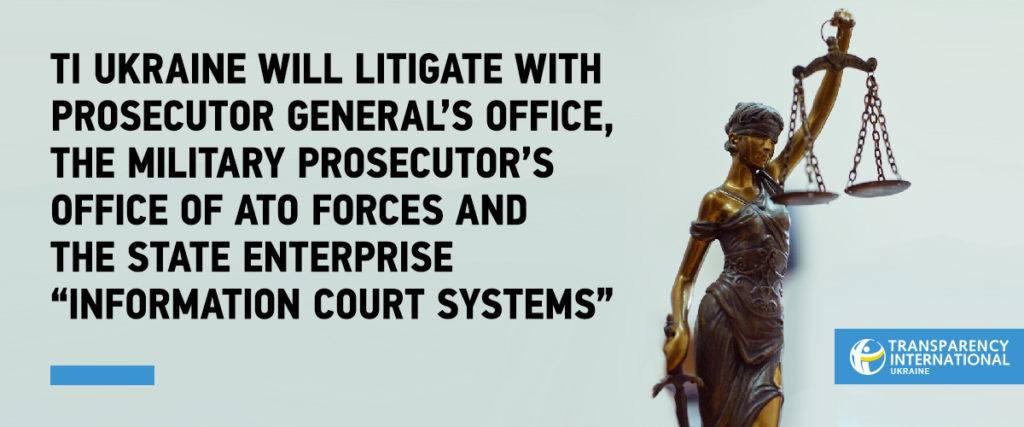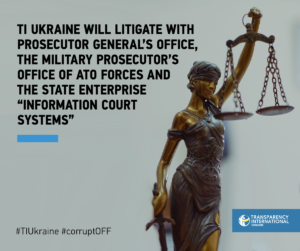 On Monday, at 11:25 PM, Kyiv Regional Administrative Court will hold a hearing on the case on the lawsuit of the anti-corruption organization Transparency International Ukraine against Prosecutor General's Office, the Military Prosecutor's Office of ATO Forces and the State Enterprise "Information Court Systems" to cancel the unlawful decision on secrecy of the decision to seize USD 1.5 billion funds of "Yanukovych's criminal organization". 
 TI Ukraine invites journalists to attend the court hearing, which will take place on November 27 at 11:25AM in Kyiv Regional Administrative Court at 8 Petra Bolbochana st., building 1.
It has been almost eight months since the General Prosecutor's Office seized the 1.5 billion dollars of funds of the former regime.The court decision on the arrest of these funds has not yet been made public.Transparency International Ukraine believes this is a disturbing message, because, on the one hand, the society is unaware of individuals accused in the crimes and the exact amount of money forfeited, and, on the other hand, the decision can be challenged because of technical pitfalls. Transparency International Secretariat and its Ukrainian chapter have already addressed the Ukrainian Parliament with a request to enforce publication of the results of the trial. However, representatives of the Prosecutor's Office ignored the committee meetings and did not justify their position before the MPs.
The Anti-Corruption Action Center has recently withdrawn a lawsuit on disclosure of the ruling in question, because during the preliminary hearing, the defense attorney of the Cyprus company Akemi management ltd filed notice at court on the CSO joining the lawsuit as a third party without own demands.
The State Enterprise "Information Court Systems," which is obliged to publish the court decision in the open Unified State Register of Court Decisions, refers to the prohibition of prosecution authorities. Prosecutor General's Office, in its turn, claims that it recognized this decision as one constituting state secret by itself.
TI Ukraine demands to cancel a number of decision on secrecy and oblige public bodies to publish the decision in the Unified State Register of Court Decisions.
Media contact: Olha Tymchenko, 050-352-96-18