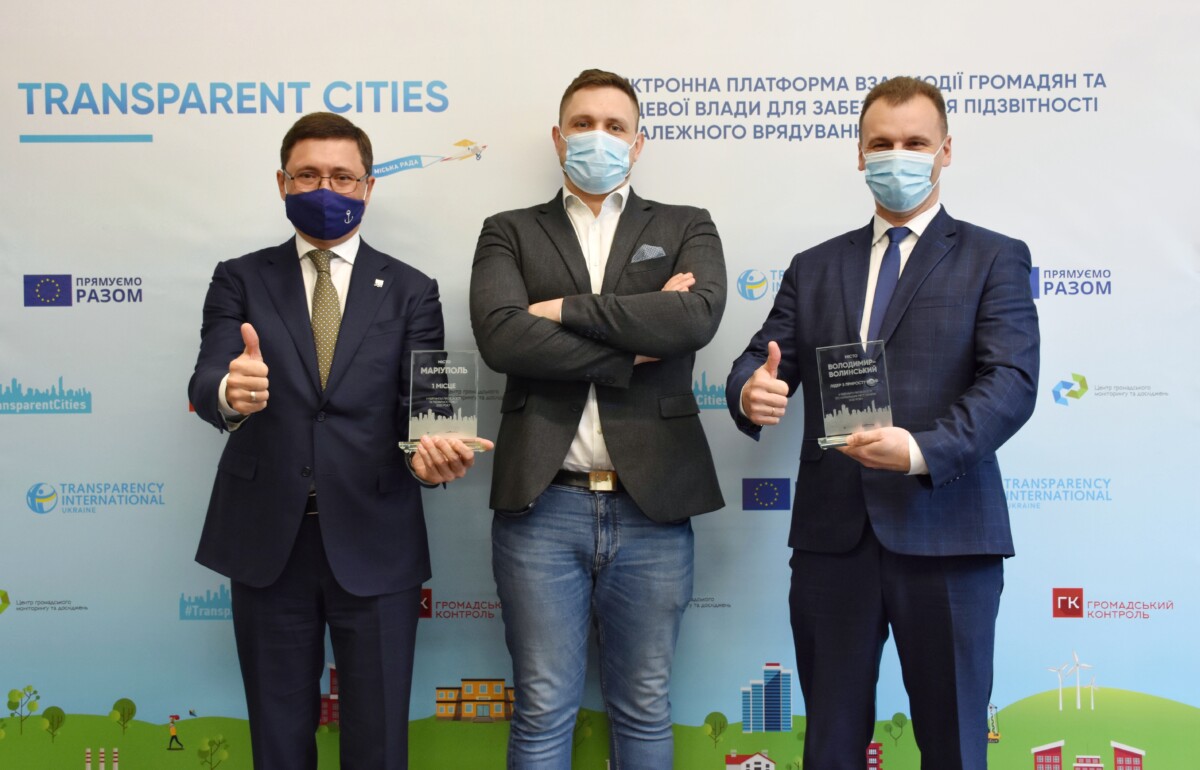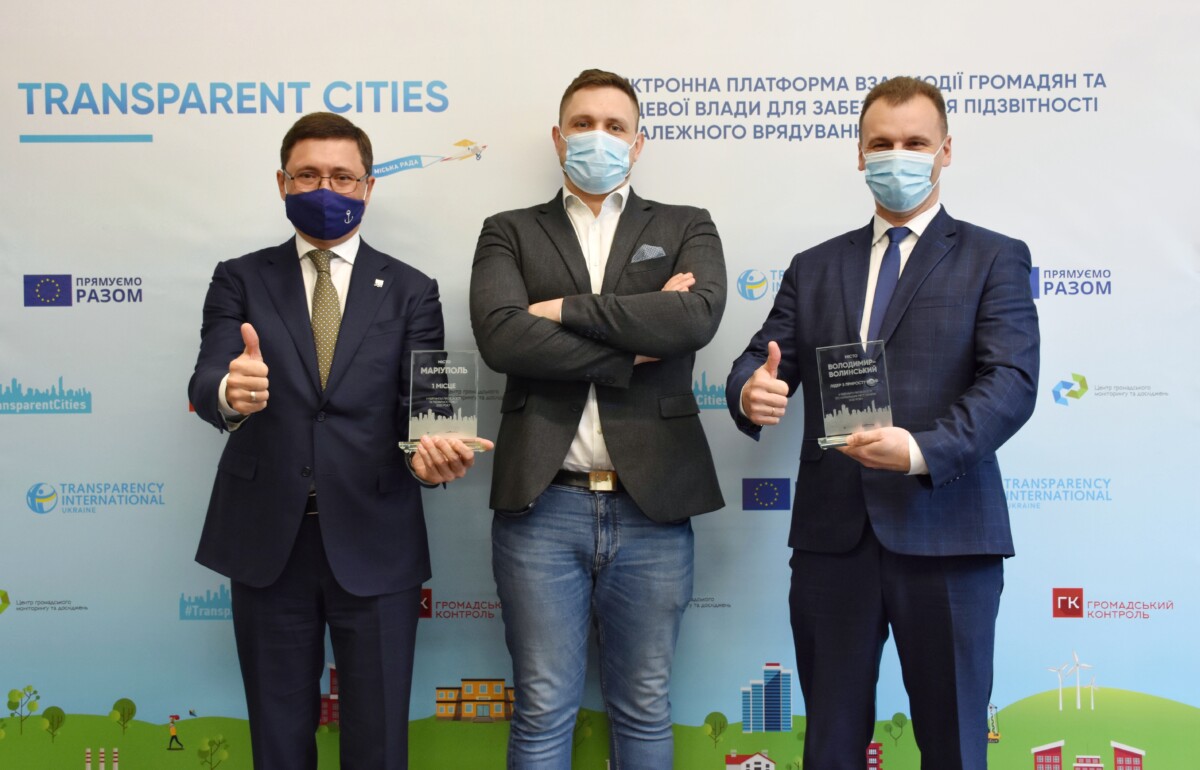 Mariupol comes out on top of the 2020 Transparency and Accountability Rankings of Ukrainian Cities, Lviv is the runner-up, and Volodymyr-Volynskyi has demonstrated the highest growth compared to the previous year. These findings were presented on March 31, 2021, at the event "Transparent on Paper on in Reality: Results of City Transparency and Accountability Rankings 2020" organized by the Transparent Cities platform of Transparency International Ukraine.
We are thankful to Marharyta Kinakh from the Legal Newspaper for this material.
TI Ukraine's Executive Director Andrii Borovyk has addressed the audience with a welcome word, saying that the initiative to research the transparency of Ukrainian cities emerged four years ago. During this time, cities have clearly grown in their scores (by about 60%). The impetus for this project was decentralization, as well as the realization that every resident should have access to quality services and be able to influence the life of their city. "After the publication of the first ranking, we received requests for the nominal value of the indicators. This prompted us to change the methodology and practical verification of the ranking results. This year's assessment was also influenced by the ability of cities to adapt quickly to the pandemic. In addition to the transparency ranking, today, we are presenting a study of accountability, which means a citizen's ability to influence the events in their city not once in four years, but constantly," said Mr. Andrii.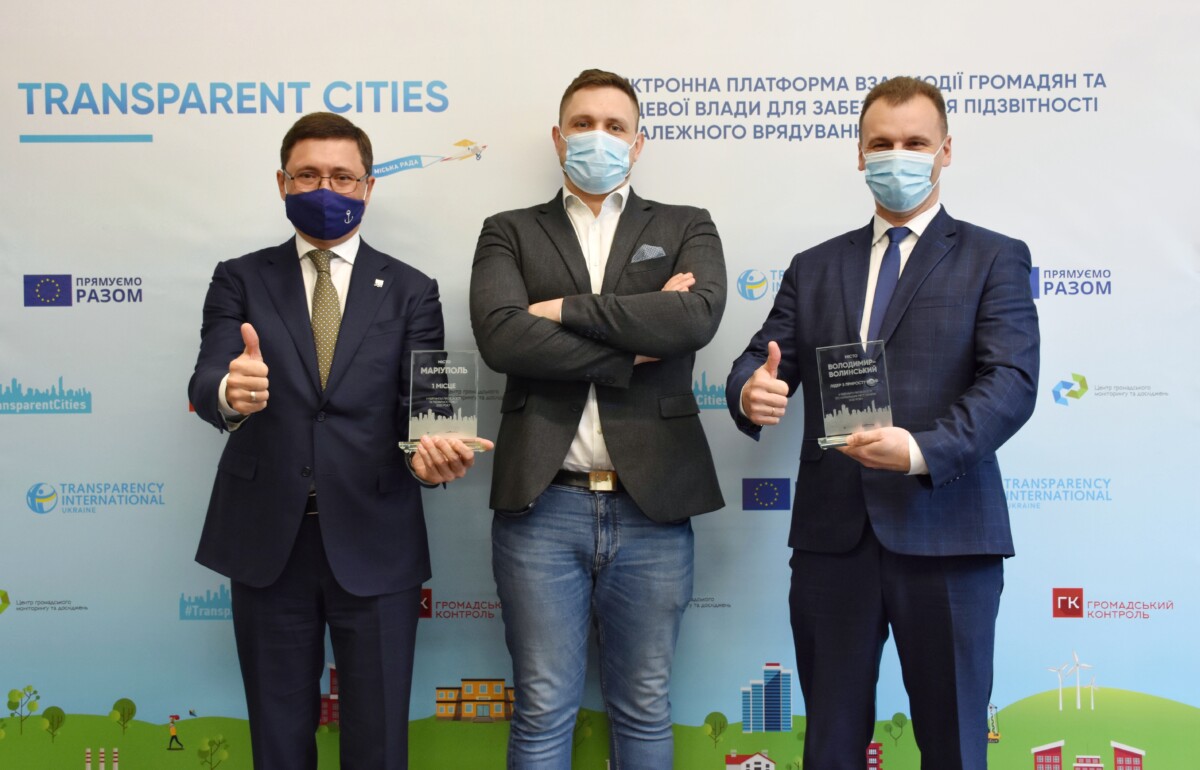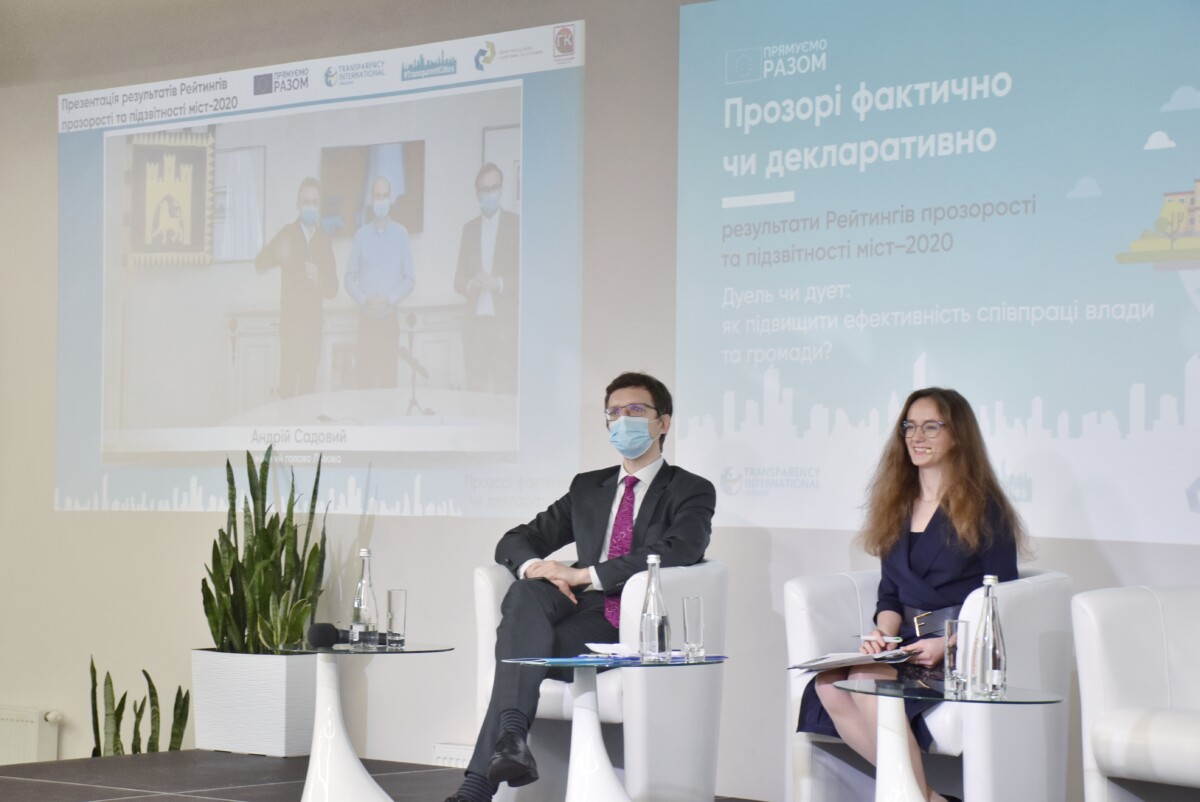 Manfredas Limantas, Sector Manager for Rule of Law and Anti-Corruption for the EU Delegation to Ukraine, also said a few welcome words: "We think this project has already proven its relevance. Thanks to the city transparency ranking, good practices get spread throughout Ukraine. This gives hope and is a strong motivation to continue supporting this project. Transparency International Ukraine professionally implements it and shows that it is possible to take steps forward by working together. This is an innovative platform for cooperation between Ukrainian communities." Mr. Manfredas also said the EU supported decentralization, community integration, anti-corruption initiatives and a local integrity project.
Anastasiia Mazurok, Chief Operations Officer of Transparency International Ukraine, noted that transparency and accountability are two key elements on the path to open communities. She explained how these categories should be understood within the project:
Transparency is the principle of good governance, which guarantees that citizens have the right to access information and the authorities play a proactive role in developing such an opportunity. That is, transparency is the willingness of local governments to provide information;
Accountability is the state of relations between local governments and citizens in which citizens have a real opportunity to be involved and influence policy-making processes, control and inspect the activities of local governments, while the latter are obliged to report publicly on their activities.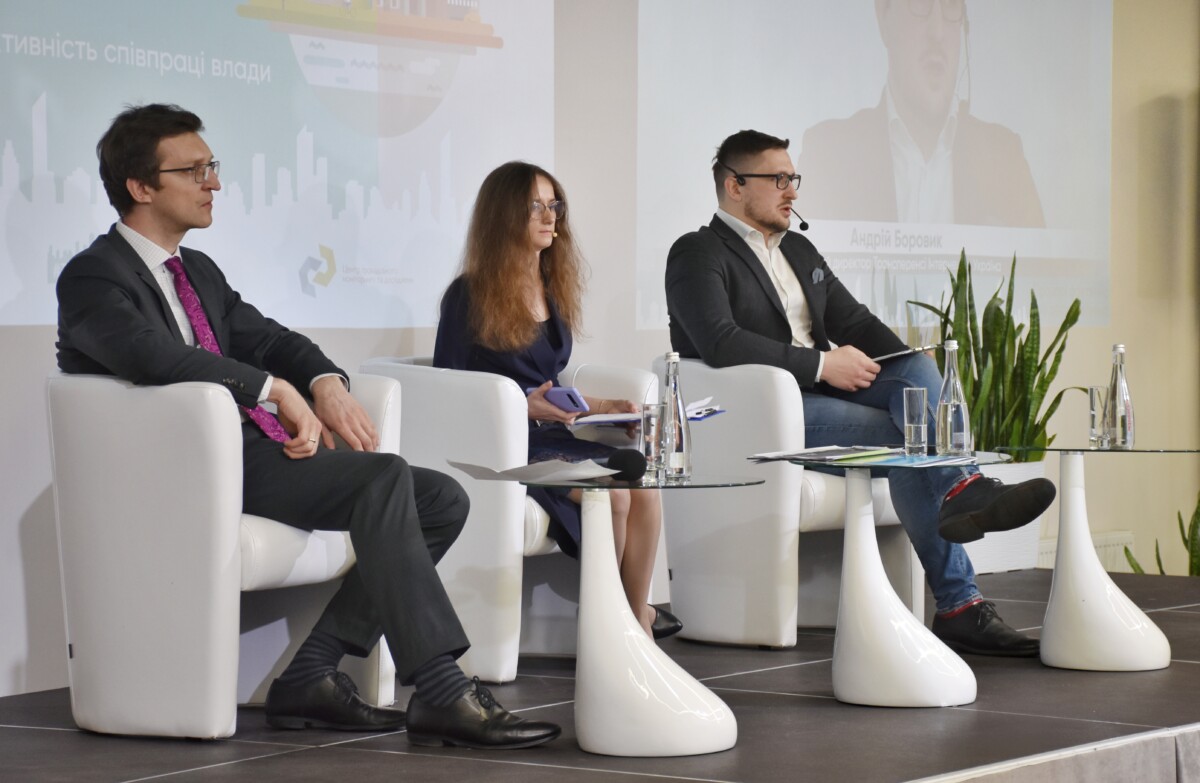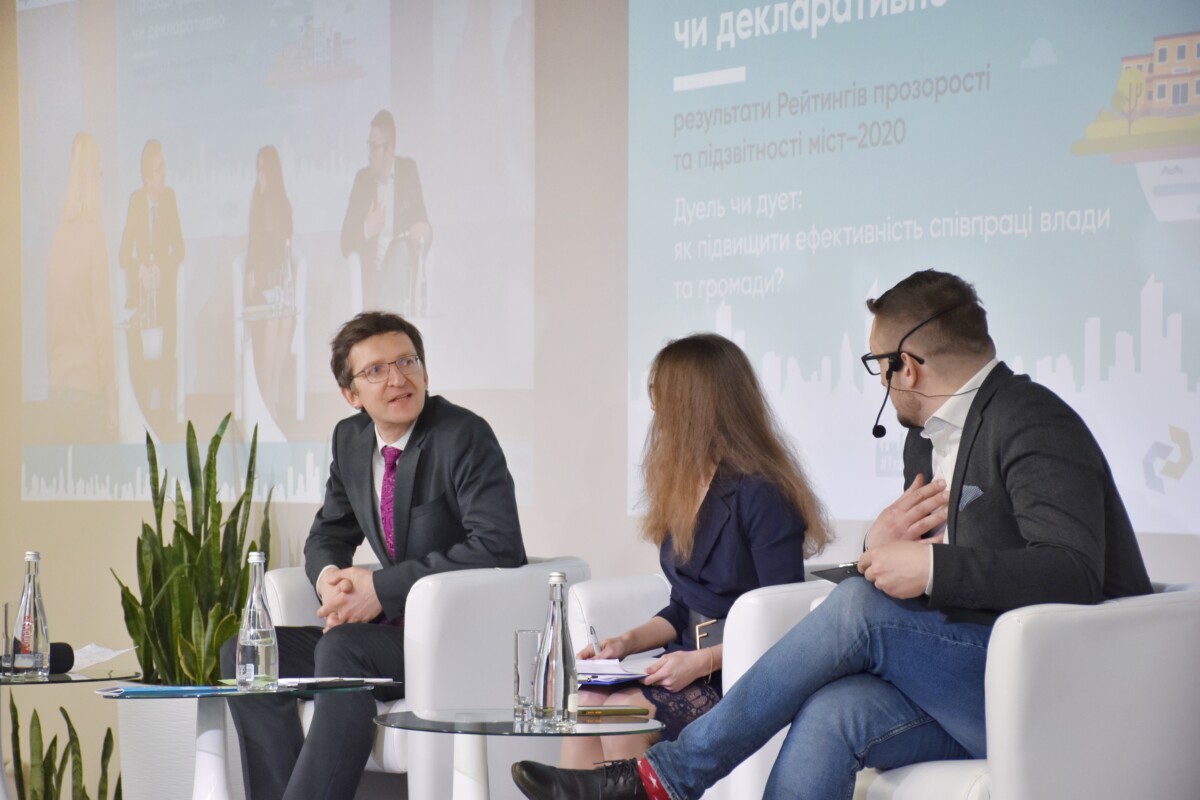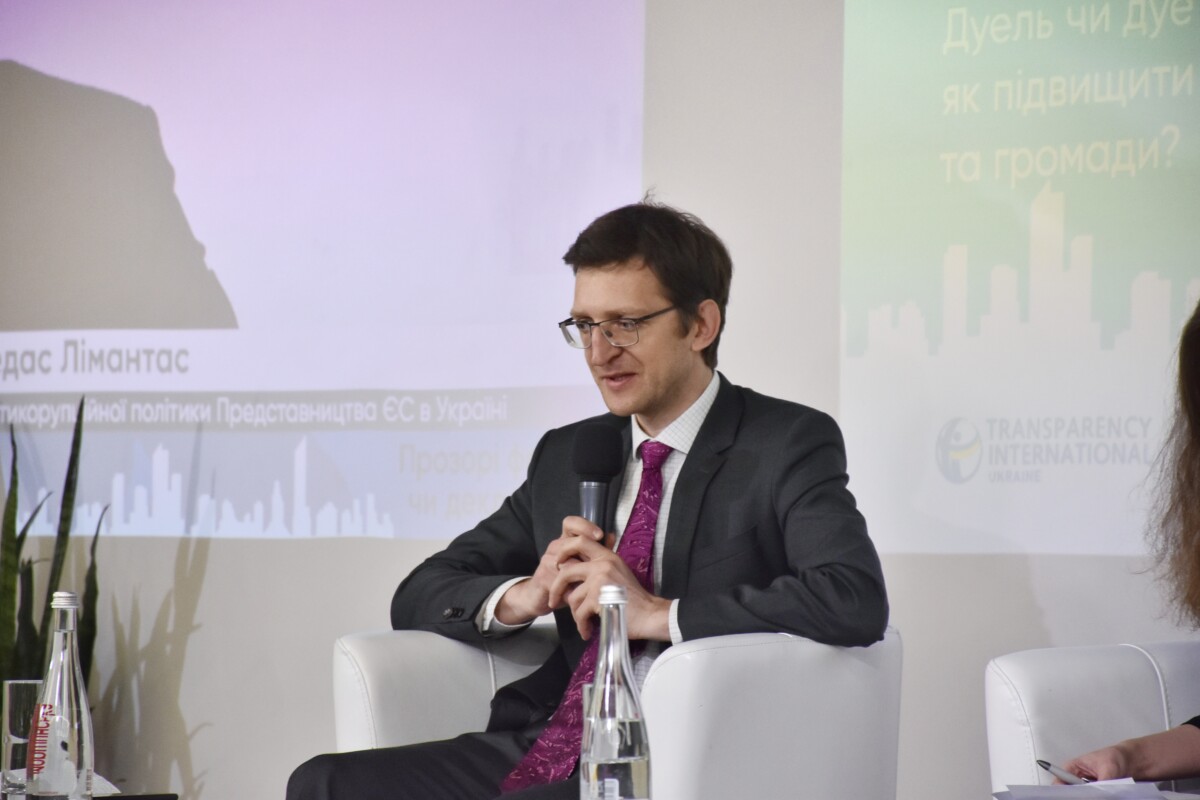 Anastasiia Mazurok outlined the methodology for assessing transparency: 14 areas with 86 indicators were studied, and the 100 largest cities in Ukraine were evaluated. The score ranged from 0 to 100 points. The accountability assessment methodology also included 14 areas with 47 indicators. In this ranking, 50 cities of Ukraine were subject to assessment, of which 5 cities are the leaders of last year's transparency ranking and 45 cities are the largest in terms of population. The score ranged from 0 to 100 points. Every city will be able to receive individual recommendations on the Transparent Cities platform, compare itself to other cities, and analyze its scores during 4 years.
"Speaking about the research results, we should note that the level of transparency of Ukrainian cities has grown by 47.7 points and now constitutes 54.4 points. That is, the average score is growing, but the pace is slowing down. Compared to last year's figures, 57 cities improved their scores. Regarding the level of transparency by areas, in 2020 the leadership is held by education, in 2019—HR matters, in 2017-2018—access and participation. Housing policy has the lowest transparency scores during four years," said Ms. Anastasiia.
The average accountability score out of 100 is 12.5. This means that only 9 city councils have fulfilled the main conditions to provide citizens' access to meetings, i.e. online broadcasts, preliminary announcement; there were no cases of denied admission in 2020, and there are no discriminatory provisions in documents. Such cities include: Odesa, Mariupol, Oleksandriia, Brovary, Chernihiv, Drohobych, Kherson, Kamyanets-Podilskyi, and Mukachevo. 9 out of 50 cities participating in the accountability ranking provided a way for citizens to participate in the meetings of standing commissions: Pokrov, Odesa, Mariupol, Sloviansk, Kyiv, Lutsk, Mukachevo, Chernivtsi.
This is the map of Ukrainian cities in the ranking of transparency and accountability: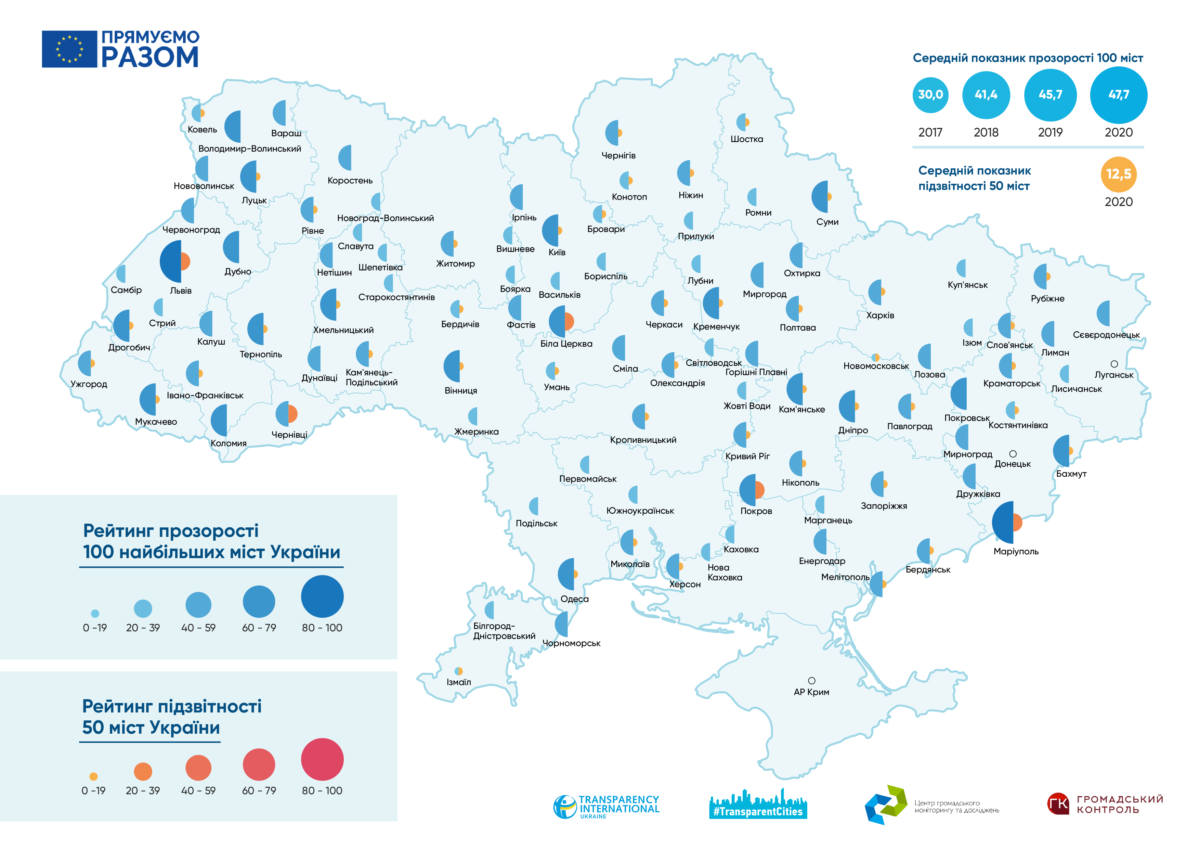 (click on the image to view)
The 5 best cities in the ranking of transparency were:
5th place — Ternopil with a score of 75.2 points
4th place — Vinnytsia with a score of 76.7 points
3rd place — Drohobych with 78.1 points
2nd place — Lviv with a score of 85.2 points
1st place — Mariupol with the highest transparency score of 86.6 points.
The following cities became the best in the accountability rating:
5th place – Chernivtsi – 20 points
4th place – Bila Tserkva – 21 points
3rd place — Pokrov, 22 points
2nd place — Lviv, 22 points
1st place — Mariupol, a high score of 32 points.
This year, Volodymyr-Volynskyi improved most compared to last year, with the biggest leap and the most rapid development.
Serhii Derkach, head of the NACP's Prevention and Detection of Corruption Department, noted that the work on preventing corruption is very diverse, and transparency and accountability are its key elements, especially in a decentralized environment. "Using the results of this ranking, we plan to work with officials responsible for the prevention of corruption and citizens to explain to them how to properly and effectively build work to detect and prevent corruption. First of all, each organization should assess corruption risks, i.e. the factors and situations which may cause corruption. The NAPC is already preparing an official methodology for assessing corruption risks, which will be useful for organizations and public authorities," said Mr. Serhii. He also pointed out that it is necessary to appoint an anti-corruption commissioner who will be working on anti-corruption in a specific agency or organization. "Such commissioners have to be in local or oblast councils, as prescribed by the law." In addition, each local government agency must have a mechanism and a policy for processing corruption reports.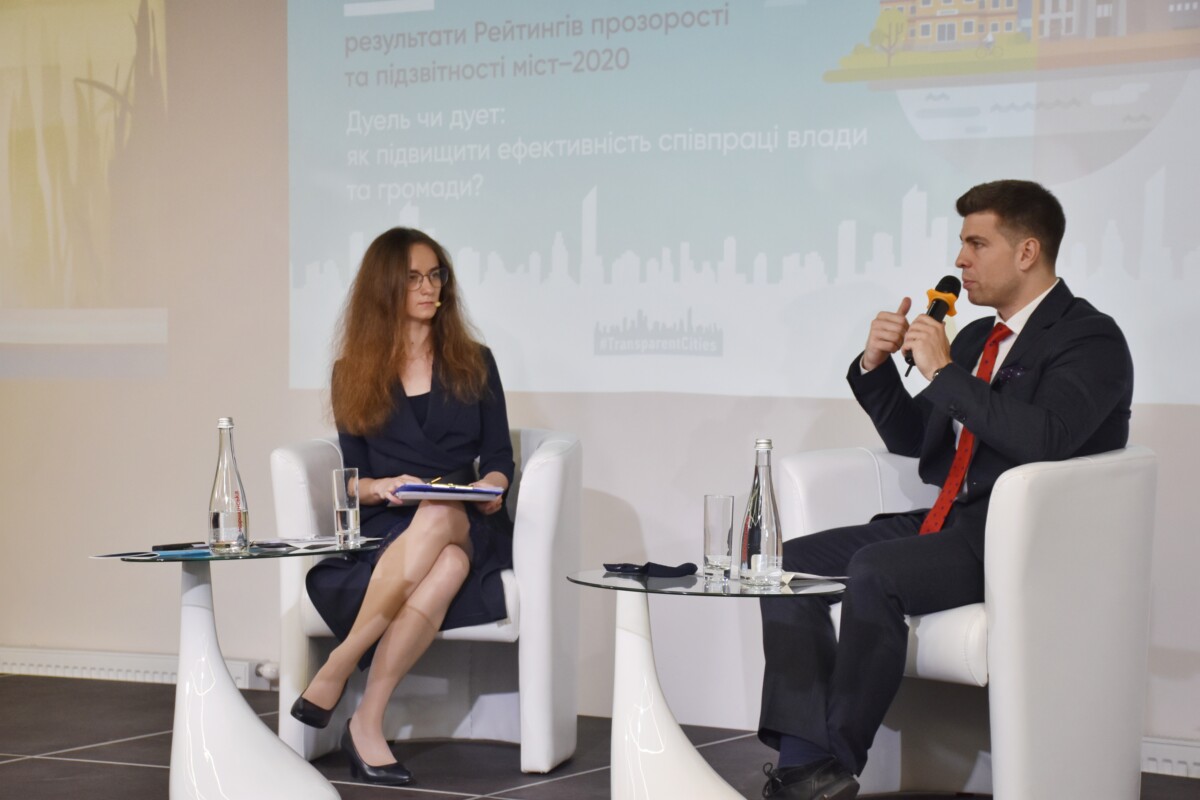 At the panel discussion, moderated by Director of Innovation Projects Ivan Lakhtionov, the speakers talked about making the cooperation of the authorities and the community more effective. "There is a myth that big cities develop much faster than smaller ones. In fact, it all depends on the political will. Today, we will find out how city transparency and accountability work in view of digitalization."
Vadym Bortnyk, Director of the Regional Digitization Directorate of the Ministry of Digital Transformation of Ukraine, noted that the regional policy of the Ministry of Education aims to ensure that every citizen receives quality digital services and that community management is transparent and efficient. "Currently, the Directorate is working on 3 projects: a study of the digital ranking of regions, the Diia portal, and a marketplace of digital solutions, i.e. a list of digital services for the community for effective decision-making. In addition, a new position of Deputy Head of Digital Transformation is being created in regional state administrations. The project of digital franchise is also in progress, within which we are going to develop template digital solutions for communities," explained Vadym Bortnyk.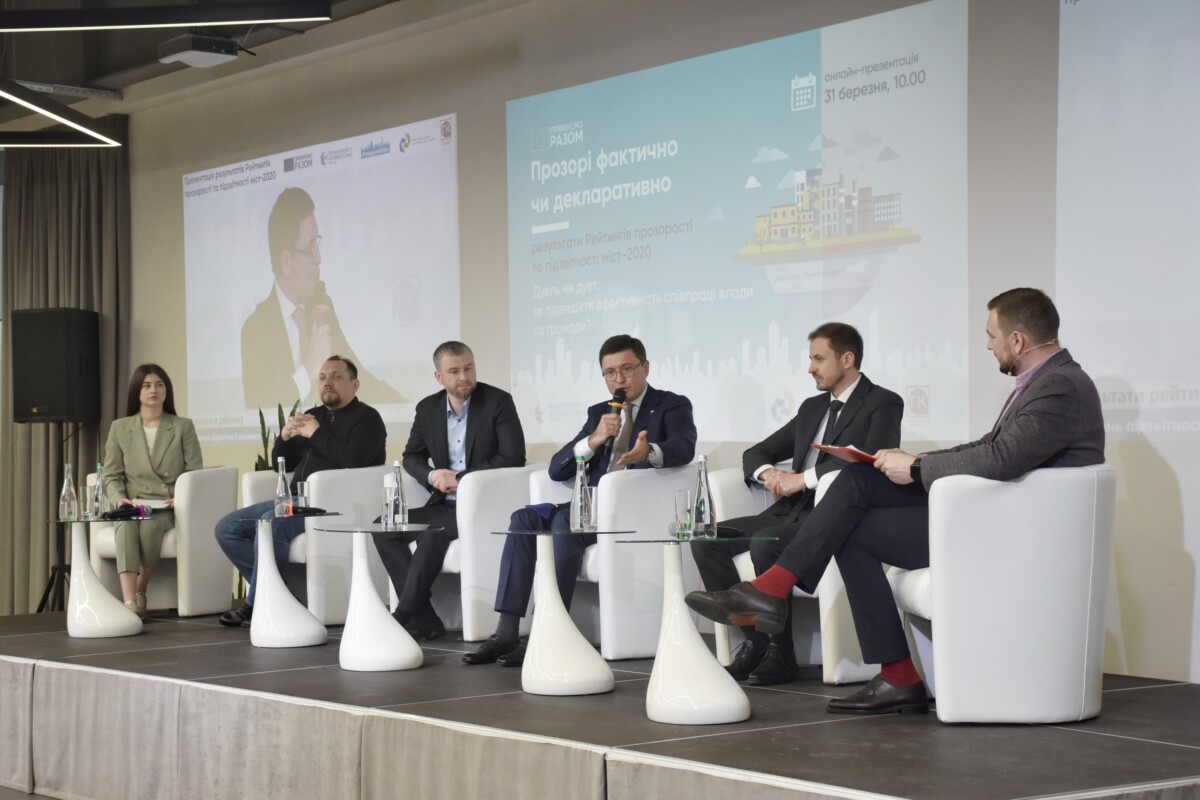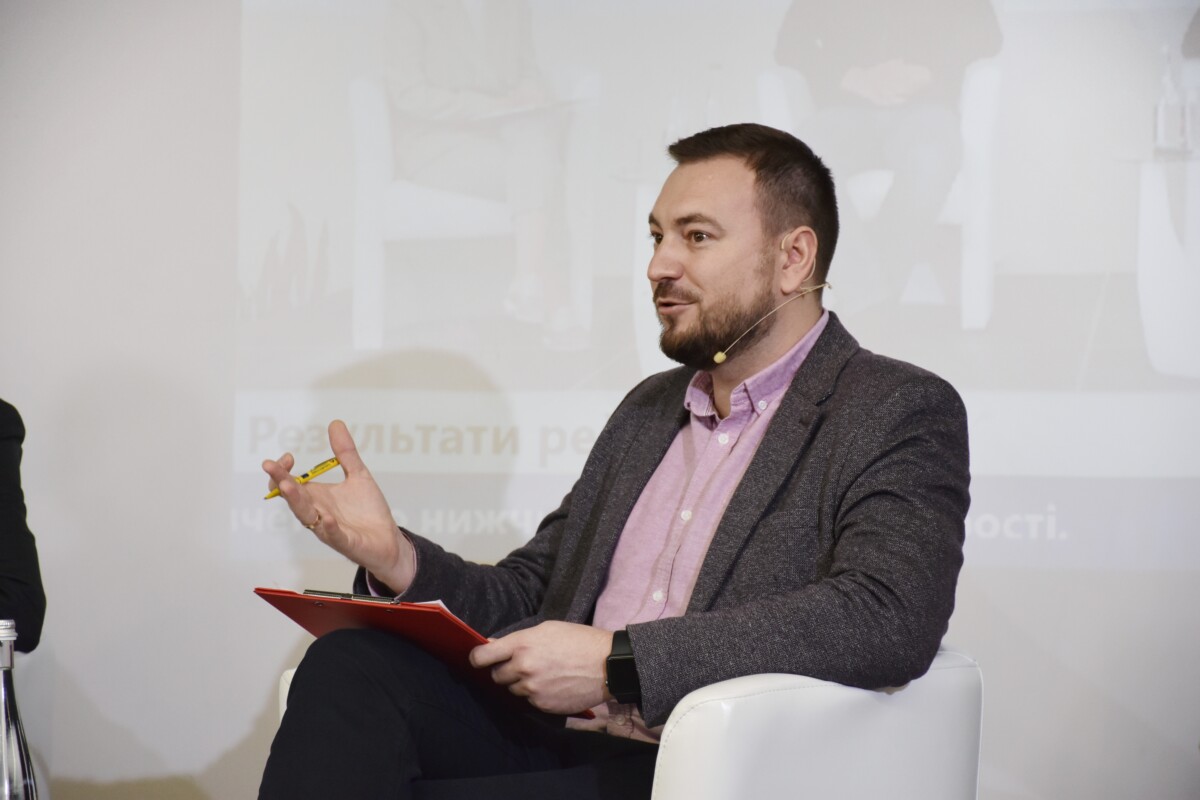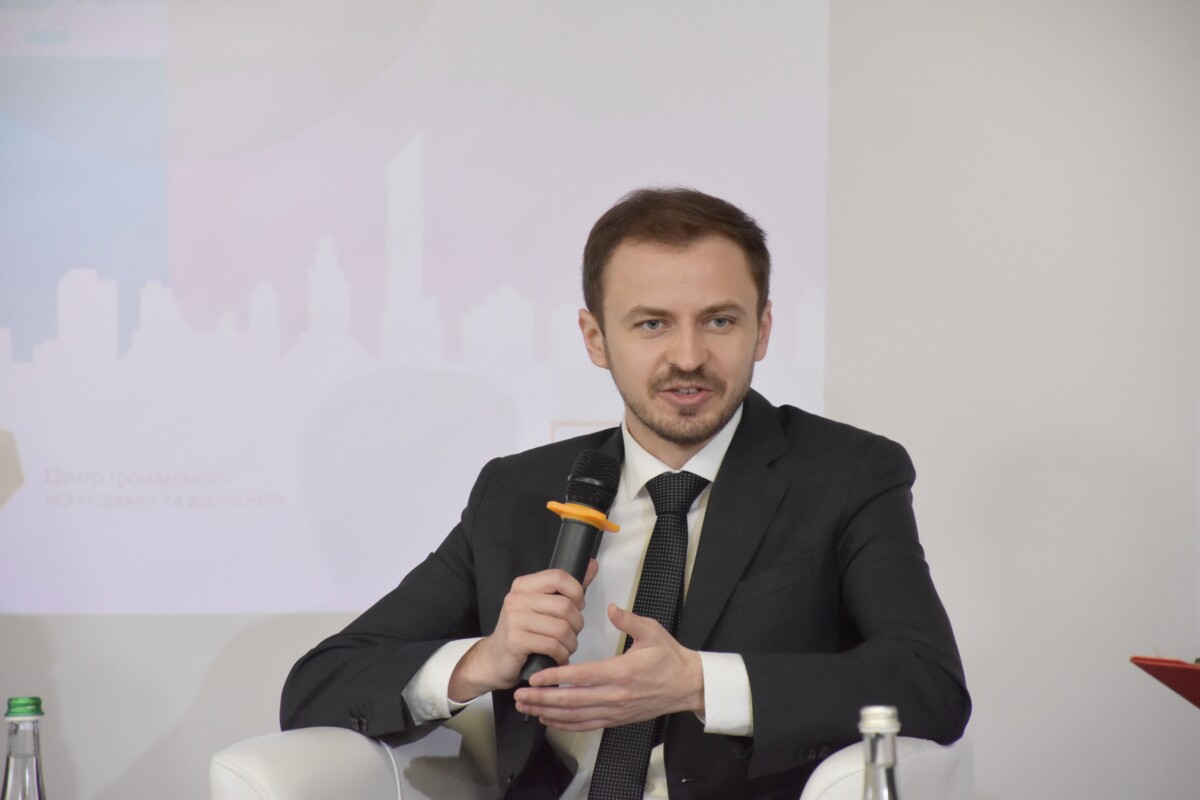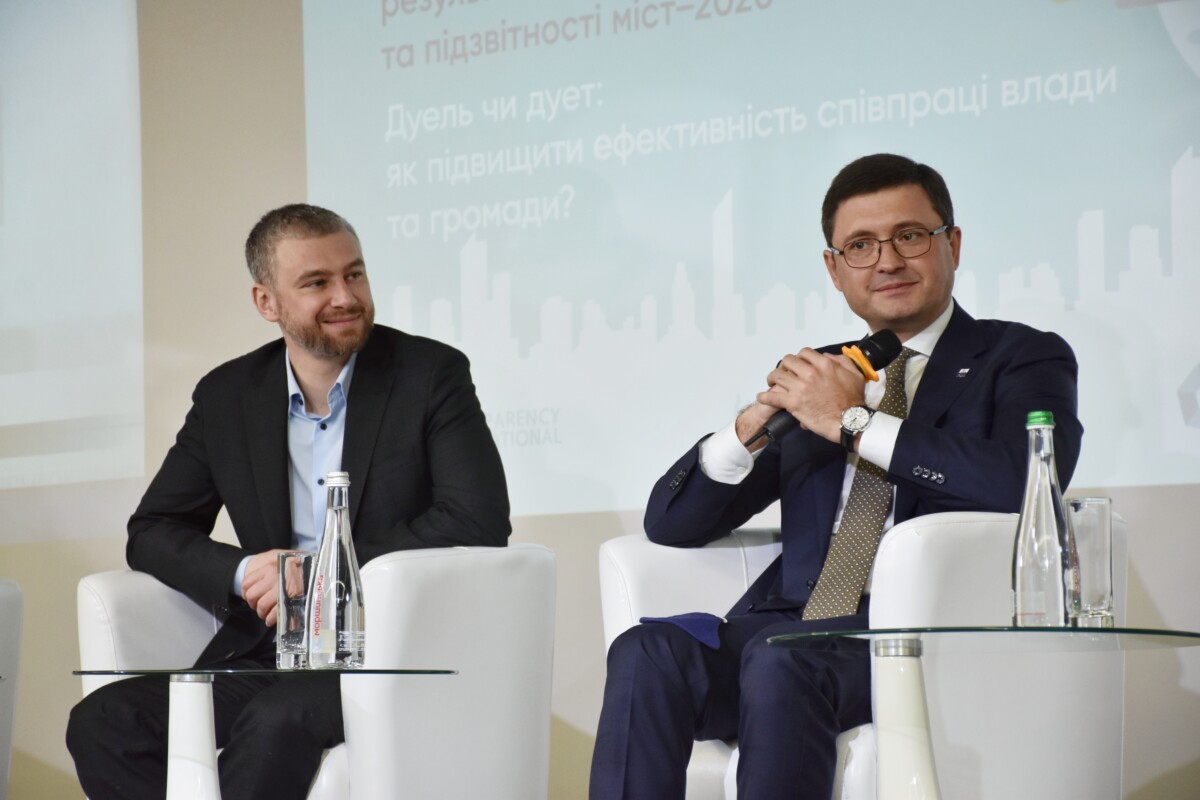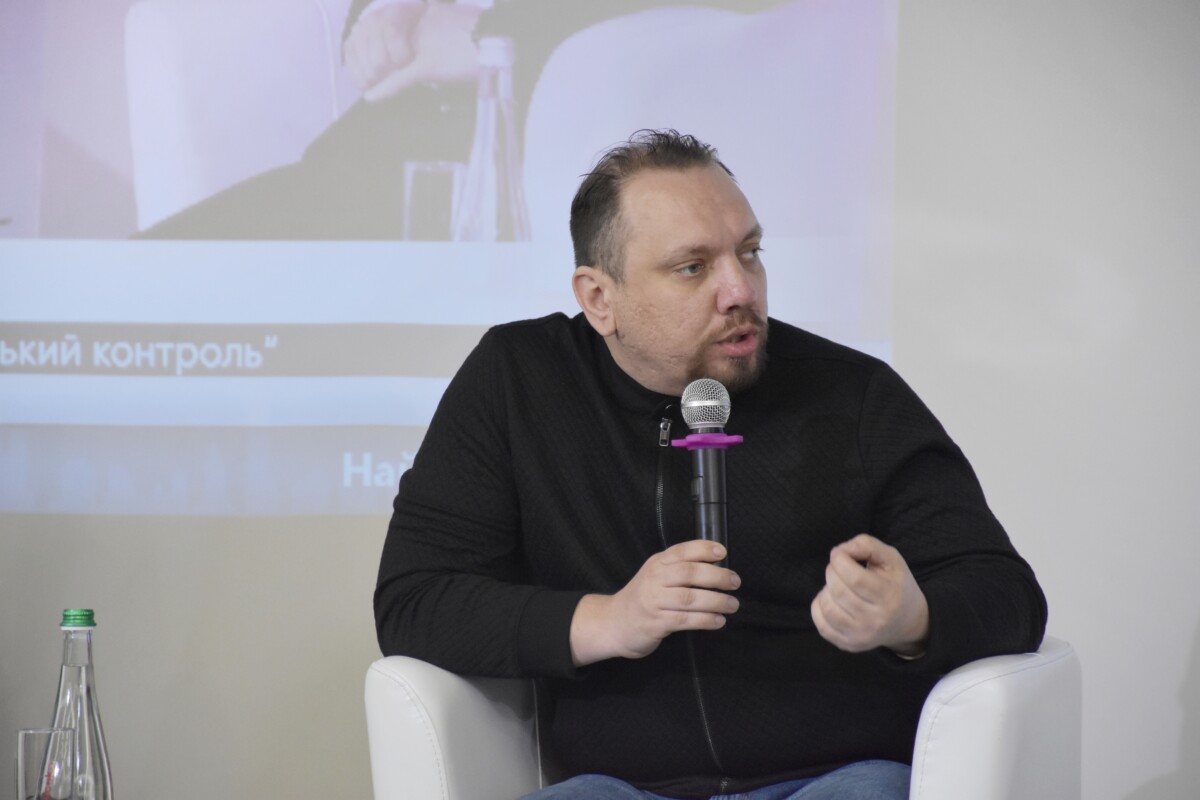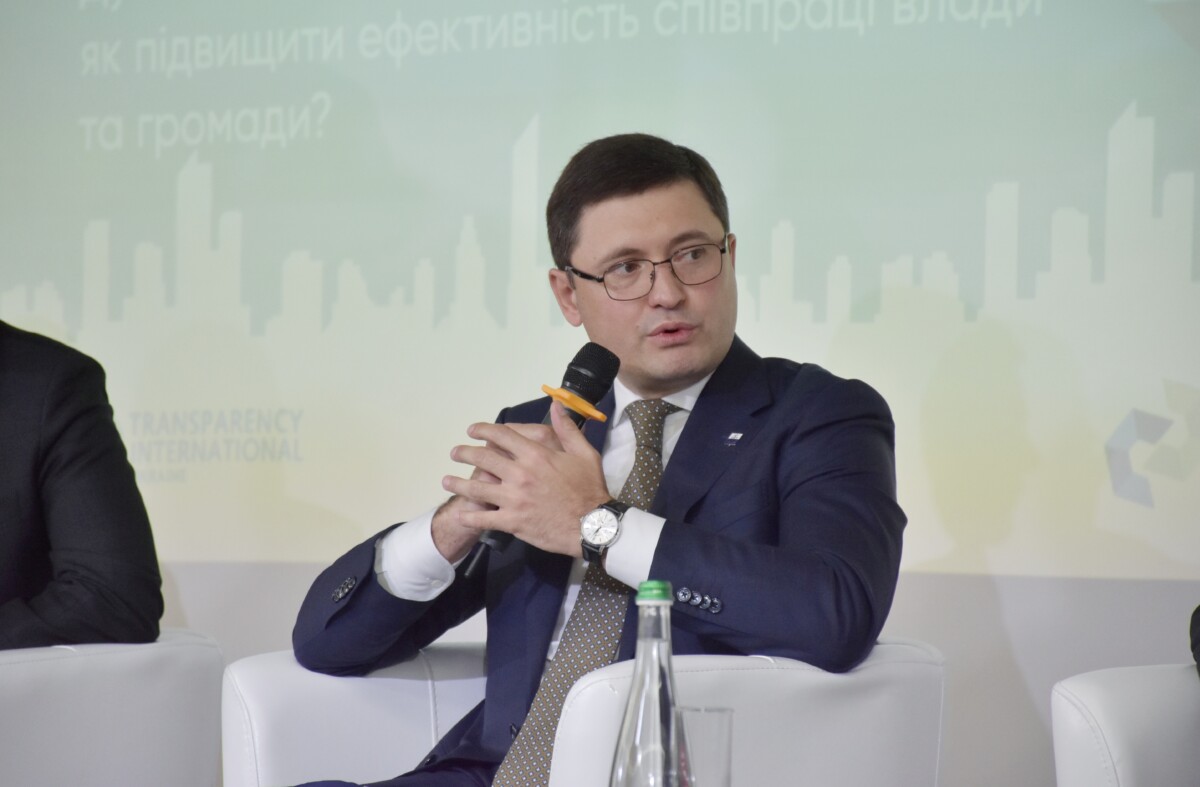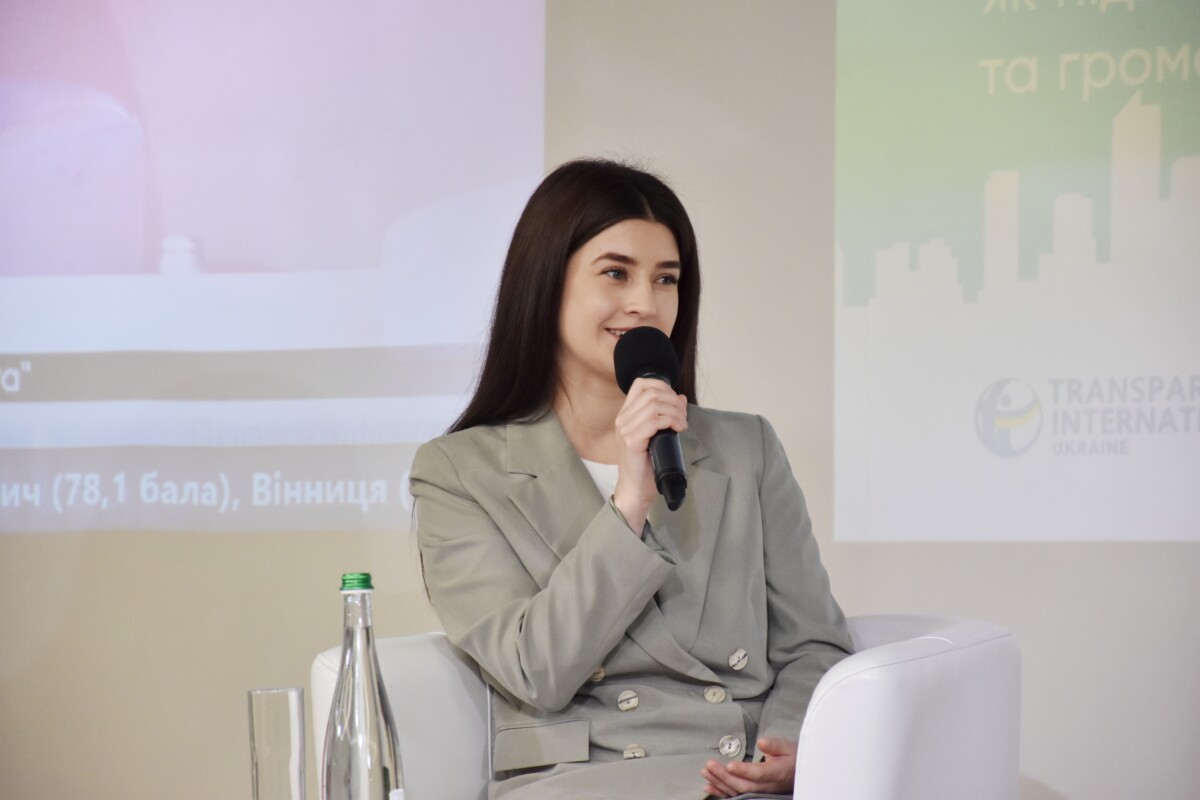 Deputy Minister of Development of Communities and Territories of Ukraine Ivan Lukeria noted that the speed of digitalization of communities varies in Ukraine and now, it is characterized by the development of small communities. "The Ministry of Education invests its efforts in the development of communities in terms of computerization, the Internet, and digital literacy. For us, the priority is to create a convenient infrastructure for receiving both online and offline services. A convenient network of public services should be available in each community: schools, kindergartens, libraries, hubs, inclusive centers, centers of administrative services. Our task is to provide quality services to citizens regardless of their place of residence. Therefore, together with local self-government bodies and other ministries, we are working on the implementation of the state strategy for regional development for 2021-2025," said the Deputy Minister.
Mariupol mayor Vadym Boichenko noted that since 2015, the city had begun an active introduction of digitalization, electronic document management, attracting and using innovations and investors. For example, in 2019, the largest center for administrative services in Ukraine was opened there, which provides about 470 services. "It is important for us to provide the population with quality services, and the philosophy of professionalism must go from top to bottom. If the mayor is not interested, the municipal enterprises will not see themselves as service providers and monitor the level of service. That is why it is necessary to change the view of traditional things and act in a modern way", said the mayor.
Denys Selin, chair of the Board of Public Control Platform, noted that when the rankings had just been launched, many indicators were only on paper but not implemented in practice. Now, the situation has changed: local authorities can get citizens' feedback, which will help cities interested in change to improve. "The feedback of their community will provide local authorities with an understanding of what they need to move forward. You can still divide Ukrainian cities into those that strive for transparency and those that do not want to change anything. Nevertheless, new aspects of communication with the community need to be introduced."
Olena Ogorodnik, Transparent Cities program manager, noted that in four years, the transparency score had grown by almost 60%. Cities can develop regardless of their location and population. "When there is a political will, the desire for quality change, cities move forward," says Olena. She also outlined the vectors and priorities of the program for this year: "Creating motivation among the public sector to work more actively with local authorities, to develop dialogue and to show examples of best practices is one of the main directions of our work. The results of the ranking are a starting point for local governments for their comprehensive development and work with the actual situation. We have launched the Transparent Cities online platform, which contains recommendations and methodologies for each city." Olena Ogorodnik briefly mentioned general advice for all cities: adapting to quarantine restrictions (holding public hearings, online council meetings), using available resources of the Ministry of Finance and the Ministry of Regional Development, creating official information resources with equal access for everyone.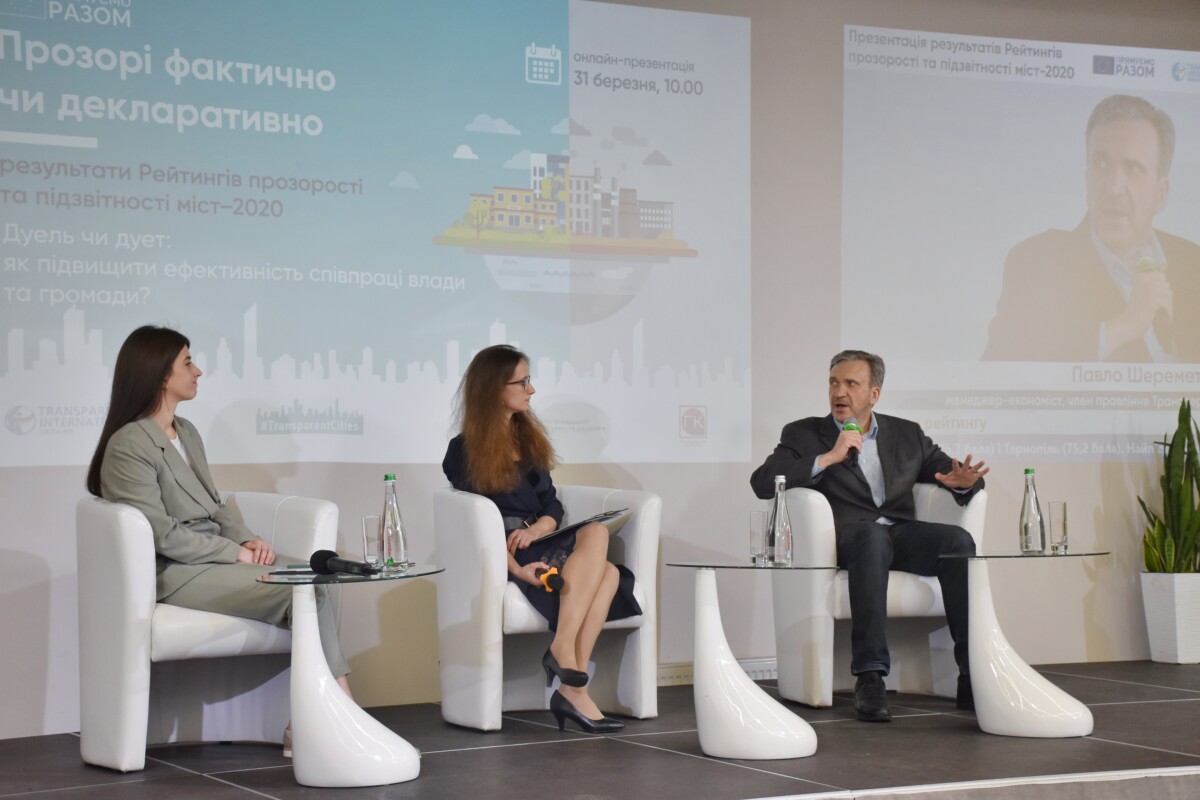 Pavlo Sheremeta, economy manager, member of the board of Transparency International Ukraine, said in his speech that the country can develop in three aspects in the economic sector: labor force, engagement of capital, and innovation. Therefore, the three leaders in these rankings are the primary cities to implement innovations. And the main factors that affect them are:
trust;
economic freedom (Ukraine is still in the last place in Europe);
positive perception of competition.
"We will have bottom-up reforms, because healthy competition will drive local teams to development. Cities need to eliminate the pain points for investors and start working. Those who do not want to strive for the best will never be able to improve the life of their community," Pavlo Sheremeta summed up.