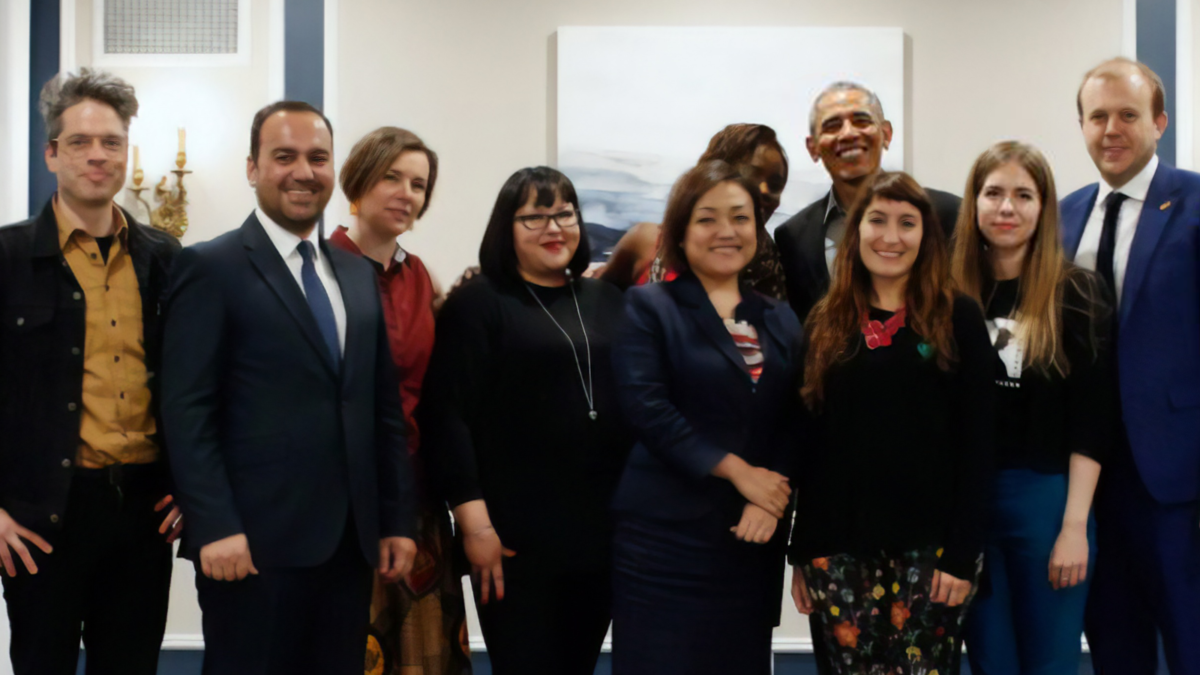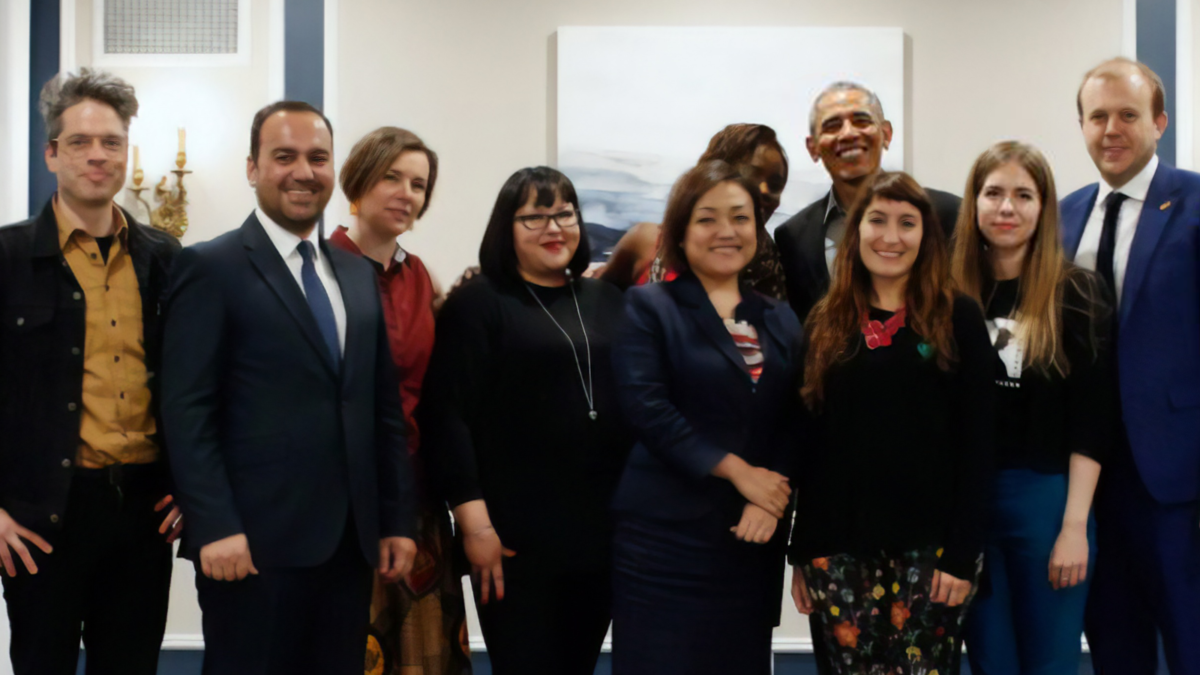 Meeting with President Obama: We All Felt Like Equals
On 31 May in Ottawa, I was one of nine emerging leaders from different countries across the world at the meeting with Barack Obama. The 44th president of the United States wanted to know how we, young civic leaders, worked in our communities and what real results we were achieving for our people. We talked about the notions of transparency and accountability, and how important it was for us to think of the purpose of opening up information, whether citizens really need it. All together, we discussed how the Obama Foundation could support us in our work.
When I got an email inviting me to meet with President Obama, I immediately thought it was some kind of a mistake. What had I achieved to have the honor of meeting one of the most outstanding leaders in the world? When I saw the other participants– 8 emerging leaders from different countries–it turned out that most of them had the same questions I had, and were just as nervous before the meeting.
The first thing that surprised me was how informally the meeting went down. President Obama came in, shook our hands and called everyone by their name. In a few minutes, the atmosphere settled by itself, and we started a lively conversation that went on for about an hour. Given the other young leaders and I were all in Ottawa for the Open Government Partnership Global Summit, we talked about the promotion of good governance in our respective countries, Barack Obama commented on our stories, shared his thoughts and advice.
I had mixed feelings. I was so used to seeing Obama on the screen that it was hard to believe that we were actually in the same room. But he called me by first name, like we were old friends, and welcomed our approaches with DOZORRO and Transparent Cities. He pointed out that it was the right choice to speak about DOZORRO not only in terms of open data and the use of the open contracting data standard, but also in terms of its practical value for school students, parents having an opportunity to control how procured goods and services are delivered to their children. In Transparent Cities, he pointed out that it was a good idea to foster competition among cities, when the Transparency Ranking of 100 Biggest Cities is not only published, but also presented in cities, so that communities actually understand why their cities got a certain score. I talked about attacks against civic activists and the lack of proper investigation of the cases and punishment of everyone involved in the crimes. The issue of shrinking civic space and personal safety of the activists and journalists was one of the main topics during the Open Government Partnership Global Summit as well.
I also said that it would be valuable for leaders, especially local ones, to get an opportunity from the Obama Foundation to participate in mentorship programs, in which young leaders would be able to meet really cool people, renowned world leaders, so they would have somebody who can give them some advice and guidance when they face some tough issues. It would also be great if the Obama Foundation could promote stories of leaders from small towns and cities, highlighting the role of the youth, especially young women, in social change. Young leaders often feel this imposter syndrome when they underrate their contribution and feel unsure of themselves.
The conversation was very easy and sincere, without any political or populist statements. We all felt like equals and were able to share the problems that worried us. Barack Obama's reaction to our stories was really useful to hear.
I would really like to share some of his reflections here.
Each leader, be it a politician or civic leader, should have marketing skills. Knowledge of marketing will enable them to engage more people to be supporters of their project. To disseminate the information, they should talk about the projects in a way that it would make a great news headline. Storytelling is beyond important these days, when each message is explained in a simple and understandable manner.
Be a leader that your followers or employees would come and talk to you, tell you about the issues so that you can fix them. He challenged us to be the first ones to know about a problem in your organization, not to read about it first in the news. Obama had 2 million employees when running a country and even if 99% of them are good, that still means there will be challenges.
We are witnesses of changing roles in the society. In order to have long-term success government needs to share its power with businesses and citizens so that each of us would have a little bit of power and with it – responsibility. It would lead the society to greater accountability and participation mechanisms. Obama emphasized that more attention needs to be put on the local level, highlighting the impact of the local project and local leaders as it is closer to the citizens and draws more tangible results.
Before the meeting, we were asked not to give anything directly to President Obama, but I left with Foundation staff something for him. I wrote a note about our political prisoners held in Russia and gave them a T-shirt with Sentsov and Kolchenko, which I had packed at the very last moment before going to the OGP Summit in Ottawa.
I am sincerely grateful to Open Government Partnership and the Obama Foundation for making this meeting possible and Transparency International Ukraine team for all the work you are doing behind the scenes, Open Contracting Partnership and all our partners and donors for the support in implementation of Prozorro, Prozorro.Sale and DOZORRO that are used as showcases across the whole world. Such events truly motivate us to keep up the good work and to believe that everything is possible. I definitely felt inspired.
The conversation was very easy and sincere, without any political or populist statements. We all felt like equals and were able to share the problems that worried us.
Anastasiya Kozlovtseva, Head of International Relations and Fundraising