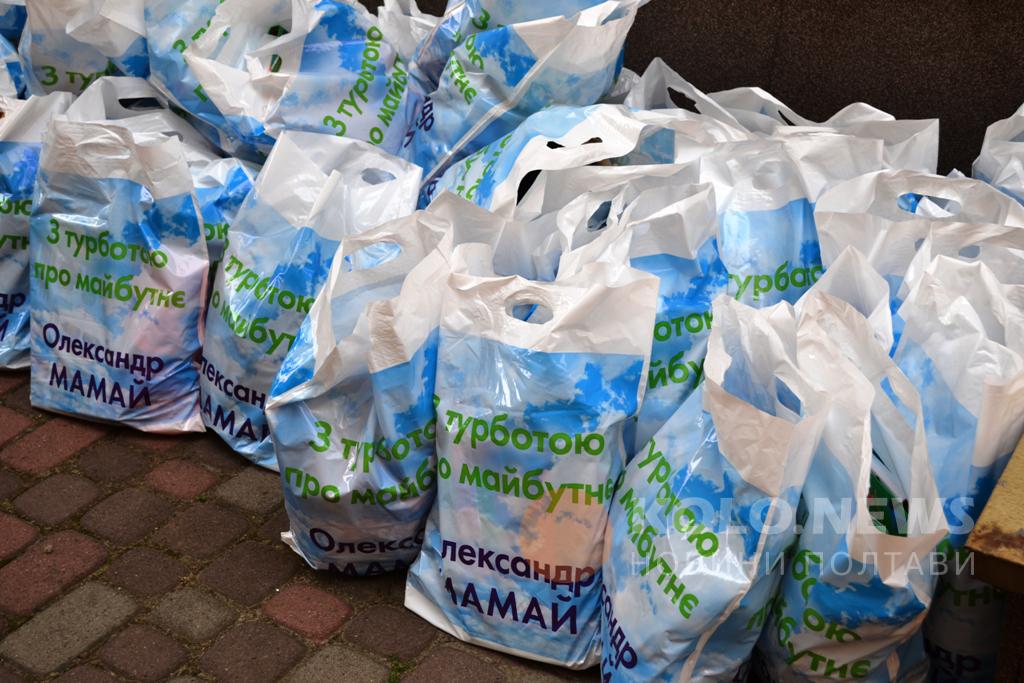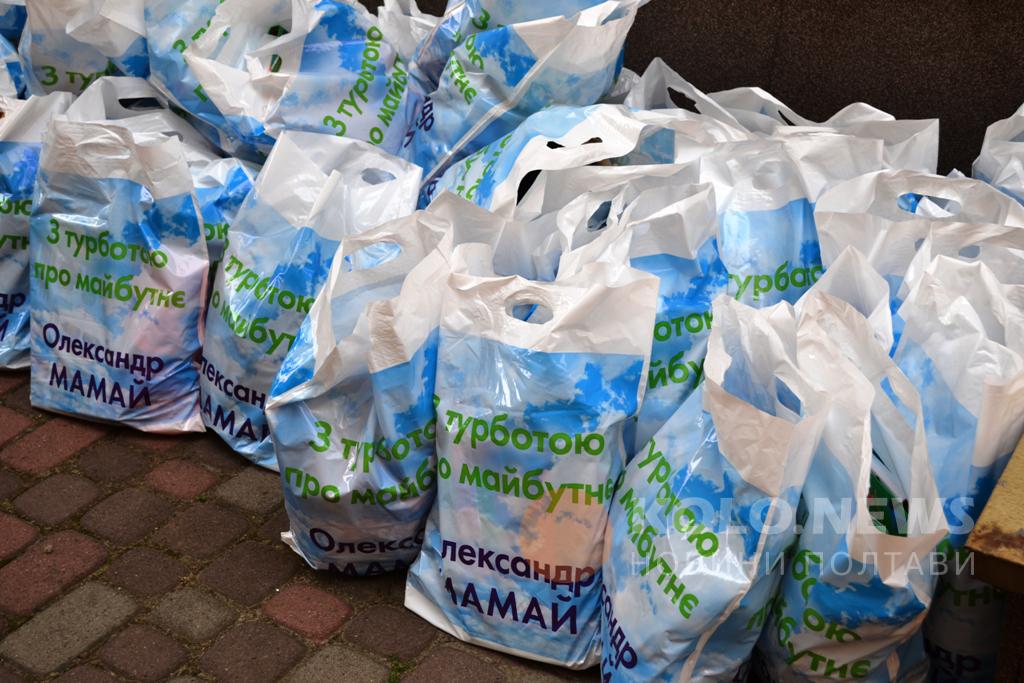 This year, 408,000 first-graders have gone to school. For them and their parents, this experience is not only new and unusual, but also expensive. According to calculations of TSN, to get a child ready for school, you will have to spend from UAH 2,000 on clothes, about UAH 500 on a school bag, and another UAH 300 on stationery. Stationery can sometimes be given away at the school, if it or local authorities purchase the so-called first-grader kits. On the one hand, this is a good initiative: it helps to provide children with the minimum necessary list of things to study and reduce the burden on the parent's wallet. Especially these kits are suitable for low-income and large families who do not always have the opportunity to buy everything on their own. On the other hand, there are situations when local officials use such gifts to children to promote themselves.
First-grader kit: PR or help?
In Poltava, a festive day for first-graders is already a tradition. This year's event started with the display of the cartoon "Masha and the bear" in Russian, then children's groups performed. After the festivities, children were photographed with the mayor and presented with gifts. The kits were purchased at the expense of the city budget, but the bags were printed with the name of mayor Oleksandr Mamai (party "For the Future") and the inscription "With care for the future." 
In 2021, UAH 2.4 mln was spent on the procurement of gifts for first-graders from the budget of Poltava. The Department of Education purchased 3,483 kits at UAH 699 each. The gift included 35 items, among them — stationery, a plastic bottle for drinks, a lunch box, and a soft toy. All this and a bag for the kit with the name of the mayor and a hint of his party was paid with the funds from the local budget.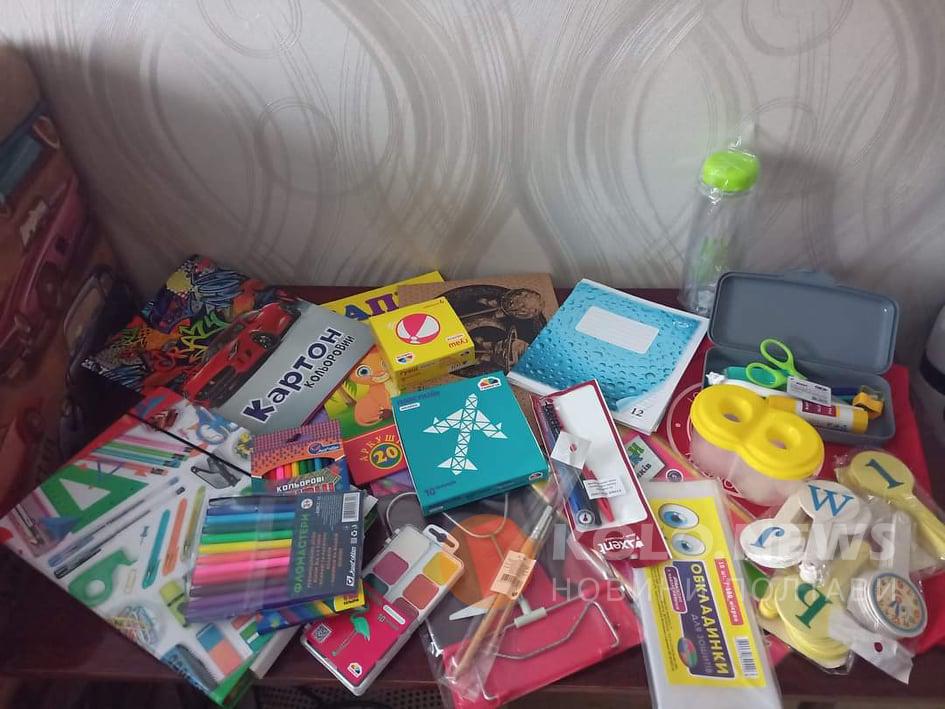 Photo: Kolo.news
Two Poltava companies took part in the tender:  Fudmikspostach and BS-Food. TOV Fudmikspostach  is owned and operated by Nataliia Vorozhtsova. In turn, TOV BS-Food is now registered to Oleksandr Skrypnyk, and until July, the owner and director was Svitlana Borysenko. 
According to the "Poltavshchyna," Fudmikspostach and BS-food are associated with a well-known local entrepreneur Volodymyr Serhiienko, who wins tenders for the supply of products in the Poltava oblast. Journalists noted that the companies have a common registration date of March 29, 2021. In addition, they noticed identical defects on the documents that the companies submitted as part of their tender proposals. They were probably scanned on the same scanner or printed on the same printer. 
Last year, parents of first-graders of Poltava were paid out UAH 500, since as of September 1, the authorities just didn't have time to purchase the gifts. 
More than in Poltava, only Ukrzaliznytsia spent on kits for first-graders. Ukrzaliznytsia purchases first-grader kits annually for the children of employees. The Service Support Center branch of UZ has signed 3 agreements on the purchase of gift sets for first-graders for UAH 9.3 million. In total, they ordered 10,000 kits of three types. They include: school bag, stationary, creative supplies, lunch box, letter fan, counting sticks, associative logic game "Once upon a time in a compartment," as well as — depending on the type of set — sketchbook, coloring book, or notepad. The cost of one such kit was UAH 830.
Gift sets were ordered from two Kyiv companies — TOV ARKUSH TRADING for almost UAH 6 mln and TOV ES.G.Company for UAH 3.3 mln. 
How much money was spent on gifts for first-graders in Ukraine? 
According to our estimates, UAH 14.5 mln was spent on the procurement of such kits in 2021. In total, 28,800 kits were purchased, so every fourteenth first-grader should receive a gift. 
A third of the oblasts did not purchase stationary for first-graders at all. In seven oblasts, only several tens of hryvnias were spent on this. The Donetsk, Dnipropetrovsk, Cherkasy, Odesa, Khmelnytskyi, and Vinnytsia oblasts spent several hundred thousand hryvnias each.
First-grader's kit: what does it consist of?
Traditionally, the first-grader's kit includes stationery (notebooks, pencils, pens, covers, paints, brushes), less often — school bags or briefcases. Lunch boxes, educational toys, and even soft toys can also be added to this kit. Accordingly, its price also depends on the composition of the kit. This year, the cheapest kits were bought for UAH 96, the most expensive — for UAH 1,000. 
Moreover, this year, a fairly popular gift was first-grader's album. 5,000 of such albums were purchased.
In addition to stationery and albums, students are given books. For example, the Education Department of the Haisynskyi City Council purchased 450 encyclopedias "Chomusykam about everything in the world" (in questions and answers). One book cost UAH 195, and on the internet its cost starts from UAH 216. 
In general, such gifts can make it easy for parents to get their child ready for school. And it's good when those first-graders who most need kits get them. At the same time, we urge parents to be careful. If gifts are presented on behalf of local MPs or the mayor before September 1, we recommend checking whether or not the content of the kit was bought at the expense of the local budget. After all, this way they not only try to buy votes by giving gifts, but also advertise for themselves for the funds that you, along with other residents of the community, paid as taxes to the budget.