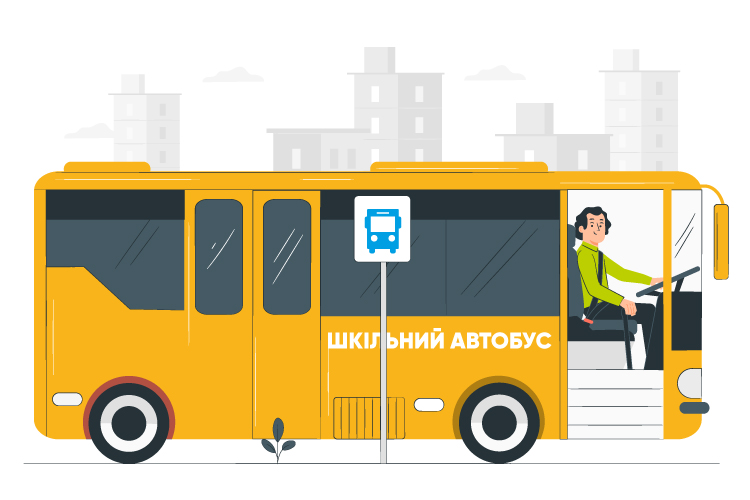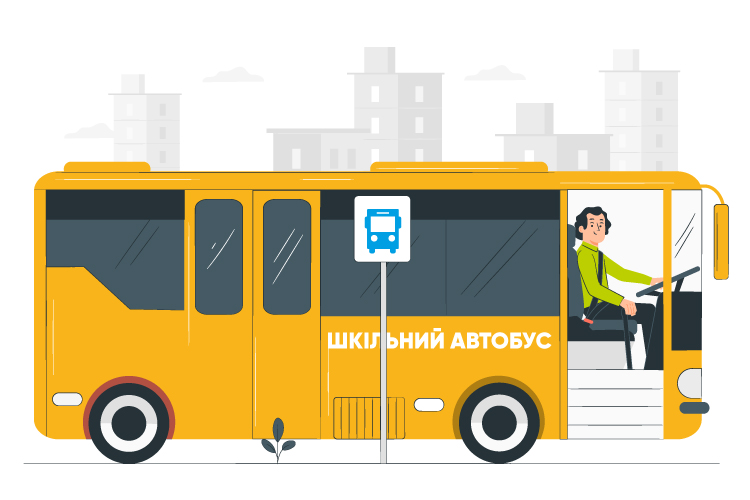 The new school year starts offline, so, 4.2 mln students will go to school on September 1. For some, it is close to home, but many children will have to travel at least several kilometers. To hub schools alone, almost 100,000 children need transportation.
Hub schools are educational institutions created in the new amalgamated territorial communities. Instead of maintaining a small school in each village or town, one large school is formed per community. Other schools become branches of the main one, or they may be closed if they become unnecessary. This is how it is possible to create educational institutions with good repairs and equipment, equipped classrooms, and a sufficient number of subject teachers.
Children mostly need to be driven to such schools. It is the same with students of other institutions of general secondary education if the distance to school is too big.  This is spelled out in the State Sanitary Regulations — local authorities should organize transportation for schoolchildren who live 2 kilometers and more away from the school.
This entails rental or procurement of buses. If the local authorities want to purchase them, but do not have enough funds, they can apply for co-financing from the state budget. In 2021, for this purpose, the government allocated UAH 490 mln, in 2020 — UAH 600 mln, and in 2019 — UAH 500 mln. According to the Ministry of Education and Science, at the beginning of 2021, schools needed at least 450 more buses.
Procurement of school buses in Prozorro
This year, local authorities purchased 221 buses worth UAH 404 mln. In 2020, 523 vehicles were purchased for UAH 980 mln, and in 2019 – 390 vehicles for UAH 721 mln. Most buses are new, but sometimes used ones are also purchased.
We compared the declared demand for buses according to the Ministry of Education and Science with data on bus procurement in Prozorro as of August 25, 2021. In most regions, as of August, procurement did not meet the demand for buses for hub schools. However, some oblasts instead purchased more than they needed.
The leaders in the procurement of school buses were Dnipropetrovsk region (34), Poltava region (26), and Volyn (21). The Zakarpattia, Lviv, Rivne, and Vinnytsia oblasts haven't purchased school buses yet.
Official information of the Ministry of Education and Science on the need of hub schools for buses is available as of January 1, 2021. However, now these numbers may be different. Last autumn, new territorial communities appeared that could create their hub schools. Ordinary institutions of general secondary education sometimes need buses as well.
Which buses are most often purchased in Prozorro?
Over the past 3 years, more than 80% of all purchased buses account for two vehicle types: Ataman and Etalon.
The most popular ones are the buses Ataman, produced by PAT Cherkassy Bus. 506 such buses have been purchased — this is 44.6% from the total number of buses. Model D093S2 was sold to schools, its all-wheel drive version D093S201, and the D093S4 version are tailored to the needs of children with reduced mobility.
The owners of the manufacturing company are:
TOV Investments in Development, which belongs to Denys Kozlitin — 25%;
ex-director Oleksandr Dorosh — 25%;
Viktor Kovalenko — 9%;
and 348 shareholders, including the current head of the company, Vitalii Raabe.
In the 2000s, the Cherkassy Bus was owned by Petro Poroshenko through the Bogdan Corporation. In 2009, he transferred the production to Oleh Svynarchuk, whose last name now is Hladkovskyi. In 2011, he removed the company from the Bogdan Corporation and registered it to TOV "Easy Life" Asset Management Company and Zaknax Trading Limited, a Cyprus firm.
39.7% (450) of the total number of purchased buses account for the Etalon buses. Prozorro sold the A08116SH model and the A08117SH version tailored to the needs of children with reduced mobility. Buses are produced by two companies from the Etalon Corporation: TOV Chernihiv Bus Factory and PrAT Boryspil Avtoplant. As far as the latter is concerned, a bankruptcy case was opened in 2021, but the Chernihiv branch of the plant is operating.
Chernihiv Bus Factory belongs to the Bodmin AG company (Switzerland) of Peter Schwotzer, TOV Bodmin-Ukraine of Volodymyr Butko, and TOV "Etalon" Logistics Center. The latter is owned by the same Bodmin-Ukraine and Volodymyr Butko. In turn, the Boryspil Avtoplant is owned by the same AT Bodmin AG and by its joint with Volodymyr Butko Ukrainian company TOV Kyrain.
The Bogdan buses ranked third. 99 of them were purchased in Prozorro, this is 8.7% from the total number. The A22412 model, produced by a subsidiary "Assembly Plant No. 1" and PAT Automobile Company "Bogdan Motors" was also purchased. In July of this year, the Commercial Court of the Dnipropetrovsk oblast declared the company bankrupt and began its dissolution.
66 buses, that is 5.3%, accounted for the newly produced buses ZAZ A08A2B-10. They are produced by PrAT Zaporizhzhia Automobile Building Plant. It belongs to Tariel Vasadze and another of his companies — PrAT Ukrainian Automobile Corporation.
Procuring entities also purchased 7 KrASZ buses. It was supposedly the new KrASZ P14SB1model. It is appears to be produced by Kharkiv TOV Manufacturing Group Auto-Holding, owned by Oleh Shablatovych. Previously, the company was owned by Larysa Sviatash, the wife of former MP Dmytro Sviatash (Party of Regions, "Revival"). The AMCU conducted research and established that the KrASZ buses are assembled on the basis of the PAZ 4234-04 bus produced by TOV Bus Factory (Russia). This company is included in the list of legal entities subject to sanctions.
How much do school buses cost?
Prices for school buses are almost the same this year. Although depending on the characteristics, their cost may vary within UAH 1 mln:
Who sells school buses in Prozorro?
During 2019-2021, 48 companies supplied buses through Prozorro. Most of them were sold by TOV Trade House Etalon Auto from the Etalon Corporation — for UAH 525 mln. This is a quarter of the total amount of such expenses.
The second ranked TOV Avto-Bus which supplied Ataman buses worth UAH 225 mln. The company belongs to the director Oleksandr Sviderko from the Khmelnytskyi region, who, at one time, was a specialist at TOV Inter Auto-Trading.
A Kharkiv firm PE Automobile Company Ukravtosnab also sold Ataman — it received an order for UAH 186 mln.
In addition to purchasing the buses, local authorities need to take care of drivers, their medical examination, technical inspection and transport service, and other organizational issues. Therefore, we hope that enough funds will be allocated for this, and children with teachers will be able to get to schools comfortably, even if during quarantines there is a risk that they will see each other in person less often than usual.