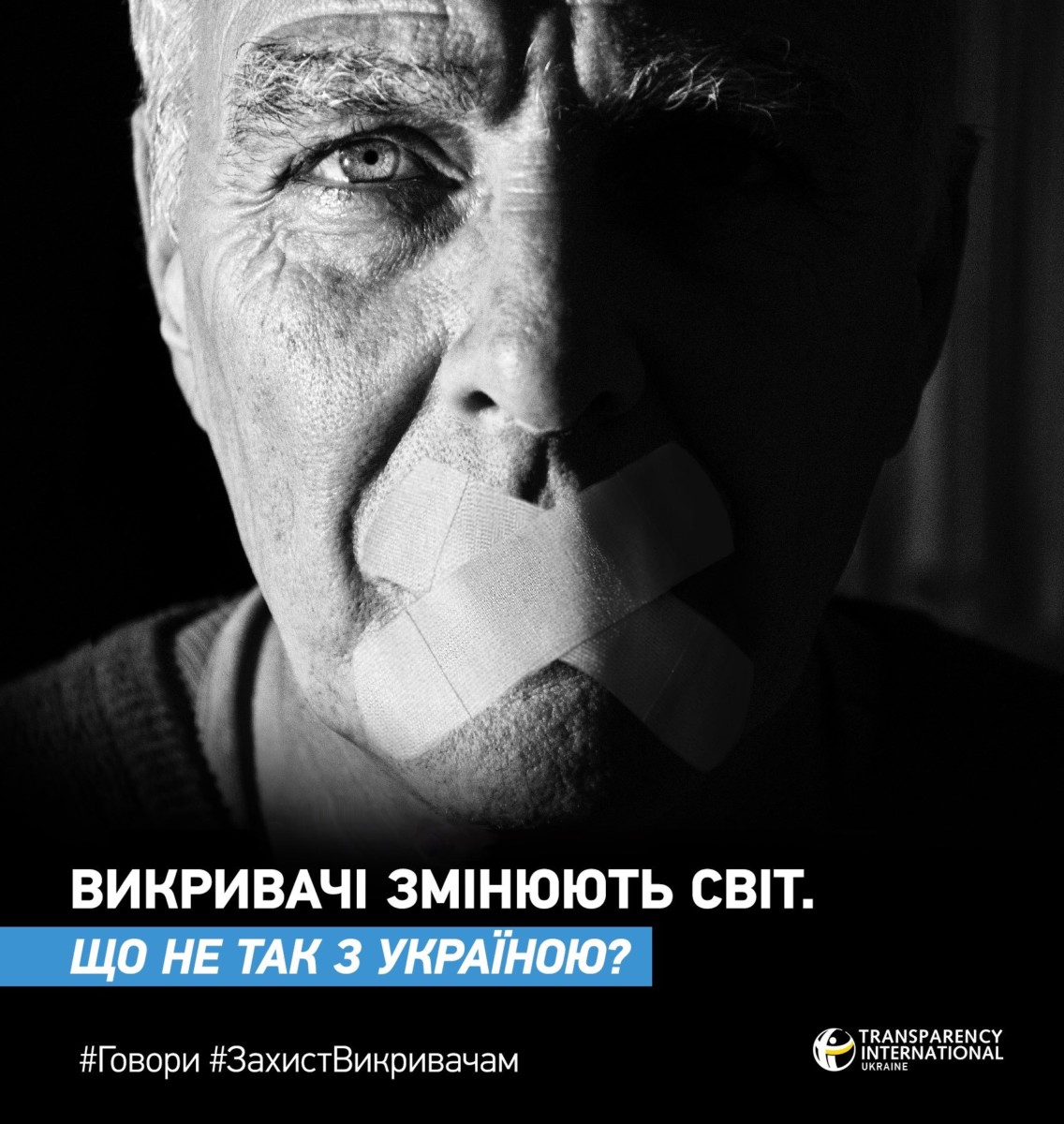 The global practice shows that the right to protection granted to everyone who reports crimes is a necessary element of the rule of law.
On October 1, at the meeting of the anti-corruption parliamentary committee, MPs are going to review draft law 1010 — on protection of corruption whistleblowers, one that is supposed to come into effect on January 1, 2020. The new administration considers this document a priority, which is commendable. Yet, there are certain issues with the approved basic version of the draft law. One of them is the narrow definition of the notion "whistleblower."
Who Are These Other Whistleblowers?
A whistleblower in China alerted the authorities to the owners of a milk collection station, where it was mixed with antibiotics, nitrates and protein powder before going to the shelves. Later, the former farmer was killed under suspicious circumstances.
A German whistleblower was fired from a retirement home for reporting bad care that the elderly were receiving. The European Court of Human Rights recognized that her right to freedom of speech was violated. After this, the Berlin Labor Court awarded her EUR 90,000 of refund.
In Hungary, certain employees of an aluminum processing plant knew that there were problems with water storage. The CEO threatened to fire them if they alerted the authorities. This resulted in over 800 million liters of effluents, seven casualties and hundreds of people injured, as well as private property worth tens of millions of Euro destroyed.
If the law protected all these people when they reported such important information, all these stories would turn out very differently. Even the recent situation with a whistleblower in the White House illustrates that only when people have the necessary protection, they dare to report illegal conduct.
If the law protected all these people when they reported such important information, all these stories would turn out very differently.
When we speak about the definition of the notion "whistleblower," this may include a water supply company employee who reports dirty tap water, a waiter reporting rotting fish, a pharmacist reporting careless storage of vaccines, a secret service employee reporting false information in his boss' declaration or a ticket inspector who sees that the wheel of the bus he works on is about to fall off. All these people can help somebody or even save somebody's life. If they have protection, of course.
Benefits of Urgent Draft Law 1010
Since January 1, 2020, a whistleblower, unless he or she is an accomplice who has reached a bargain with the investigation, will have the right to obtain a reward of up to 10% of the object of the crime or damages inflicted to the budget, but not more than 3000 minimum wages if the information helped to solve the crime and was not previously known to law enforcement bodies.
After reporting corruption, a whistleblower will have the right to free legal aid, refund of expenses for the lawyer and the judicial fee, psychological aid, security of the whistleblower and their loved ones, confidentiality and anonymity, information on the results of the report review, etc.
Another important provision is prohibition to discriminate against the whistleblower or their family members or causing problems in their further life.
Narrow Definition: What's the Problem?
The definition of a whistleblower in the law is rather narrow. A whistleblower is defined as an individual who reports possible facts of corruption or corruption-related violations or other violations of the law "On Corruption Prevention" holding the belief that the information is true to fact.
However, under international standards, a whistleblower is any individual who reports damage or threat to public interests. This includes information on human rights violations, safety of the environment, transport and food, and other crimes.
They all deserve to have their rights protected when they report crimes through external channels — the media, civil society organizations or trade unions.
A potential whistleblower is interested if they will be put in jail for disclosing state secret, if they will be mobbed at work, if they will have a reprimand for running late or fired from their job with no other options ahead.
Thus, when this law is adopted, the most important thing is to build the foundation, in accordance with the best international standards and practices. This should apply to all citizens, who all have the constitutional right to disseminate information since 1996. And that's not just information on corruption.