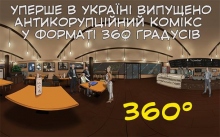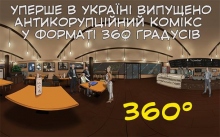 Тransparency International Ukraine continues to work towards changing the mentality of Ukrainians in regards to their tolerance to corruption. TI Ukraine, Uptown Chronicles, and Cheil Ukraine creative agency produced the Ukraine's first ever 360 degree anti-corruption comic strip.  This particularly modern approach was designed to engage youth.
The rotating anti-corruption image illustrates the story of a whistleblower being silenced. The video is available here.
This latest innovation has been created under TI Ukraine's 'Corruption Must Be Spotted' program. In order to better engage youth both traditional and unusual communication methods are used. «Strip comics are something youth particularly enjoy. That is why we decided to use this method to spread anti-corruption ideas within this age group,» said Olha Tymchenko, the Head of TI Ukraine's Communications Department. The organization spread printed versions of anti-corruption comic strips in September 2016 during the Hoholfest.
«We developed the 360 degree video in a 2-D format. We also created the interior and integrated characters in the atmosphere of a city café. The graphics were then edited into video material. Moreover, we animated and scored our characters. I cannot wait for the next version», told the author of comic strip 'Uptown Chronicles,' Mykhailo Pimenov.
The Cheil Ukraine communications agency, which developed the outdoor advertisement pro bono for TI Ukraine, took part in the preparation of the comic strip. «We promote electronics products. That is why our company was interested in creating an unusual video presentation.  As the platform itself, social comic strip, is a new thing, we searched a new approach to a trailer. We chose the 360 degree video, as it is in trend nowadays and it goes well with such a classical genre as comic strips. Everything has worked out unexpectedly well», stated Vladyslava Denys, creative director of Cheil Ukraine agency.
The campaign will be conducted in the framework of the the Ukraine National Initiatives to Enhance Reforms (UNITER), which is implemented by Pact, Inc. in Ukraine with the support of the United States Agency for International Development (USAID).