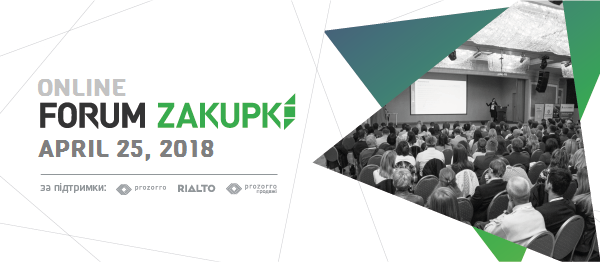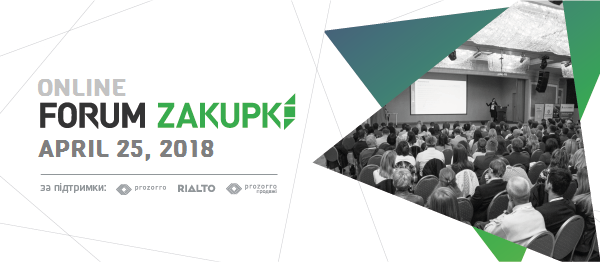 Sixth All-Ukrainian Forum Zakupki will take place on April 25, 2018. It is the biggest event in Ukraine concerning public and commercial procurement, where representatives of business and public agencies will share best practices. This time, Forum Zakupki will take place online and will be available to participants worldwide.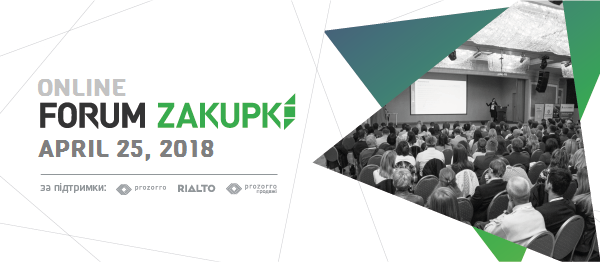 The Sixth Forum Zakupki means 18 speakers, 5 hours of presentations by business and government experts, insider information on changes to legislation, pre-threshold procurement, small-scale privatization as well as review and explanation of complicated cases.
Forum Zakupki will be useful for:
business managers;
novice and experienced suppliers;
procurement managers of public organizations and commercial companies.
Forum participants will find out how to organize electronic bidding properly and avoid common mistakes while participating in tenders, how to buy and sell in the most efficient way. Real cases will be presented at the forum – the most complicated situations that procuring entities and suppliers end up in. Experts and participants together will analyze them in detail, suggest ways to resolve and avoid such situations.
Forum presentations will also cover the perspective auction market where public and commercial tangible and non-tangible assets are sold or leased.
The speakers of Forum Zakupki include:
Oleksii Vyskub – First Deputy Head of the State Agency on Electronic Governance of Ukraine;
Vasyl Zadvornyi – director of SE ProZorro;
Nadiya Bihun – director of competitive bidding department of PAT Ukrposhta;
Oleksii Sobolev – project manager of ProZorro.Sale;
Svitlana Panaiotidi – national representative of the Anti-Monopoly Committee of Ukraine
Ivan Lakhtionov – project manager of Transparency International Ukraine, coordinator of DOZORRO;
Oksana Ferchuk – manager of the platform Zakupki.Prom.ua;
Oleksii Ivankin – manager of Opendatabot;
Oleksandr Nikitienkov – partner of the law firm "Prave Dilo";
Oleksandr Nikolenko – Deputy Chair of the Board of АТ «TASCOMBANK»
Every member of the forum will receive a link to the online broadcast, video recordings of all presentations and a certificate of participation. You can register to participate at http://zakupki-forum.com.ua/ua.
On the organizer:
Zakupki.Prom.ua – is a participant platform of the electronic public procurement system ProZorro, system of open public bidding ProZorro.Sale and the open commercial bidding system RIALTO. B2B/B2G-project of EVO. At Zakupki.Prom.ua public agencies and state-owned enterprises, as well as commercial companies, announce their tenders and auctions while representatives of business and private individuals submit proposals and participate in the bidding.