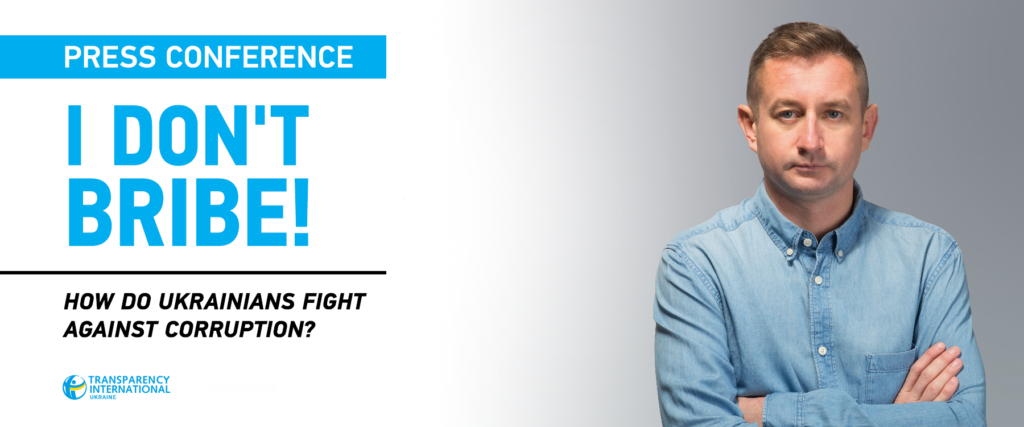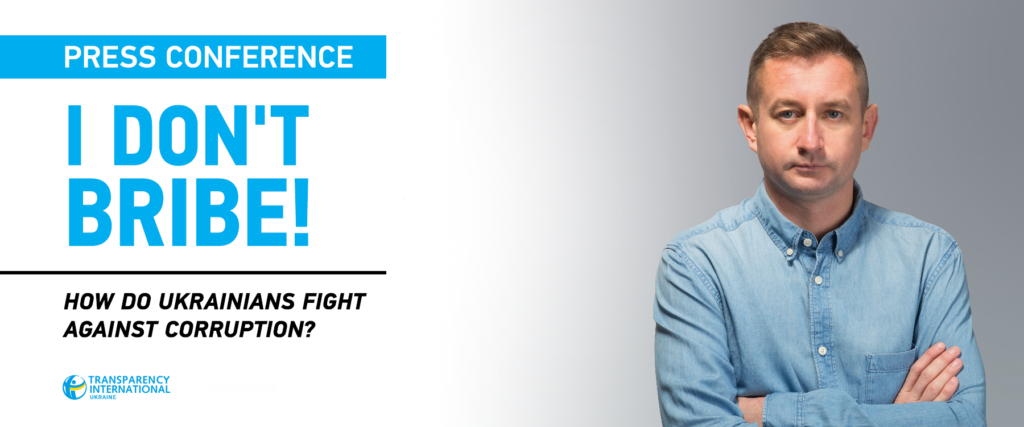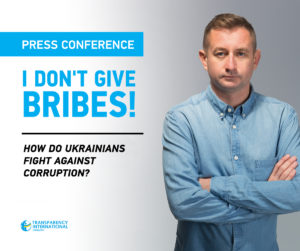 The movement of people who don't want to give corruption and who are ready to report corruption has been growing in Ukraine. What categories of the population tolerate corruption the least? How to report corruption safely and effectively? What is business already doing to fight against corruption? How can the DeCorruption project help active citizens unite? Experts will answer these questions and more at the press conference on December 7.
The press conference, dedicated to the second wave of the communication campaign I Don't Bribe will take place on Thursday, December 7, at 10AM in the news agency Interfax-Ukraine. Experts will speak about personal resistance to corruption.
Speakers:
Yaroslav Yurchyshyn, Executive Director of Transparency International Ukraine;
Iryna Bekeshkina, Director of Democratic Initiatives Foundation;
Algirdas Shemeta, Business Ombudsman, initiator of the All-Ukrainian Network of Integrity and Compliance;
Detective Artem, NABU representative.
The experts will tell how Ukrainians' attitudes to corruption has been changing over the years according to sociological studies and what categories of the population are most ready to fight against it. What does a person ready to report corruption do? How do they act in a reasonable and safe way – first five steps from a NABU detective. Has the first wave of TI Ukraine's communication campaign I Don't Bribe been successful and what questions will the second wave answer? We will also present the communication platform DeCorruption and its functions.
The campaign is created by Transparency International Ukraine as part of the project USAID/ENGAGE (Enhancing Governance, Accountability and Engagement) and is implemented by Pact in Ukraine. The content of campaign materials is the exclusive responsibility of Pact and its partners and does not necessarily reflect the views of USAID or the Government of the United States of America.
Registration on site; press card required.
#
Media contact: Olha Tymchenko, Head of Communications Department at Transparency International Ukraine

Cell: 050-352-96-18,

e-mail: [email protected]

Transparency International Ukraine is a national chapter of Transparency International, an anti-corruption NGO with over 90 national chapters; which operates in more than 100 countries. TI Ukraine's mission is to limit the increase of corruption in Ukraine by promoting transparency, accountability, and integrity in both the public authorities and civil society. You can learn more about the organization's activity on the website www.ti-ukraine.org