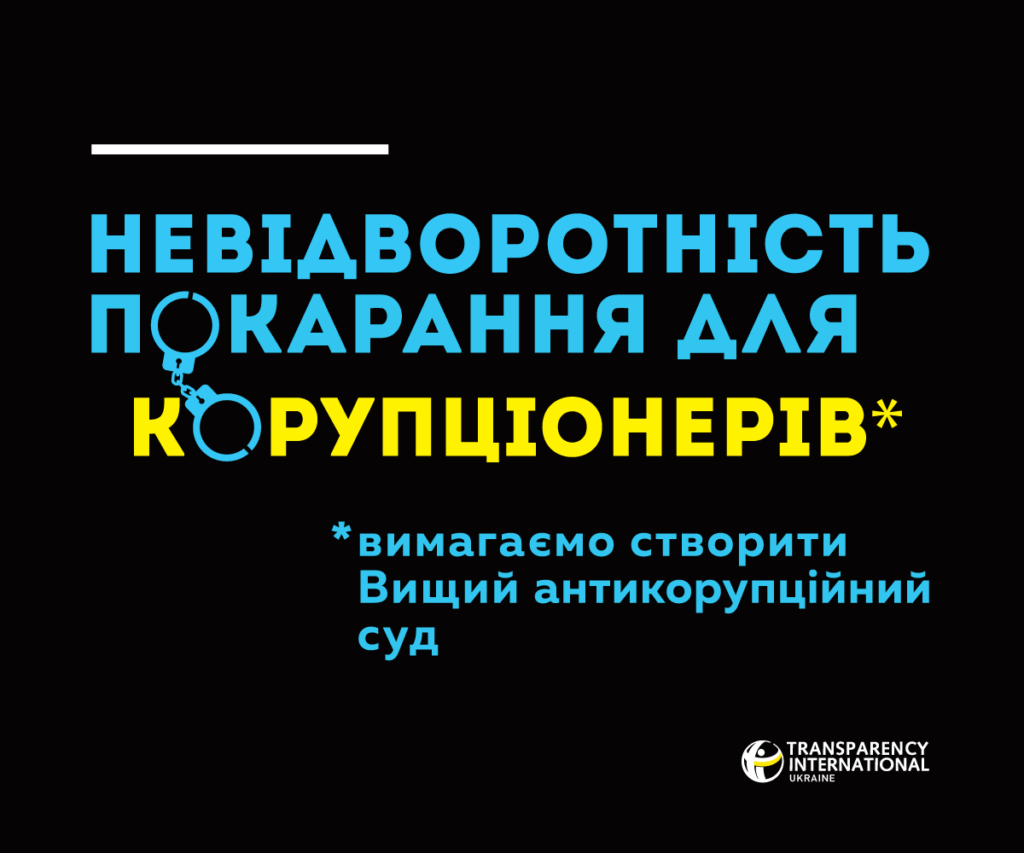 Ukrainian courts are still hardly effective in regard to consideration of cases related to corruption of high-level officials. A new Higher Anti-Corruption Court, if cleared from external influence and manned with professional judges, will stimulate the work of the existing anti-corruption bodies. Transparency International Ukraine has started a communication campaign Anti-Corruption Court to Be Established to demand those in power that two-year negotiations around the specialized court are to result into its launch as soon as possible.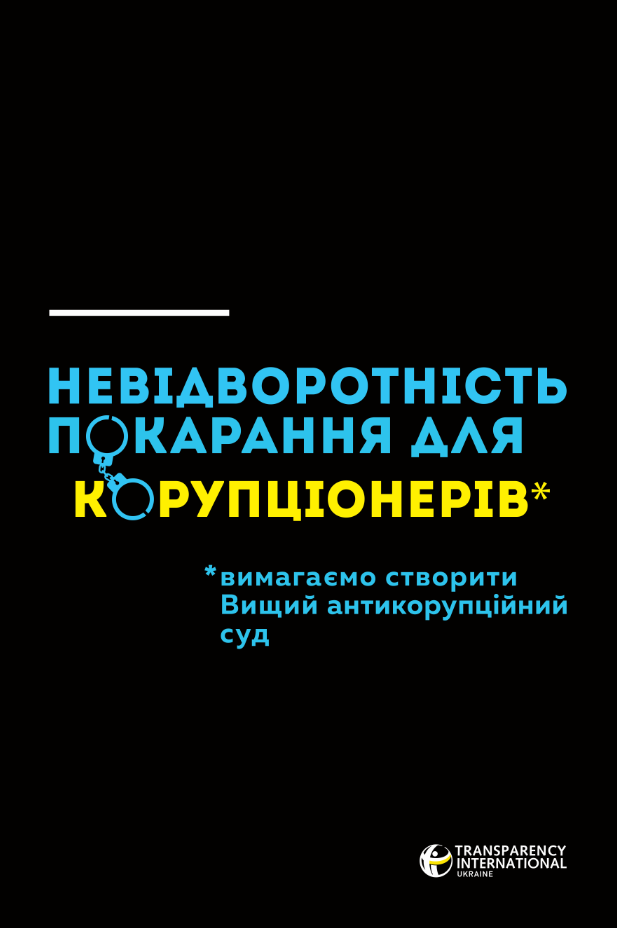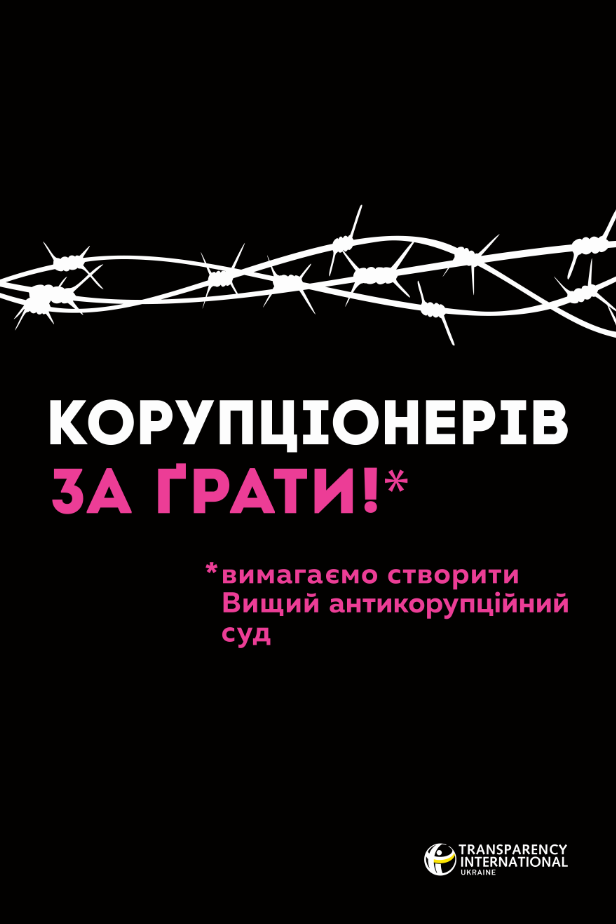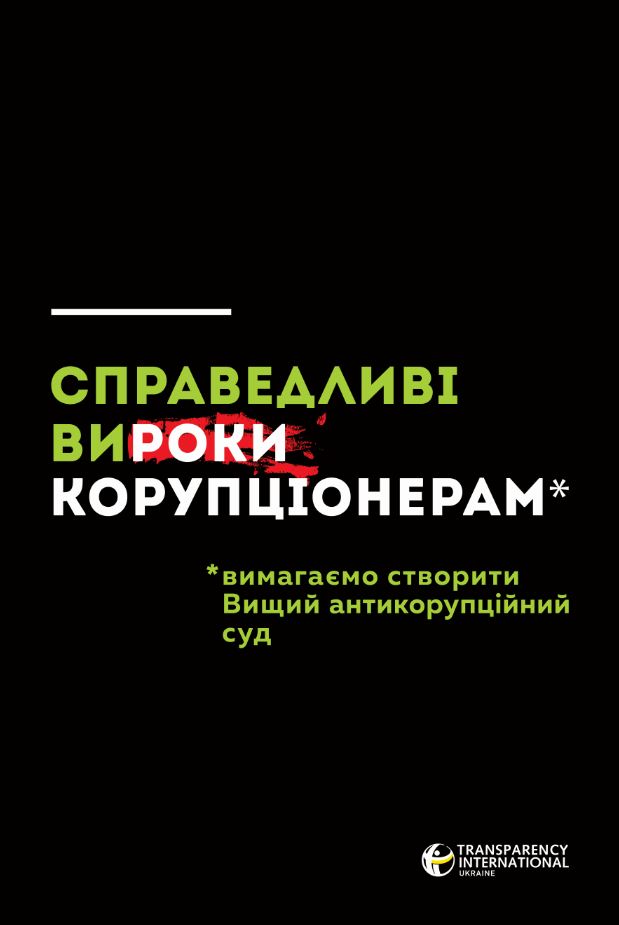 Fair Justice to the Corrupt; Imprison the Corrupt; and Inevitable Punishment to the Corrupt – these mottos have been on Kyiv city-lights since early December. This is an independent court that has to prove the relation of any given official to corruption. Currently NABU states that consideration of cases drags on for years.
"Ukrainian society strives for justice. This is the Anti-Corruption Court that will assure liability of top-level corrupt officials and will decrease the social tension. We have no right to lose this chance," – said Maksym Kostetskyi, TI Ukraine's legal advisor.
This court's jurisdiction has to be exceptional as regard to the cases of NABU and SAP. This is one of the recommendations delivered by the Venice Commission concerning the Bill No. 6011 On Anti-Corruption Courts. Other recommendations demand establishing an independent chamber of appeals, holding an open competition with participation of international stakeholders to select judges, and providing high remuneration and safety for the judges. "International experts need to be invited not only for consultations, but also to participate in the selection process," – believes Anastasiia Krasnosilska, AntAC expert.
TI Ukraine yet again calls the President to register a bill on Anti-Corruption Court as soon as possible, and the Verkhovna Rada to immediately consider it in the first reading without any additional procedures that are not stipulated by the Parliamentary regulations. Moreover, the grounds for the Anti-Corruption Court's establishment already exist: the amended law On the Judicial System and Status of Judges provides for creation of this court.
Media contact: Olha Tymchenko, Head of Communications Department at Transparency International Ukraine

Cell: 050-352-96-18,

e-mail: tymchenko@ti-ukraine.org

Transparency International Ukraine is a national chapter of Transparency International, an anti-corruption NGO with over 90 national chapters; which operates in more than 100 countries. TI Ukraine's mission is to limit the increase of corruption in Ukraine by promoting transparency, accountability, and integrity in both the public authorities and civil society. You can learn more about the organization's activity on the website www.ti-ukraine.org