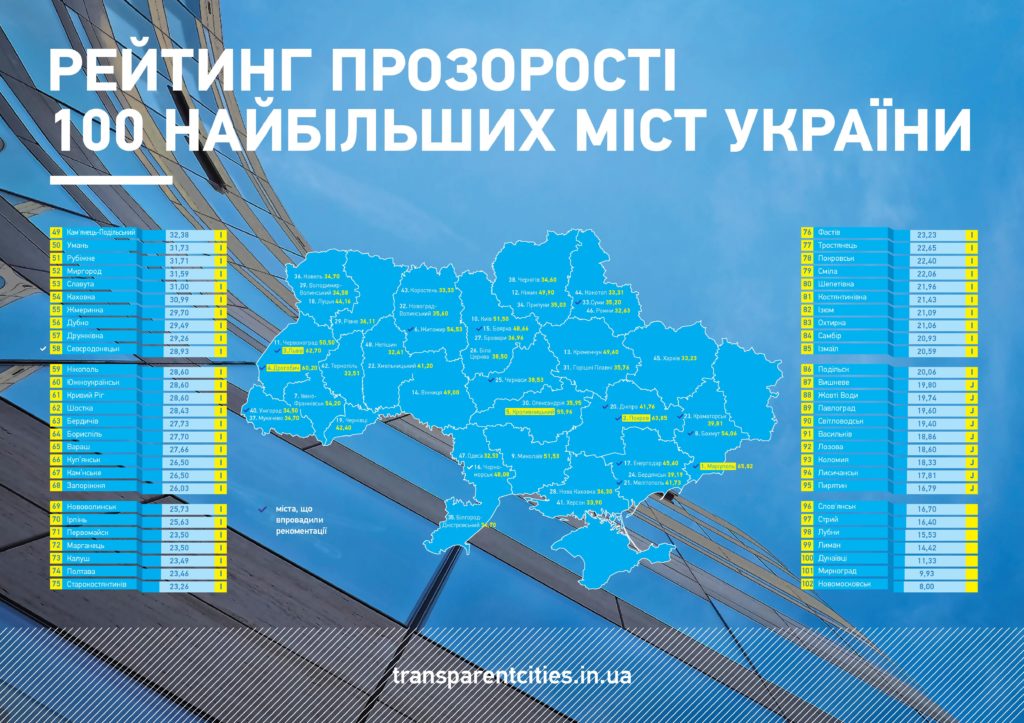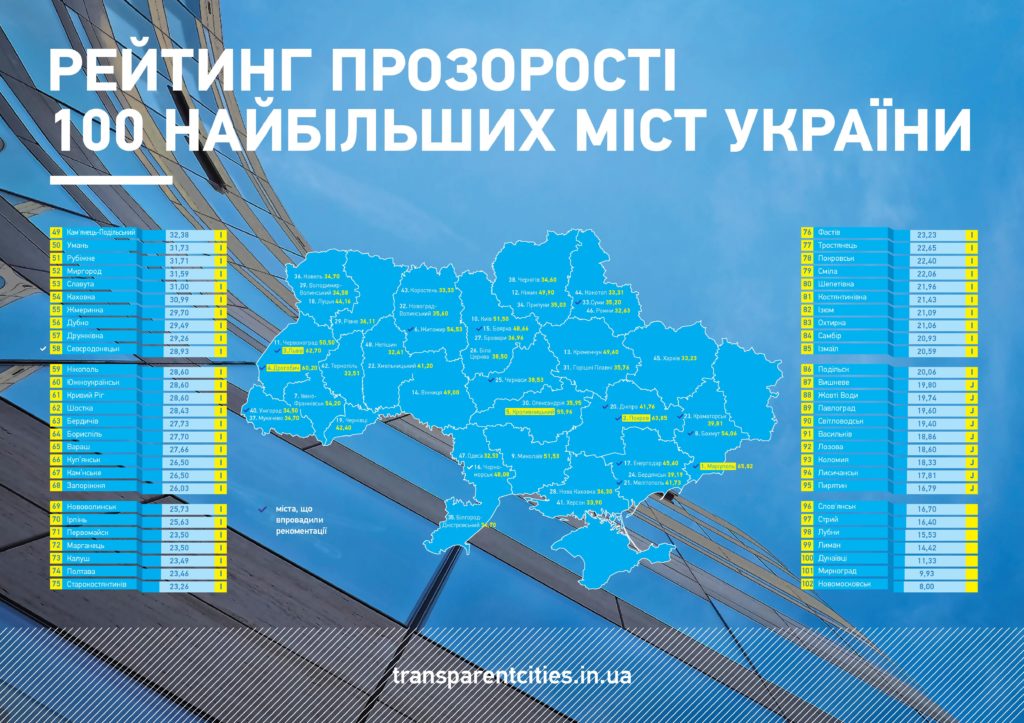 17 Ukrainian cities used the recommendations from Transparent cities, which aided the increase of their position in the transparency ranking of 100 largest Ukrainian cities.
Transparency Ranking is a study that measures the amount of information actively provided to citizens, the quality of anti-corruption actions and the openness of the government towards their citizens, defined by the Ukrainian chapter of the global anti-corruption organization Transparency International together with Transparency International Slovakia and Institute of Political Education. The cities received their recommendations for 13 main accountability areas of local authorities in addition to their city's rank.
As of 25 May 2018, the given recommendations have been implemented in the following cities:
Mariupol (1st place in the updated ranking)
Pokrov (2nd place)
Lviv (3rd place)
Drogobich (4th place)
Zhytomyr(6th place)
Bakhmut (8th place)
Boyarka (15th place)
Chornomorsk(16th place)
Enerhodar (17th place)
Dnipro (20th place)
Melitopol (21st place)
Kramatorsk (23rd place)
Cherkasy (25th place)
Bila Tserkva (26th place)
Sumy (33rd place)
Uzghorod (40th place)
Sievierodonetsk (58th place)
You can learn more about the Transparency Ranking of 100 Largest Ukrainian Cities and the recommendations on improvement here https://transparentcities.in.ua/rating/?rating-year=current.
Two cities which were not included in the Ranking have now joined the process of evaluation of transparency – Trostianets and Pyriatyn. The cities currently rank 77th and 95th respectively, however, the team reassures that it is only a matter of time before they improve.
In order to improve your score in the Transparency Ranking:
The final scores will be determined in autumn 2018 when the cities are studied again and inspected on their transparency and openness. In the meantime, all the cities have an equal opportunity to use the recommendations and improve their position.
The project is implemented by Transparency International Ukraine with the support of the UN Democracy Fund (UNDEF). Project partners are Transparency International Slovakia and Institute of Political Education.