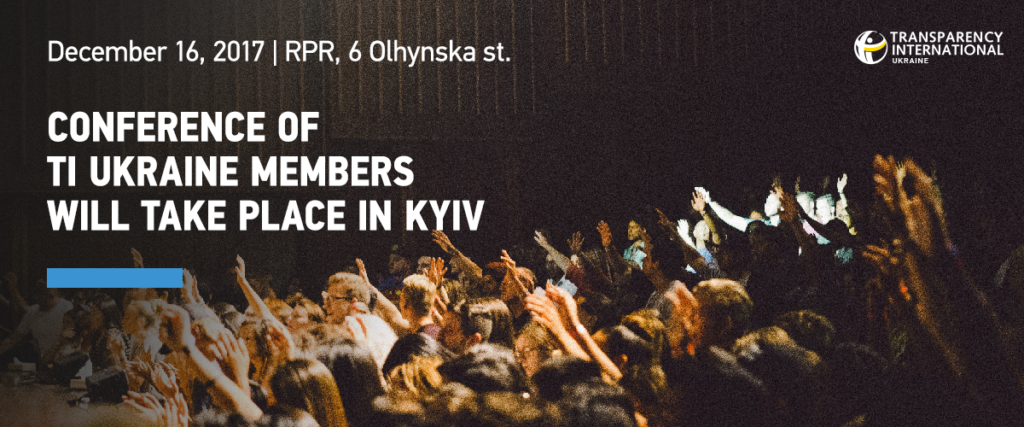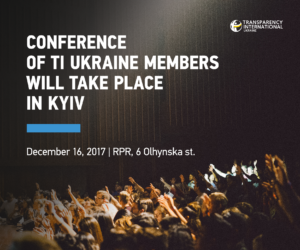 Saturday, December 16, 2017, a regular Conference of Transparency International Ukraine members will take place. A new TI Ukraine Board member will be elected during the Conference. The event will take place at the office of the Reanimation Package of Reforms (6 Olhynska, 2nd floor, office 21, Kyiv).
According to the Charter of TI Ukraine, all Board members are to be elected by the members of the organization. TI Ukraine has announced a competition to elect the fifth member of the Board due to the resignation of Vitalii Kasko. To take part in the elections, each candidate was supposed to submit a CV and his / her vision of development of the Ukrainian national chapter of Transparency International and his / her own contribution by the end of 2018. The submission is already closed. All candidates are listed here: https://ti-ukraine.org/about/our-board/vybory-pravlinnia/.
Besides, according to the Conference agenda, TI Ukraine members are going to make amendments in the Charter, adopt the mission, vision and values of the organization; approve the order of e-voting for members; and discuss the process of the members' electronic declaration. All members will receive emails with a detailed agenda later on. The Conference decisions are effective in case of a quorum (when at least 2/3 of all members are present: Article 5.6 of the Charter of TI Ukraine).
To take part in the conference all members are supposed to register at http://bit.ly/2AnihSn. The registration closes on December 01, 2017. Note that all TI Ukraine members are supposed to have their membership cards with them at the conference.
Those members who live outside Kyiv will be reimbursed for their travel expenditures during the registration on December 16. Besides, TI Ukraine will reimburse the travel expenditures for the tickets that the members bought to the October conference which hasn't been held.
Please send your ideas regarding the agenda to Andrii Marusov, Chair of Board (marusov72@gmail.com) and Andrii Borovyk, Chief Operating Officer (borovyk@ti-ukraine.org).