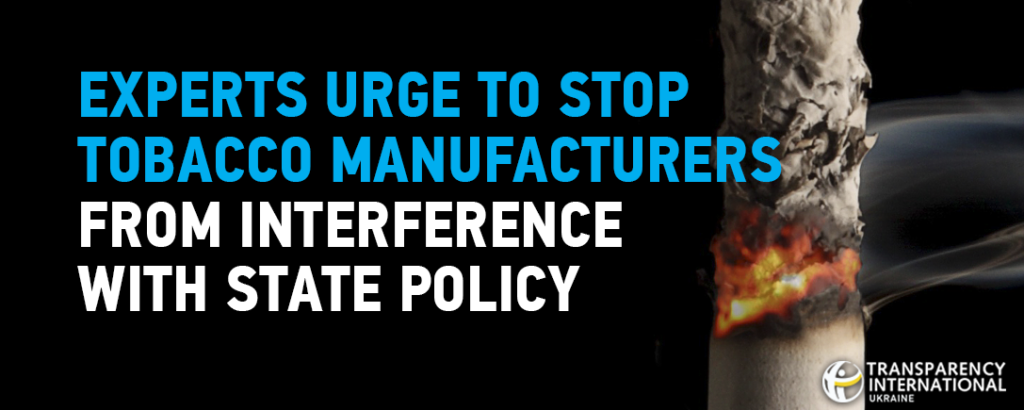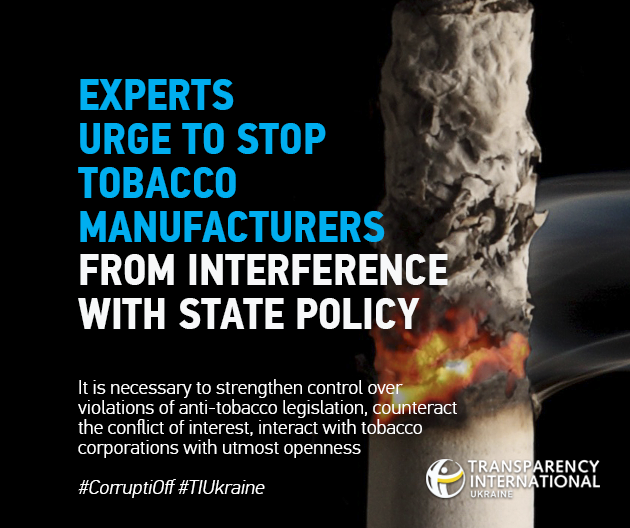 To stop interference of tobacco corporations with state healthcare policy in Ukraine, it is necessary to strengthen control over violations of anti-tobacco legislation, to counteract the conflict of interest in this area, to interact with tobacco corporations with utmost openness if it is unavoidable, and to inform the public and media on instances of "lobbying" of tobacco industry's interests. These are the main requirements of the study dedicated to identification of the potential conflict of interest in the activity of transnational tobacco corporations and their influence on the decisions of public authorities. The Ukrainian chapter of Transparency International presents the report together with its partners.
The Law of Ukraine "On Measures of Prevention and Reduction of Use of Tobacco Products and Their Harmful Influence on People's Health" states that the healthcare policy prevails over financial, tax and corporate interests of tobacco manufacturers. Besides, the law declares that people or organizations connected with tobacco industry cannot participate in state events on healthcare and prevention of smoking. Unfortunately, these regulations are constantly violated.
Today, there are four world tobacco corporations on the Ukrainian market: Philip Morris International, Japan Tobacco International, British American Tobacco and Imperial Tobacco, plus Lviv Tobacco Factory. It was noticed that, with the aim of protection of their interests and reducing tax pressure, they can often try to cooperate and maintain tight relations with top-level state authorities. The actions in question include promoting "their" candidates for certain positions, "lobbying" decisions through incumbent MPs and financing expert organizations to discredit anti-tobacco draft laws by civil society representatives. TI Ukraine has already presented a study with the map of connections between officials and interests of tobacco companies.
"Lobbying the interests of tobacco industry is a systemic phenomenon and takes place in several areas. Firstly, it is counteraction to strengthening of anti-tobacco legislation. Here, we can observe masterful manipulation of draft laws. They submit seemingly useful draft laws which are supposed to reduce the influence of tobacco manufacturers. Yet, the true intention behind them is to negate the draft laws which Ukraine can approve using EU directives, the Association Agreement and the Framework Convention of the World Health Organization on Tobacco Control. The second point is the sabotage of control over violation of anti-tobacco law. There is a situation when State Service on Food Safety and Consumer Protection is denied access to inspection of cafes, bars and restaurants where people smoke inside. Although there are direct prerequisites for an inspection – consumers' complaints about open violation of the law," says TI Ukraine's invited expert on monitoring of the conflict of interest in the tobacco industry Serhii Mytkalyk. He also emphasizes that there is a potential conflict of interest in some public agencies. Officials who hold a high position and are connected with distribution and taxation of tobacco business are often involved in making decisions related to this business or public healthcare. There are facts of tobacco corporations financing influential expert organizations in Ukraine, which, in their turn, "thank" their donors – tobacco manufacturers by producing convenient expert assessments of anti-tobacco legislation.
To stop the influence of tobacco corporations, experts suggest restricting the interaction between public authorities and tobacco industry in legislation. If such interaction is necessary, it has to be absolutely transparent. For instance, every public official who is authorized to make decisions on regulation or taxation of tobacco products has to declare in writing real and potential conflicts of interest or absence thereof. Any changes to legislation connected with tobacco industry have to fully comply with guiding principles of the WHO Framework Convention on Tobacco Control.
In addition to that, experts believe that it is necessary to provide the society and public authorities with regular information on interference by tobacco manufacturers. The Ministry of Healthcare has to be notified of strategies and tactics used by tobacco industry to counteract measures of public healthcare policy.
 "There is an irreconcilable conflict of interest between commercial goals of tobacco corporations and healthcare policy. Ukraine agreed with this by ratifying the Framework Convention in 2006. The statist stance of all government and parliament representatives would be stimulating reduction of tobacco consumption, as prescribed by the law. If an MP or a government official advocates the interests of business manufacturing deadly products for taxpayers' money, it is, if anything, beyond the realm of ethics, and as maximum, it can be considered a crime. That is why the society has to be aware of corporate lobbyism. It will further lustration," summarized expert of the Ukrainian Center for Tobacco Control and Chair of Zhyttia CSO Andrii Skipalskyi.
TI Ukraine and its partners urge public officials to use the expert recommendations on counteraction to tobacco influence. After all, Ukraine is now making a negative impression of a state which protects commercial interests of transnational corporations rather than citizens' interests. Moreover, the influence of tobacco manufacturers on state policy can create significant obstacles in approval of laws and programs which can reduce the level of tobacco-related diseases and deaths.