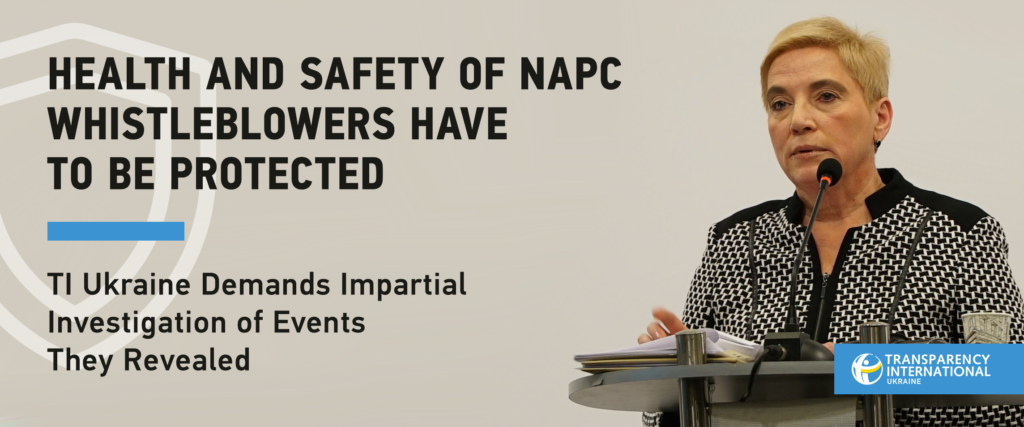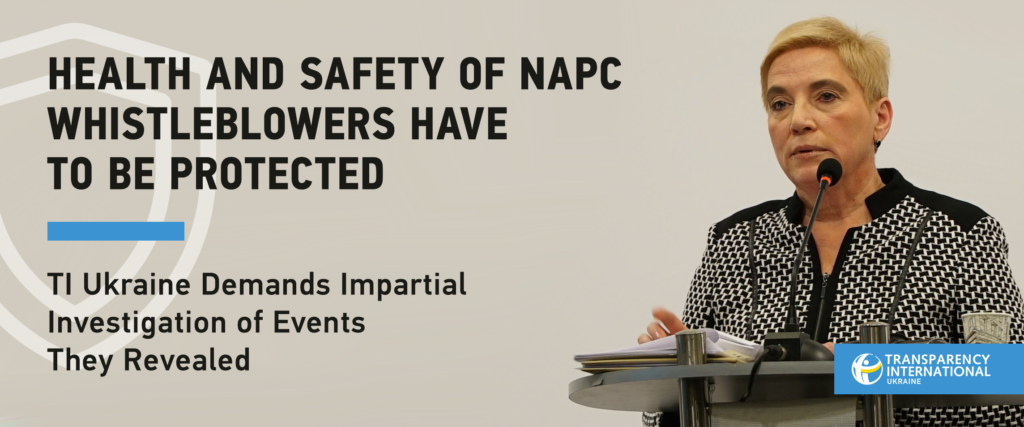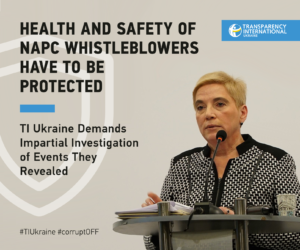 The Ukrainian chapter of the global anti-corruption organization Transparency International received a request from whistleblowers of the National Agency for Prevention of Corruption  concerning the statements made at the press briefing on November 14 on possible abuse and corruption in the Agency. On November 17, the respective criminal lawsuit was referred from the National Anti-Corruption Bureau to the Security Service of Ukraine by Prosecutor General of Ukraine.
We believe that this decision will lead to furthering the conflict of interest in the actions of the SSU instead of averting it, since the testimony features, among others, then-adviser to Head of the NAPC Nataliia Korchak, SSU employee Serhii Karpushyn. We would also like to remind that NAPC's inactivity led to imposing secrecy on the declarations of SSU management and detectives, contrary to the law.
 "We suggest creating an interagency investigation team led by National Anti-Corruption Bureau detectives  with the participation of representatives of Security Service of Ukraine, Specialized Anti-Corruption Prosecutor's Office and Prosecutor General's Office of Ukraine, who will be able to control settlement of conflicts of interest in the NABU or representatives of other agencies should any such conflicts arise. We urge the Ukrainian authorities and international partners to guarantee objective investigation as well as health and safety of corruption whistleblowers, who have to be protected from any pressure while retaining adequate security. We will consider any dismissal of NAPC employees who support their colleagues – whistleblowers to be an attempt at pressure on the investigators," said Executive Director of TI Ukraine Yaroslav Yurchyshyn.
TI Ukraine demands law enforcement agencies and the NAPC to suspend everyone involved in the investigation for its duration and to ensure independent and effective investigation of statements made by Hanna Solomatina, Oksana Dyvnych and other whistleblowers from the National Agency for Prevention of Corruption.
For its own part, Transparency International Ukraine is seeking possibilities to provide qualified legal aid to the NAPC whistleblowers and will continue to inform the international community on the course of the investigation.
#
Media contact: Olha Tymchenko, Head of Communications Department at Transparency International Ukraine

Cell: 050-352-96-18,

e-mail: tymchenko@ti-ukraine.org

Transparency International Ukraine is a national chapter of Transparency International, an anti-corruption NGO with over 90 national chapters; which operates in more than 100 countries. TI Ukraine's mission is to limit the increase of corruption in Ukraine by promoting transparency, accountability, and integrity in both the public authorities and civil society. You can learn more about the organization's activity on the website www.ti-ukraine.org