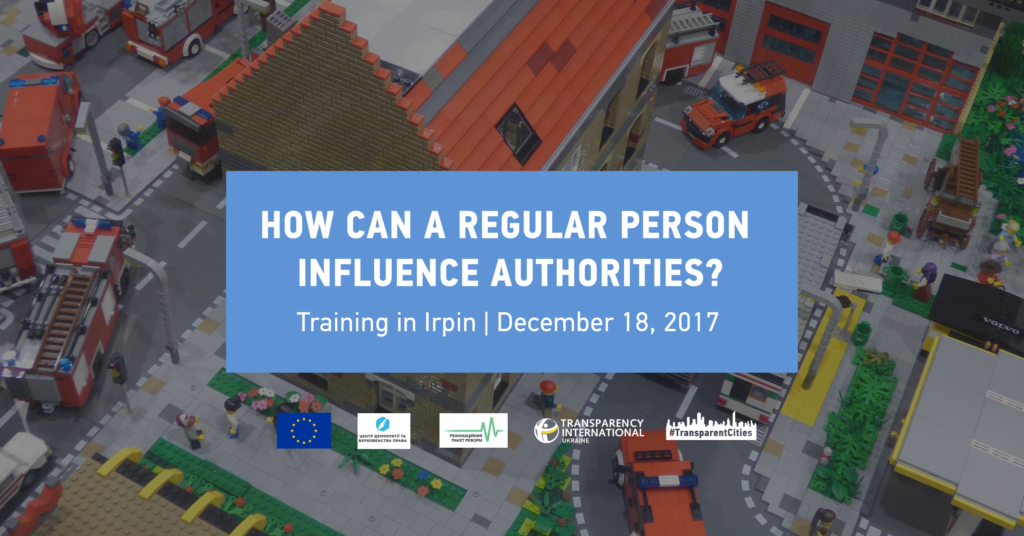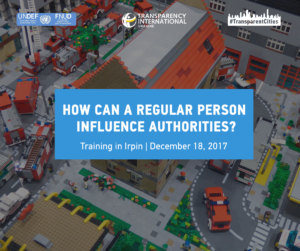 The Ukrainian chapter of the international anti-corruption organization Transparency International invites activists, journalists and everyone interested in transparency to attend the training "How Can a Regular Person Influence Authorities?" in Irpin. At the event, representatives of the civil society can gain theoretical knowledge and practical skills that will enable them to influence local bodies of authority and to increase transparency of their native city. 
The training will take place on December,18 from 9:30AM to 5:30PM EET at "Conference Hall" in Irpin, 11a  Severynivska st. To participate in the event, please register at http://bit.ly/2jQQwav.
Final date for registration: December, 14 until 12:00PM EET 
The event speaker is Taras Sluchyk, a coach of the International Republican Institute and expert of the Institute of Political Education, specialist in the field of decentralization and regional development and on questions of preventing corruption at a regional level. Together with participants, he will focus on how to conduct budget monitoring and control activities of communal enterprises.
It should be reminded that Irpin holds 75th place in the Transparency rating of 100 Ukrainian cities. The city has earned only 22 point out of 100 possible. The highest results were shown  in the areas of access to information and public participation (5.6 points), of information on work of local authorities (2.4 points), and also in the area of communal enterprises(2.4 points). Still, in 3 areas, the city has earned zero point. Amongst them, housing policy, spheres of education and social services are the most closed.
Now, decentralization is underway in Ukraine, which presupposes transfer of authority and budget earnings to the local level. While city budgets have become more independent thanks to this process, corruption risks are one of the key threats for effective local self-government. That is why TI Ukraine continues to work on transparency in the regions of Ukraine and actively motivate local public officials to adhere to principles of transparency and accountability.
The project Make the City Transparent, Take Part in Governance is implemented by TI Ukraine together with the Center for Democracy and Rule of Law as part of the project Strengthening the RPR Coalition implemented with the support of the EU. 
Media contact: Kateryna Tsybenko, manager of Transparent Cities at Transparency International Ukraine

+38 098 231 08 81

Transparency International Ukraine is a national chapter of Transparency International, an anti-corruption NGO with over 90 national chapters; which operates in more than 100 countries. TI Ukraine's mission is to limit the increase of corruption in Ukraine by promoting transparency, accountability, and integrity in both the public authorities and civil society. You can learn more about the organization's activity on the website www.ti-ukraine.org