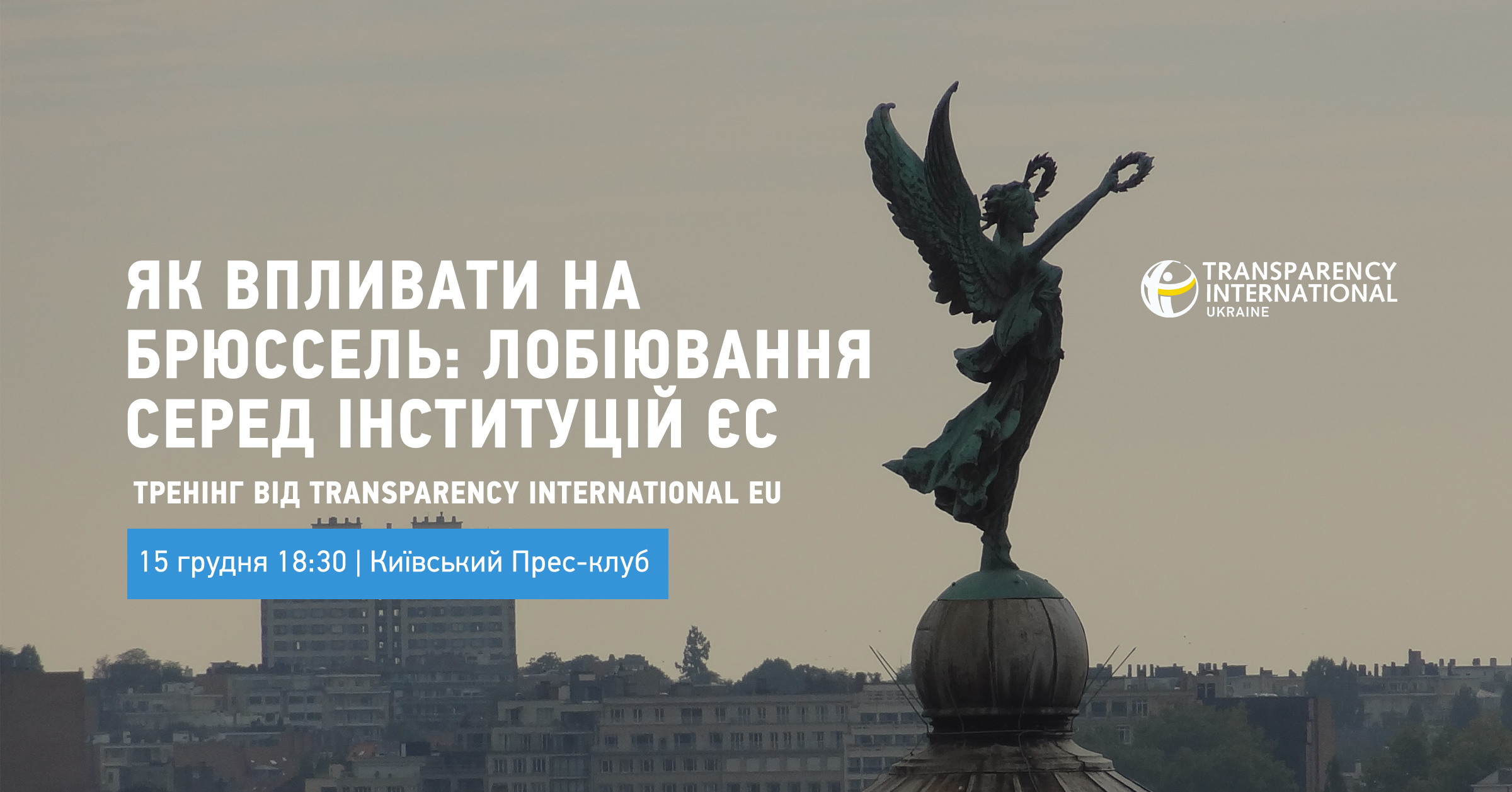 Do EU politicians keep secret agreements with lobbyist organizations? Who influences the decisions by MEPs? How can citizens of European countries find out about MEPs' other income? What is it like, the conflict of interest of Ukrainian politicians? Find out at the training by Raphaël Kergueno, Policy Officer of Transparency International EU. The event will take place on December 15 at 6:30PM in Kyiv Press Club at 27a, Khreschatyk st., Kyiv.
In Ukraine, news about tender conspiracies of public officials and lobbying politicians' business interests shows up in the media quite regularly. The potential conflict of interest in the electronic declarations of public officials is supposed to be checked by the National Agency for Prevention of Corruption (NAPC). How does it really work in Ukraine and EU countries? What role does TI EU play in control over decisions made by MEPs? This is what TI EU's Raphaël Kergueno is going to talk about at the event.
Raphaël Kergueno is part the EU integrity team, working on projects related to lobbying, conflict of interests and legislative transparency. He is also tasked with managing EU Integrity Watch and developing national versions of the online platform in partnership with our national chapters. Prior to joining Transparency International EU, Raphaël was a working at the Europe Direct Contact Centre of the European Commission and as a partnership manager at Groupon. Raphaël holds a BA in politics and international relations from the University of Kent and an MA in European Studies from Maastricht University.
The discussion will be moderated by Kateryna Ryzhenko, project manager and legal advisor of TI Ukraine.
Registration required at http://bit.ly/2AvXjRZ
The event will take place with the support of UNDP.
#
Media contact: Anastasiia Krasnozhon, communications manager at Transparency International Ukrainecell phone: 063-47-47-286,

e-mail: krasnozhon@ti-ukraine.org

Transparency International Ukraine is a national chapter of Transparency International, an anti-corruption NGO with over 90 national chapters; which operates in more than 100 countries. TI Ukraine's mission is to limit the increase of corruption in Ukraine by promoting transparency, accountability, and integrity in both the public authorities and civil society. You can learn more about the organization's activity on the website www.ti-ukraine.org