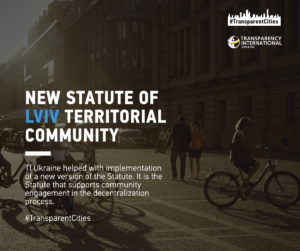 The Ukrainian chapter of the global anti-corruption movement Transparency International continues its collaboration with local self-government as part of the #TransparentCities project. This time, TI Ukraine's expert group helped prepare a new version of the Statute of Lviv Territorial Community.
A statute is an important document for cities, since it regulates the work of the city executive agency and its interaction with the community. The decentralization process is gaining momentum in Ukraine, and it is the Statute which supports community involvement in the process. The new Statute is supposed to standardize public meetings, submission of electronic petitions and local gatherings.
"We hope that the new version of the Statute will make the community more active, increase people's trust in the authorities and involve as many Lviv citizens as possible to local decision-making," commented Kateryna Tsybenko, manager of TI Ukraine's project Building Transparency in Ukrainian Cities.  
Development of the new Statute started on March 31, 2016, from the moment of formation of a working group. It consisted of Lviv city council deputies, officials of local executie agencies, social activists, representatives of educational and expert communities. 21 meetings have been held in the process of development of the Statute. After each meeting, the texts of articles developed by the working group were published on the Information Website of Lviv city council deputies. Besides, during several months, public dicussion of provisions of the draft Statute were held and citizens were asked to contribute their opinion.
TI Ukraine together with the Scientific Research Institute of State Building and Local Self-Government of the National Academy of Legal Sciences of Ukraine and V.M. Koretskyi Institute of State and Law of the National Academy of Sciences of Ukraine. Experts have analyzed the draft Statute for compliance with the current legislation, defined the consequences of its implementation, developed recommendations. After the legal expertise of the draft Statute, Lviv city council developed a final version based on the comments and suggestions they received.
In the transparency ranking of 100 Ukrainian cities, Lviv takes the first place with 59.7 points out of 100 possible.
You can find the full text at http://bit.ly/2kXvFGo
#
Media contact: Kateryna Tsybenko, manager of Transparent Cities at Transparency International Ukraine

+38 098 231 08 81

Transparency International Ukraine is a national chapter of Transparency International, an anti-corruption NGO with over 90 national chapters; which operates in more than 100 countries. TI Ukraine's mission is to limit the increase of corruption in Ukraine by promoting transparency, accountability, and integrity in both the public authorities and civil society. You can learn more about the organization's activity on the website www.ti-ukraine.org