Billboards and video commercials on local TV inform citizens about the most effective way of reporting corruption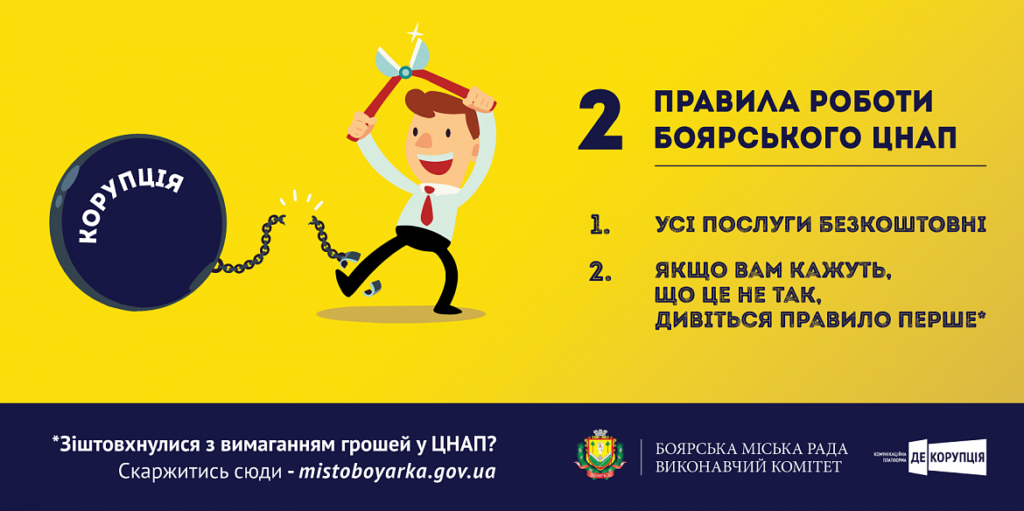 Caption: 
2 rules of Center of Administrative Services in Boyarka
All services are free of charge

If they say it isn't true, see rule number 1.
Why Boyarka?
Launching a pilot project for regions on anti-corruption is an important focus area of the communication platform «Decorruption». In cooperation with local authorities, we aim at creating successful anti-corruption cases, which will serve as a model for other cities and regions.
The fact that the first starting point project has been launched in Boyarka is no coincidence. Local authorities have experience working with the third sector within the project «Transparent cities». At the beginning, Boyarka was lagging behind in the transparency ranking of 100 Ukrainian cities, however, by implementing our recommendations, it has reached the 15th place. Therefore, the project in Boyarka is an opportunity to demonstrate an unflinchingly steady anti-corruption course of satellite cities of Kyiv, upon which civil society organizations can embark in cooperation with public authorities.
What Problem Does This Campaign Solve?
There is no single magic bean for effective anti-corruption activity, so, while developing this project we built on current issues of Boyarka. As it turned out after speaking to representatives of local authorities when facing corruption offenses, residents of Boyarka are ready to post their complaints on their social media pages, however do not report such incidents to police authorities or representatives of local city council.  There are several reasons for this: lack of faith in fair investigation, reluctance to spend time on chairborne war or lack of knowledge in addressing to the right official in the local council.
That is how the purpose of the campaign "Report here" was decided: to inform the residents of Boyarka on the most simple and effective way to report corruption. You leave your request on the website of the city council, and competent experts investigate it.
Idea and Implementation
To make sure the locals would relate to the problems depicted in the commercials, we asked Boyarka city authorities to single out the sectors where they were most likely to encounter corruption. It turned out that it was the non-transparent admittance procedure in kindergartens and footdragging of issuing authorizations and approvals for local business.
Thus, the characters of the two commercials were entrepreneur Fedir who cannot receive the necessary documents, demanding a "reward," and Alinka, whose child is not admitted to kindergarten without a bribe. They complain about it on Facebook, but the further plot humorously shows: there is no chance that Facebook will come and handle the situation. The city council, however, can handle it easily: they have competent experts to investigate it. "Write us here. We'll handle it," say the commercials, showing that Boyarka is not a place for corruption. Boyarka city council posted the videos on their social media, they will also be broadcast on local TV.
Another component of the campaign is billboards and posters in the elevators of the apartment buildings. They transparently send a message of free of charge service in the Center of Administrative Services (except for the state tax) and encourage the citizens to address the local council in case of extortion of bribes by the employees of the Center of Administrative Services.