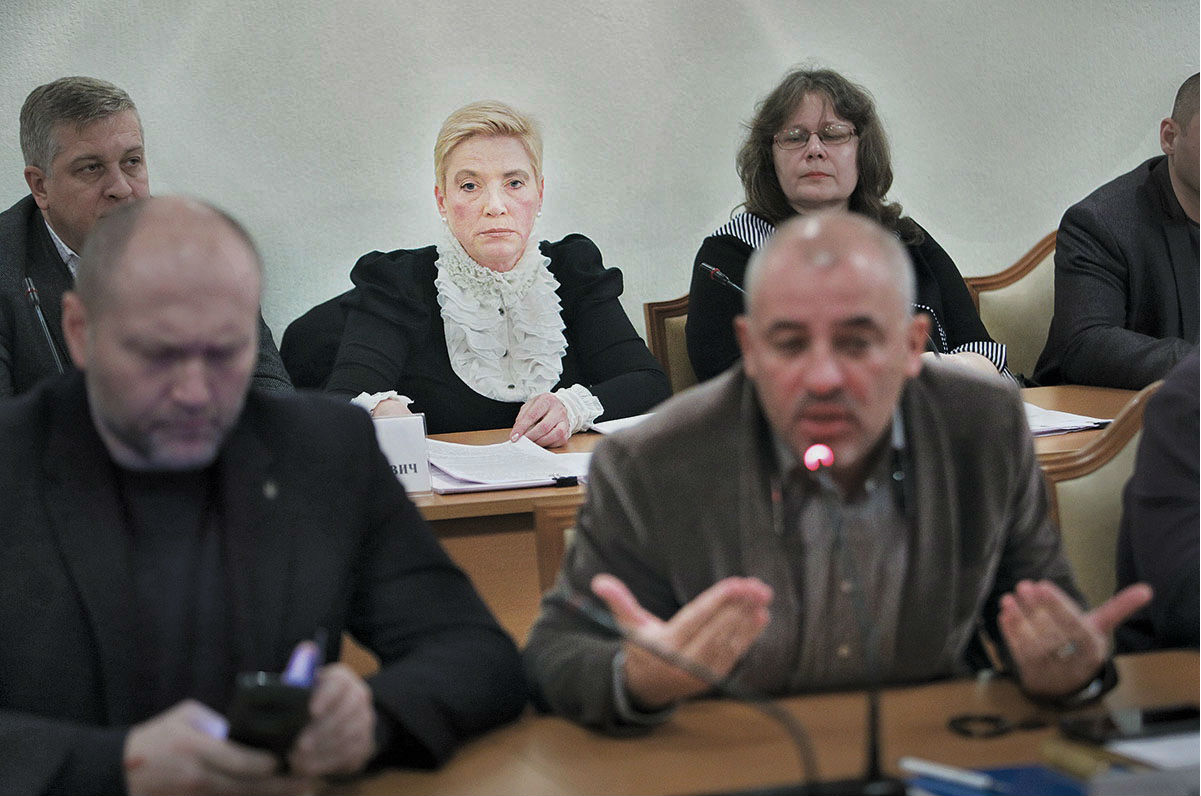 Hanna Solomatina never set out to be a whistleblower. The former head of Ukraine's National Agency for Corruption Prevention's (NACP) Financial Control and Lifestyle Monitoring Department just wanted to use her background in finance and auditing to help the country fight endemic graft. The NACP manages Ukraine's e-declaration system, which mandates that officials reveal their assets annually to ensure they weren't acquired unjustly. Solomatina's department at NACP was responsible for verifying the declarations.
What follows is a saga that left Solomatina disillusioned about corruption within NACP itself. Ultimately, it led her to a crossroads: stay silent and keep her head down, or speak out and risk everything. She spoke out, bravely becoming one of Ukraine's most prominent whistleblowers, and her life hasn't been the same since. This is her story.
Only months after starting work at NACP in June 2017, Solomatina began to suspect that things were amiss. She discovered that the previous acting head of her department had a prior criminal conviction stemming from her time as a tax official. She also observed current NACP head Natalia Korchak and her deputy constantly arguing about the work of the department.
Her suspicions aroused, Solomatina tasked an NACP auditor with finding out what was going on. He quickly began bringing her evidence of prior criminal activity in her department. She immediately reported her findings to NACP Secretary General Ihor Tkachenko, as well as to the agency's director of corruption prevention within NACP itself, and the three decided to present their evidence to the Prosecutor General's Office.
Shortly thereafter, a former adviser to Korchak named Serhii Karpushyn—who was then with the Security Services of Ukraine—returned the documents to Solomatina along with an ominous message: back off and stay away, or else.
Things only got worse from there.
Solomatina met with NACP's supervisor in the Presidential Administration, Oleksiy Horashchenkov, together with an SBU official, and made clear that she wasn't backing off. Shortly thereafter, however, Horashchenkov started writing Solomatina, demanding the "required results" of various e-declaration verifications—that is, asking in veiled language that Solomatina and her staff alter the e-declarations' outcomes. And Korchak repeated the demand.
"I was effectively being told by the head of my own agency, plus Bankova itself, to manipulate our work so that corrupt officials could avoid justice," Solomatina said.
After a vacation, Solomatina returned to work determined to keep fighting. In another meeting with Horashchenkov, she again refused to cover up corruption. Korchak responded by demoting her colleague Tkachenko, while making Solomatina's department subordinate to a Presidential Administration representative within NACP.
Despite initially resigning last October, Solomatina decided to remain with NACP and battle its corruption from within. She also went public with the gross abuses of power she'd witnessed. In a series of interviews and press conferences, she blew the lid off corruption within NACP, causing a major national scandal, and was eventually fired. She also continued to receive threatening messages from Horashchenkov.
Does Solomatina have any regrets about turning her life upside down? After all, she's now a public figure with many powerful enemies.
"I believe I did the right thing," Solomatina said. "I do not have the right to go back, because other people see me as an example. I want to go all the way to the end, so when a whistleblower law is passed, it will be clear what safety measures to protect whistleblowers must be taken," she explained.
Solomatina is also quick to credit the bravery of two colleagues, Oksana Dyvnych and Vadim Nikolayev, who supported her description of events and have also faced retaliation. "Vadim faced disciplinary proceedings and was forced out, and now they are doing the same to Oksana," Solomatina said.
Solomatina now considers herself an activist. She has filed a lawsuit against NACP to reclaim her old job—"maybe I will return if they reboot the agency and put honest people in charge"—and lectures to inspire others to follow their consciences.
If there's light at the end of the tunnel, it's that Solomatina's sacrifice has already produced results. Ukraine's National Anti-Corruption Bureau has already opened criminal cases against everyone involved in trying to manipulate the NACP.
It's now critical for Ukraine's Western partners to support Solomatina. To start with, the next time Western officials visit Kyiv, they should supplement the usual dog-and-pony show with Ukrainian officials by publicly meeting with and supporting Solomatina.
The United States and the European Union should also push Kyiv to completely reboot the NACP and bring in new management, a group of leaders that recruits and supports honest Ukrainians who aim to uphold the ideals of the Euromaidan Revolution. The West should also insist that NACP rehire both Solomatina and Nikolayev, and that management cease all pressure on Dyvnych.
Finally, the West should push for a law that clearly protects whistleblowers and provides them the safety and protection they need, so that others like Solomatina will step forward.
No one ever said that turning Ukraine around would be easy. But thanks to brave Ukrainians like Solomatina, the country will eventually get there.
Josh Cohen is a former USAID project officer who managed economic reform projects throughout the former Soviet Union. He is a contributor to Reuters, Foreign Policy, the Washington Post, and others.