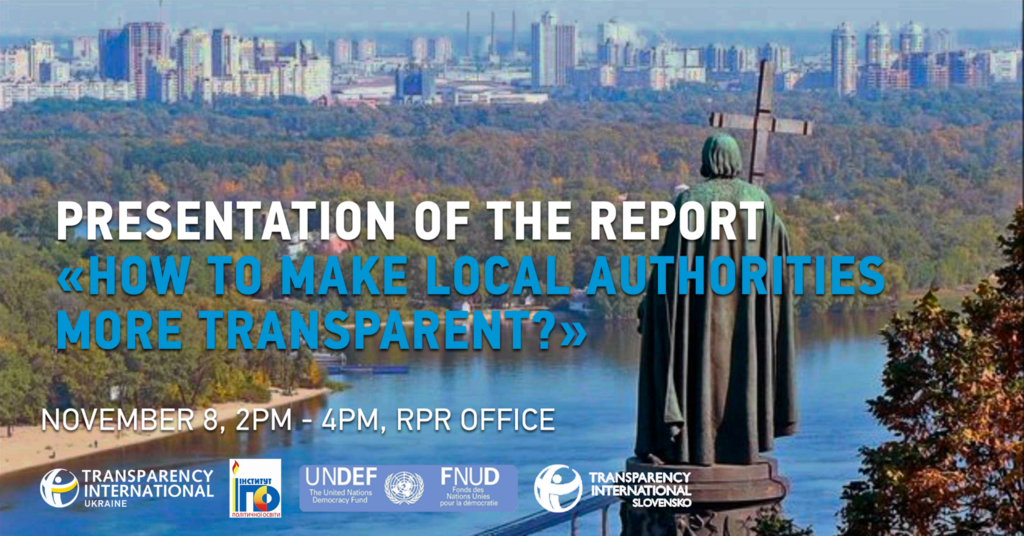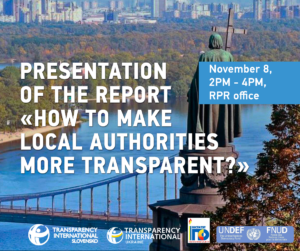 The Ukrainian chapter of Transparency International and the Institute of Political Education will be happy to see you at the presentation of the analytical report How to Make Local Authorities More Transparent. It will take place on November 8 from 2PM to 4PM in the Reanimation Package of Reforms office, address: 6 Olhynska str. 2nd floor, office 21.
The research identifies typical problems of Ukrainian authorities with transparency. The analysts have collected best practices for improvement of transparency in various cities and areas of activity and have developed general recommendations to increase the accountability of local authorities. Besides, the report contains recommendations for the Cabinet of Ministers, the Verkhovna Rada on which regulatory acts they have to adopt to stimulate transparency on the local level.
Speakers:
Executive Director of the Ukrainian chapter of Transparency International Yaroslav Yurchyshyn;
Institute of Political Education expert Oleksandr Solontay;
Manager of the Transparent Cities project at Transparency International Ukraine Kateryna Tsybenko.
One of the factors contributing to the development of a society free of corruption is transparency of local authorities. Even though a high level of transparency does not necessarily mean no corruption, it helps the citizens to identify cases of dishonesty and call for justice, accountability and observance of law. This is the very reason why Transparency International Ukraine engages in active work on improving transparency in the regions: consults local authorities on gaining points in the transparency ranking, organizes workshops and awareness campaigns for the citizens and works with specific problems of selected cities.
To participate in the event, please register at http://bit.ly/2z4vBI3 .