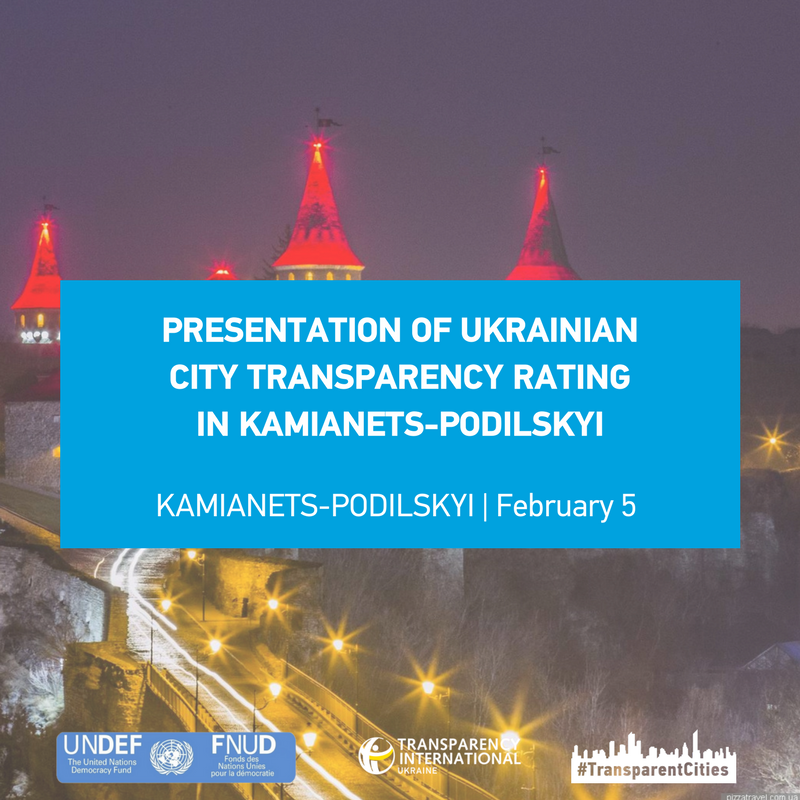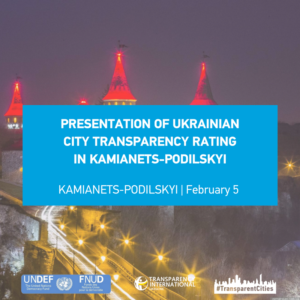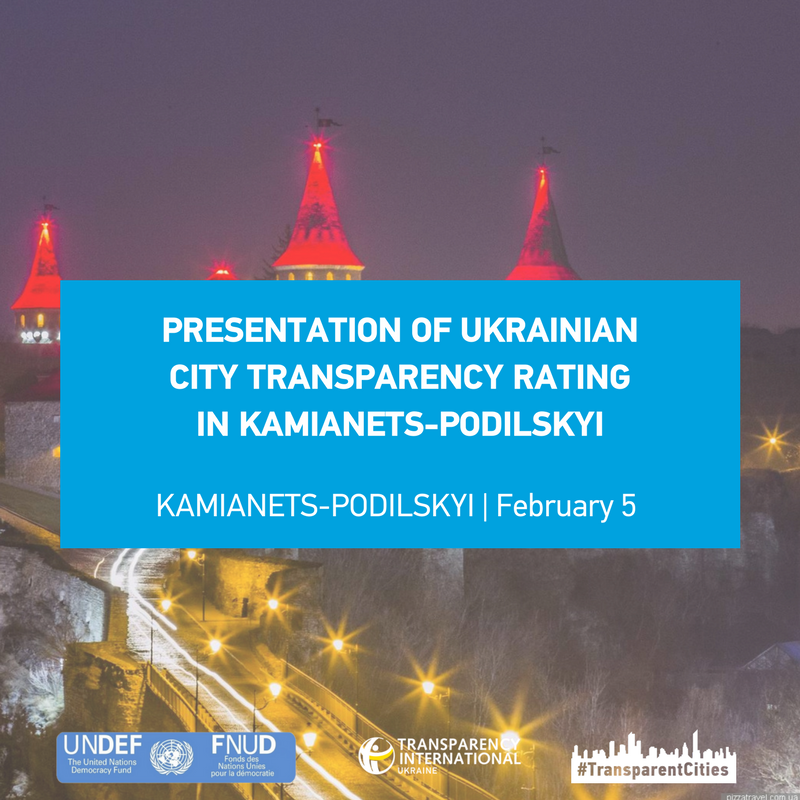 Representatives of Kamianets-Podilskyi city council asked the Ukrainian chapter of the global anti-corruption network Transparency International to present the Transparency Ranking of 100 Ukrainian Cities in their city. The organization welcomes the aspiration of municipal authorities to build transparent governance and is thus organizing the presentation. Representatives of the local authorities, civic activists, journalists as well as everyone interested in the topic are cordially invited.
The event will take place on February 5, from 11AM until 12PM at the following address: Maidan Vidrodzhennia 1, 4th floor
The team of the TI analysts together with the Institute of Political Education created the transparency ranking based on 91 indicators in 13 areas. Namely, in the areas of budgeting and public contracts, land use and construction policy, human resources, public procurement, availability of online services and others.
Kamianets-Podilskyi did not do well in the Transparency Ranking. The city is 41st, having received 32.38 points out of 100 maximum points, and thus it ended up in the group marked red. These cities urgently need to solve the problems in accountability and transparency.
Which areas received the highest number of points? How transparent is Kamianets-Podilskyi compared to other regional centers? Why did three areas of accountability of the local authorities receive less than 1 points and what could be a solution to this?  You will receive answers to these questions at the event.
The Ranking will be presented by:
Kateryna Tsybenko, Project Coordinator of Transparent Cities
Liudmyla Hovorova, General Department Assistant
The experts will primarily focus on the ways to improve the situation in the areas with the lowest results and will offer their advisory support.
To participate in the event, please, register at https://goo.gl/forms/6BOwvsLNcjgK6Aju1
The project Make the City Transparent, Take Part in Governance is implemented by TI Ukraine together with the Center for Democracy and Rule of Law as part of the project Strengthening the RPR Coalition implemented with the support of the EU. 
Media contact: Alina Kobenko, communications manager of Transparet Cities

tel. +38 0930648865,

e-mail: kobenko@ti-ukraine.org

Transparency International Ukraine is a national chapter of Transparency International, an anti-corruption NGO with over 90 national chapters which operates in more than 100 countries. TI Ukraine's mission is to limit the increase of corruption in Ukraine by promoting transparency, accountability, and integrity in both the public authorities and civil society. You can learn more about the organization's activity on the website www.ti-ukraine.org