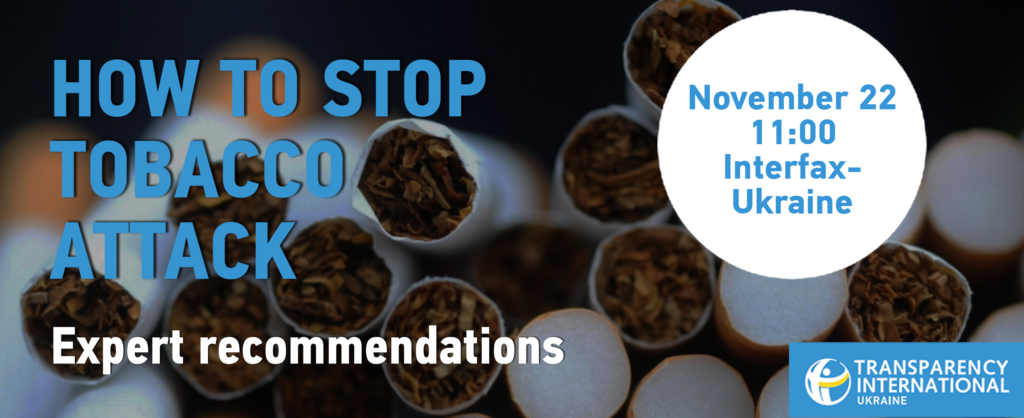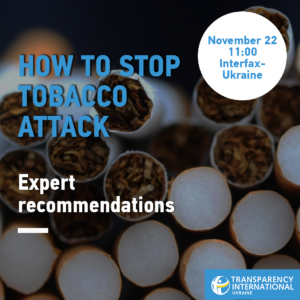 Ukraine does not fulfill the international duties on opposition to tobacco industry interference in the healthcare policy that it undertook. It influences the growth of the number of diseases caused by smoking. The country thus ignores the Framework Convention of the World Health Organization on Tobacco Control, which was ratified back in 2006. How can we prevent it and restrict the possibilities of large tobacco manufacturers to influence the Ukrainian legislation?
Together with experts, The Ukrainian chapter of Transparency International has developed recommendations for public authorities and international donors concerning restricting the influence of tobacco corporation on public officials in the context of consideration of healthcare issues.
The recommendations will be presented on November 22, at 11AM in Interfax-Ukraine news agency at 8/5a Reitarska street. Earlier, in June, Ukraine presented an investigation of connections of tobacco corporations with certain MPs from the "Nasirov group."
Speakers:
Kostiantyn Krasovskyi, manager of tobacco control department of the Ukrainian Institute for Strategic Research of the Ministry of Healthcare of Ukraine,
Serhii Mytkalyk, TI Ukraine invited expert on monitoring of the conflict of interest in the tobacco industry,
Andrii Skipalskyi, Chair of Zhyttia CSO, expert of the Ukrainian Center for Tobacco Control.
Accreditation on site, press card required.