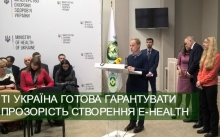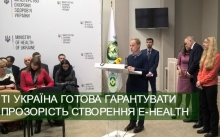 On November 25, 2016,  Yuliana Suprun, the acting Minister of Health, along with representatives from the IT sector and civil society organizations,  signed a memorandum of intent to create an electronic service system in the sphere of medicine in Ukraine  (e-Health).
Yaroslav Yurchyshyn, Executive Director of Transparency International Ukraine,   announced his willingness to be a guarantor of  transparency in this process. According to him, TI Ukraine does not undertake a task it deems without a potential to be successful.
"At the moment, we believe that approaches to the whole system can be changed. The fact that a systematic services electronization approach  starts with such a complex sector, where only half-paces were made for 25 years is a massive ministry's achievement . We guarantee that we will maximize the control, and assist effectively and foster so that a sphere that is considered a "black hole" would become the example area for others ," said the Executive Director of the organization.
Dmytro Sherembei, Head of the Coordination Council of  the all-Ukrainian Network of People Living with HIV  (one of the country's largest patient organizations)  announced his readiness to participate in the project. He said that the establishment of an effective e-health system is an issue of saving lives.
Yuliana Suprun, acting Minister of Health said that the agency planned to see   patients' and doctors' registers, a system of electronic prescriptions and electronic sick certificate among Ukrainian e-health components. Pavlo  Kovtoniuk, Deputy Health Minister  announced  his plans by the end of 2016, among which were the creation a road map for the establishment of e-health in Ukraine, and the rules of access to the system and technical requirements to the pilot product.