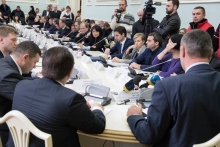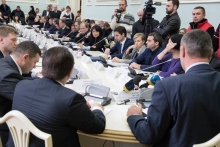 The Anticorruption Council at the Head of Kyiv City Administration supported the draft decision of the Kyiv City Council "On Approval of the Provision on Holding Investment Competition in Kyiv". The new mechanism was developed by Transparency International Ukraine, the Reanimation Package of Reforms – Kyiv, and members of the working group on mechanisms to attract investment.
The document lays out baseline conditions and rules for all spheres of investment activity, and replaced the previous Provision enacted on May 24, 2007. During the presentation of the draft provision, TI Ukraine's governance expert and Anticorruption Council member at the head of the Kyiv City Administration Olesia Arkhypska, described this document as not revolutionary but progressive. New rules of investment competitions are only small part of investment policy reform. He also stressed that there was lack of investor trust in the investment policy. Instead, there is only personal trust in the Head of the Kyiv City Administration, Vitalii Klychko and his First Deputy, Hennadii Plis.
The new mechanism improves policy transparency, accountability, and responsibility, while actively incorporating modern information technologies. It standardizes the organizational investment procedures, which increases competition, and helps promote the conclusion of investment agreements.