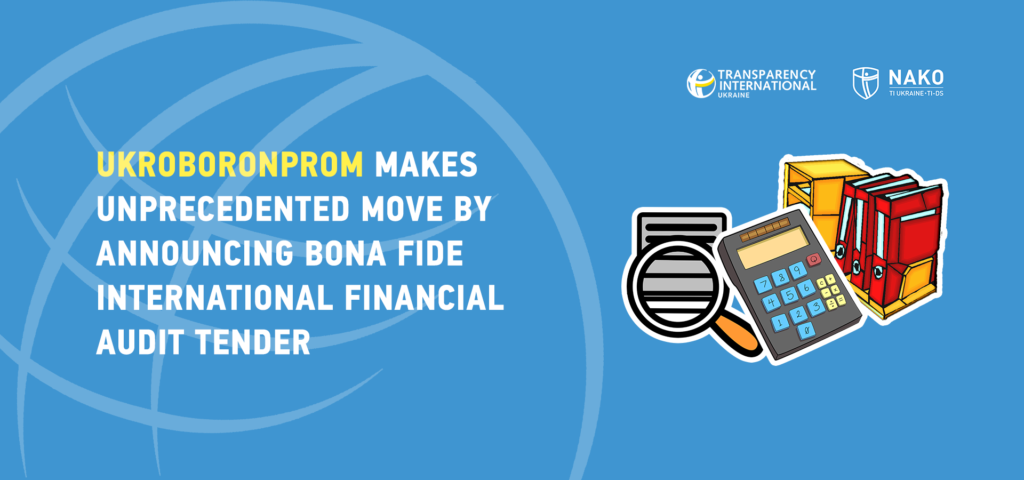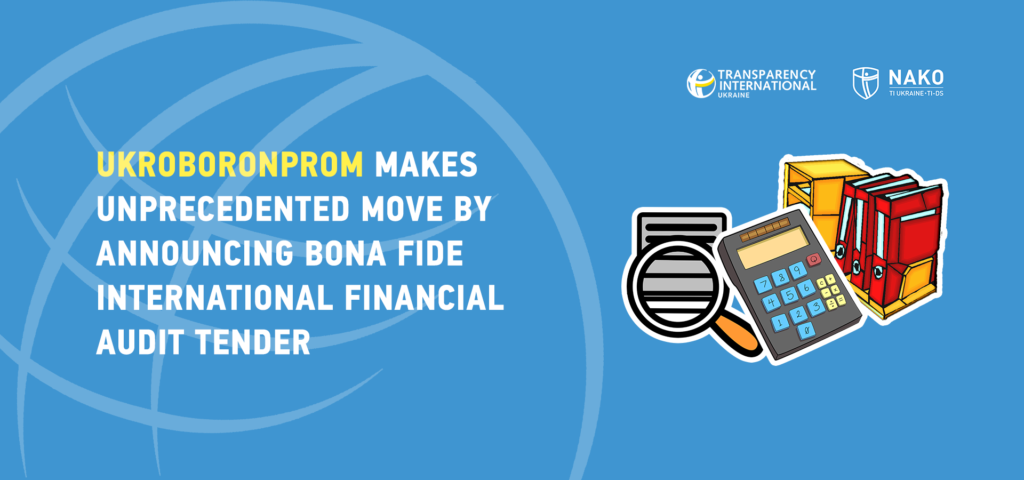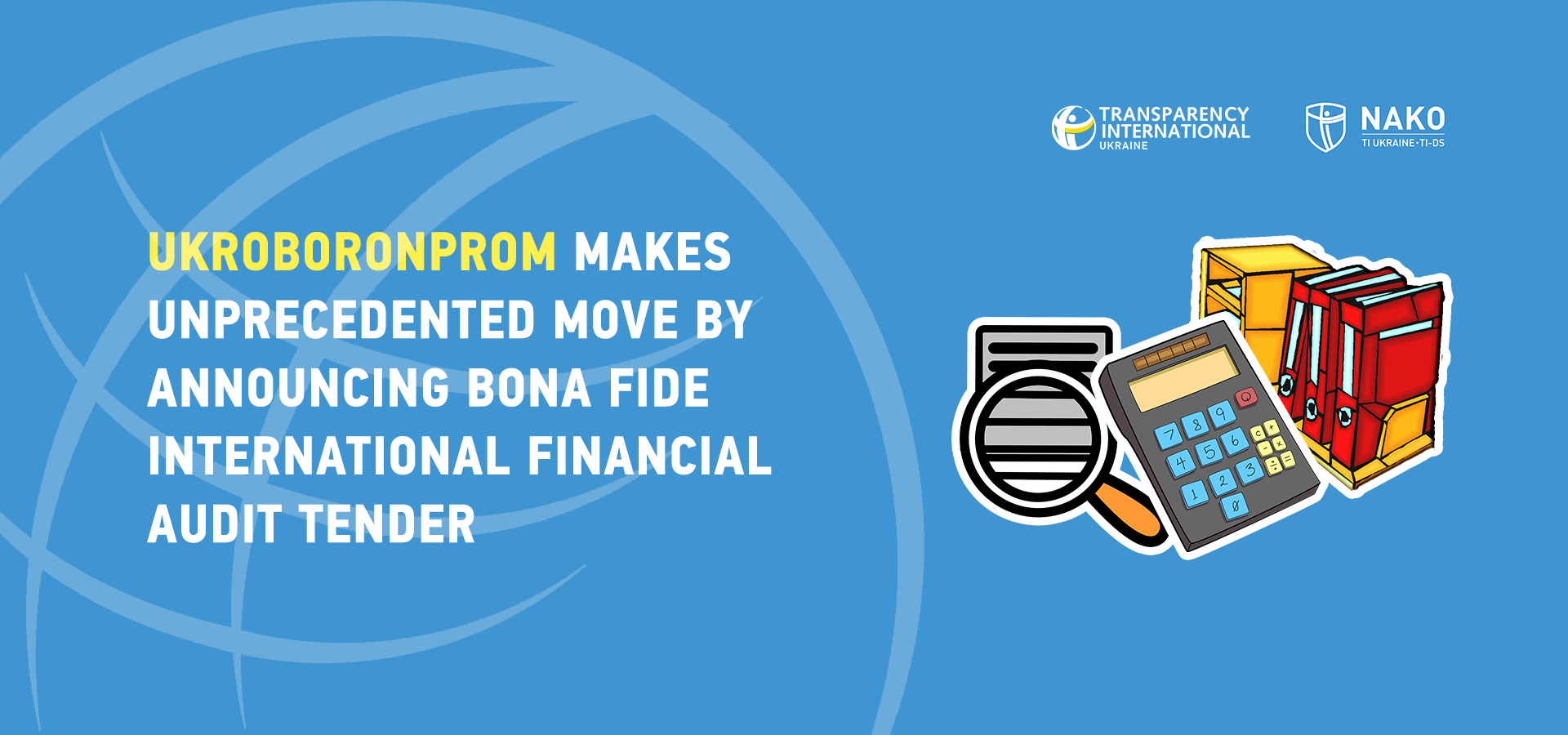 On Saturday, 12 May, the state-owned defence company Ukroboronprom posted an updated tender for a consultant on the e-procurement platform Prozorro. Ukroboronprom is now bound to an independent financial audit in line with international standards. The move follows the reestablishing of the functioning Supervisory Board of Ukroboronprom and extensive input from the Independent Defence Anti-Corruption Committee (NAKO) together with international partners.
The previous version of the Statement of Work excluded a full independent financial audit. The new edition of the tender includes three components: (1) assessment of corporate governance and strategic consulting of Ukroboronprom and its members in accordance with OECD standards; (2) legal due diligence and legal consulting of Ukroboronprom and its members; and (3) an independent financial audit of Ukroboronprom and its members in accordance with international standards.
NAKO provided recommendations relating to this independent financial audit as well as assessment of corporate governance and they were duly implemented by the Tendering Committee in the final version of the call for tender. NAKO will provide external monitoring of this procurement process.
Volodymyr Ohryzko, NAKO Co-Chair: A full and independent financial audit, conducted in accordance with international standards by a recognized auditing firm, will gain trust not only from the Ukrainian people, but also among Western partners and investors'.
The success of the audit depends on multiple factors including: a strict adherence to International Auditing Standards by the auditor; the auditor's ability to access all necessary information, taking relevant laws on state secrecy into account; the auditor's independence, impartiality, and; the implementation of audit recommendations.
"Ukroboronprom's willingness to amend the Statement of Work though including the services of independent audit is a positive step which will open the company up to greater scrutiny. It is the first step towards transforming the company. NAKO is expecting to see reputable international auditing firms among the bidders," stated Olena Tregub, NAKO Secretary General.
The deadline for companies to bid is 18 June 2018. More details can be found at: https://prozorro.gov.ua/tender/UA-2017-12-20-003453-c
For reference:
The Independent Defence Anti-Corruption Committee (NAKO) is a joint initiative by TI's Defence and Security global programme (TI-DS) and the Ukrainian Chapter of Transparency International.
NAKO's mission is to reduce opportunities for corruption through strong research, effective advocacy, and increased public awareness, in order to strengthen the Ukrainian defence and security sector's ability to face challenges to the country's sovereignty.
The Committee includes three Ukrainian members, Sevgil Musaeva, Editor in Chief of Ukrayinska Pravda, Volodymyr Ogryzko, former Minister for Foreign Affairs of Ukraine and former First Deputy Secretary of the NSDC of Ukraine, and Oleh Rybachuk, former MP and Chief of Staff to the President, chairman of the NGO "Centre UA" and co-founder of the civil movement "Chesno", and three international members, Lt Gen (ret.) Tim Evans, former Commander of the NATO Allied Rapid Reaction Corps, Drago Kos, Chair of the OECD Working Group on Bribery in International Business Transactions, and James Wasserstrom, former Senior Advisor on Anti-Corruption at the US Embassy Kabul, and strategy advisor and lead anti-corruption officer at the Special Inspector General for Afghanistan Reconstruction.
NAKO members were selected by a joint board of TI Ukraine and TI Defence & Security, following a public call for nominations. The Committee is supported by its permanent Secretariat based in Kyiv, headed by the Secretary General.