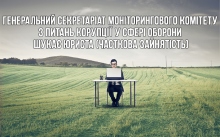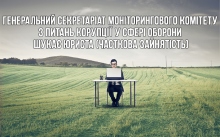 We are currently seeking a part-time Researcher (Legal Specialist) within the General Secretariat of Defence Corruption Monitoring Committee. The researcher will contribute to research reports on the corruption risks within Ministry of Defence of Ukraine, other military institutions and defense industry and will help with other related staff.
This will be an exciting opportunity to make a real impact. You will work as part of a dedicated transnational team that is committed to fighting corruption within the defence and security sector of Ukraine.
Duration: 8 month contract (with possible renewal)
Location: Kiev, Ukraine
Remuneration: Competitive
Start Date:  Immediately
Reporting to: General Secretary
Deadline: 28 Nov. 2016 at 16:00 London (18:00 Kyiv)
Duties:
Legal support of anti-corruption initiatives, current reforms in defense and security sector;
Analyze of legislation and identify corruption risks and non-transparent procedures in defense and security sector
Assist General Secretary in conducting research of the key weaknesses in the anticorruption policies of Ministry of Defence and defense industry and write parts of the report;
If required, help with other project-related duties in early stage of the project development.
The services should be provided mostly in working hours, with the possibility to shift working days within the week upon prior agreement. We envisage 3 days of work in week on average, with the potential of shifting to 5 days per week (full time) as the project evolves.
Requirements:
Experience related to defense and security sector, defense industry sector of Ukraine;
Good understanding of defence issues, international relations and political developments within Ukraine;
The ability to work independently, and as part of a team;
Highly organised and analytical; — Must be able to analyse business processes, work with laws and by-laws, structure information etc.;
Excellent command of verbal and written English and Ukrainian. – Must be able to write parts of report in English.;
Have developed interviewing skills. – Must be able to conduct semi-structured interviews with the senior officials independently;
Discretion and the ability to deal with sensitive information;
Available for occasional business trips within Ukraine;
High motivation to fight corruption in defence sector in Ukraine.
Not required, but will be considered as advantages:
    A legal background;
    Experience related to anti-corruption, law or investigations;
    Experience of working with investigative reporters and/or volunteers in the East;
    Experience with drafting of laws and by-laws.
    Understanding of defence issues.
Application Instructions
To apply, please send your CV and covering letter in English to viktor.plakhuta@transparency.org.uk  by 28 Nov. 2016 at 16:00 London (18:00 Kyiv). Please ensure these documents are sent as one PDF file. Should you be short-listed, you will be contacted. Invited candidates will be required to quote their hourly rates.
Transparency International (TI) is the global civil society organisation leading the fight against corruption. Through more than 100 Chapters worldwide, TI raises awareness of the damaging effects of corruption and works with partners in government, business and civil society to develop and implement effective measures to tackle it. In Ukraine, corruption continues to wear away at the military's capabilities. TI-Ukraine and TI-Defence and Security are working jointly to strengthen monitoring and oversight of the defence sector with a project that establishes a new body, the Defence Corruption Monitoring Committee, to monitor anti-corruption reform progress and develop policy recommendations for the Ministry, and advocate for increased transparency in security assistance to the country.