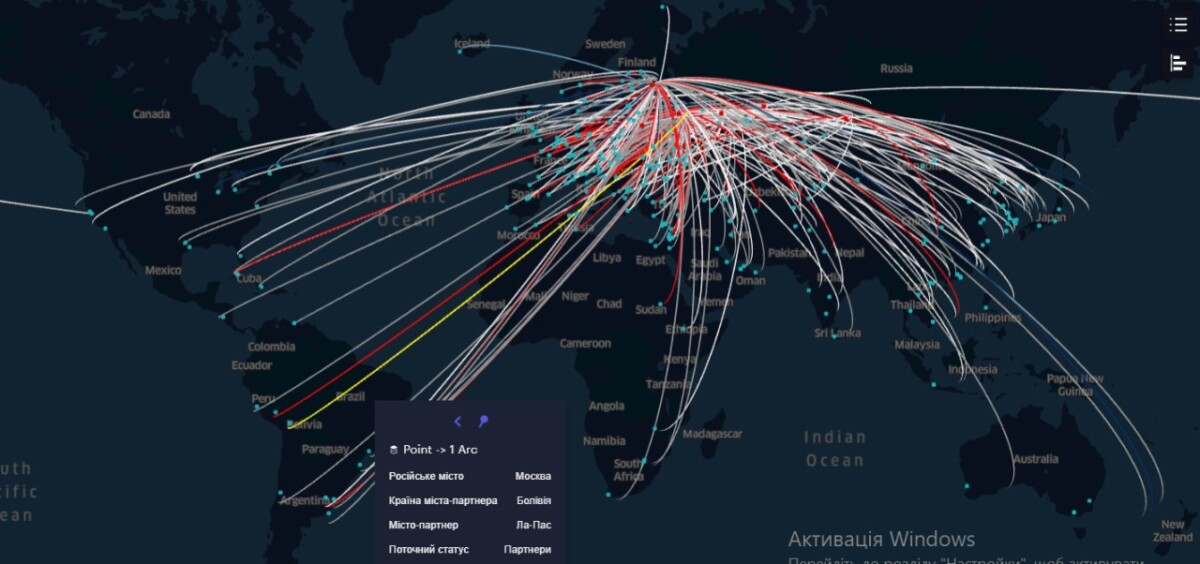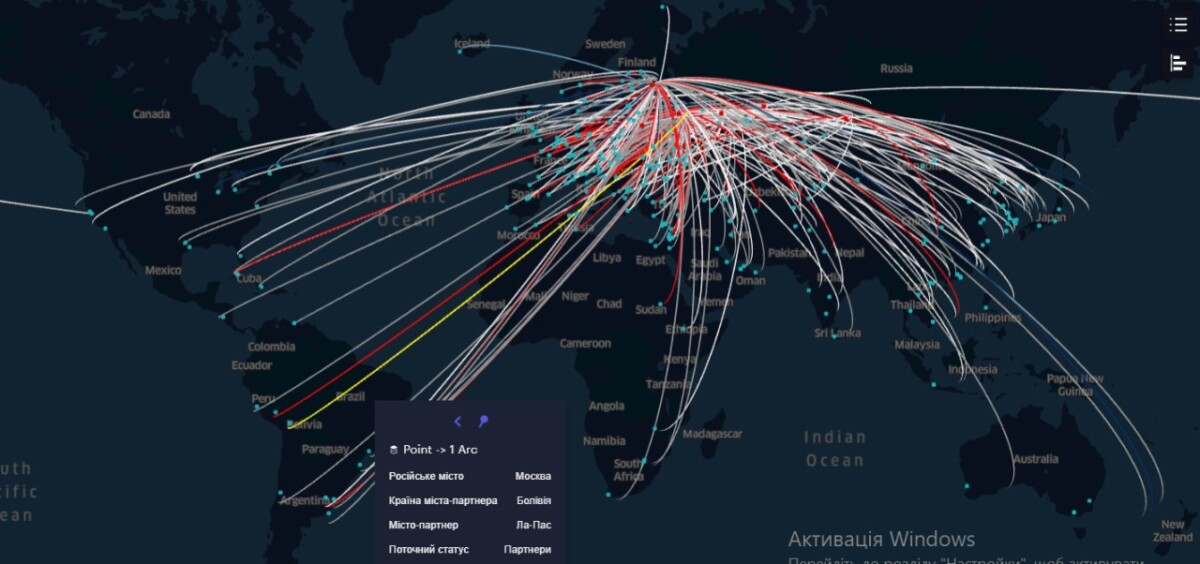 The Transparent Cities program investigated which cities of the world have not yet broken ties with their russian partners. 
Destroyed cities, thousands of civilians killed, hundreds of them are children, ruined achievements, plans, and destinies. These are the consequences of the war that russia launched against Ukraine on February 24.
The whole civilized world has united in pressure on the rf: countries impose sanctions, adopt embargoes, exclude it from competitions, and close the sky. However, russia needs to be isolated at all levels. Twinning relations are another area, where breaking off connections with the cities of russia and belarus is a necessary step.
Twin towns or sister cities are two cities of different countries, between which agreements on friendship and cooperation have been concluded to exchange experience in the field of economy, culture, education, sports, tourism, urban economy, etc. For the first time, this phenomenon was recorded in 836: between the German Paderborn and the French Le Mans. And in 1957, representatives of the twin cities created the World Federation of United Cities, which decided to celebrate the brotherhood of cities on the last Sunday of April.
The Transparent Cities program analyzed the twinnings of the 5 largest russian cities (moscow, st. petersburg, yekaterinburg, novosibirsk, kazan) and of minsk.
According to open sources, as of April 18, 276 cities in the world have partnership or twinning ties with the listed 5 cities of the rf and 1 city of belarus. In total, we found information about 322 cases of partnership or twinning ties. It should be borne in mind that some cities were/are partners with 2 or more cities of the rf, so the number of cities is not equal to the number of connections.
In fact, the status of twinning and partnership do not differ, but there is a difference in the legal formulation of the document on cooperation. Therefore, each case should be considered separately.
A detailed analysis has shown that real confirmation of the twinning status is the case for only 144 cities, that is, in 52% of cases. By a really confirmed fact of twinning/partnership, we mean the availability of information about cooperation on the official websites of city councils of foreign (not russian or Belarusian) cities or in the media.
In general, st. petersburg has partnership or twinning relations with 54 foreign cities, moscow — with 49, minsk — with 30, kazan — with 16, novosibirsk — with 14, yekaterinburg — with 5.
The two largest cities of Kazakhstan — Almaty and Nur-Sultan — are at the same time twin cities with moscow, kazan, st. petersburg;
Turkish Ankara is a twin city with kazan, moscow, and minsk;
Tehran — with minsk, moscow, st. petersburg;
surprise! Kharkiv — with moscow, novosibirsk, st. petersburg. 
China has the largest number of twin cities with the mentioned cities of the rf and the rb: 9 cities have twinning ties with russian cities and 5 with minsk.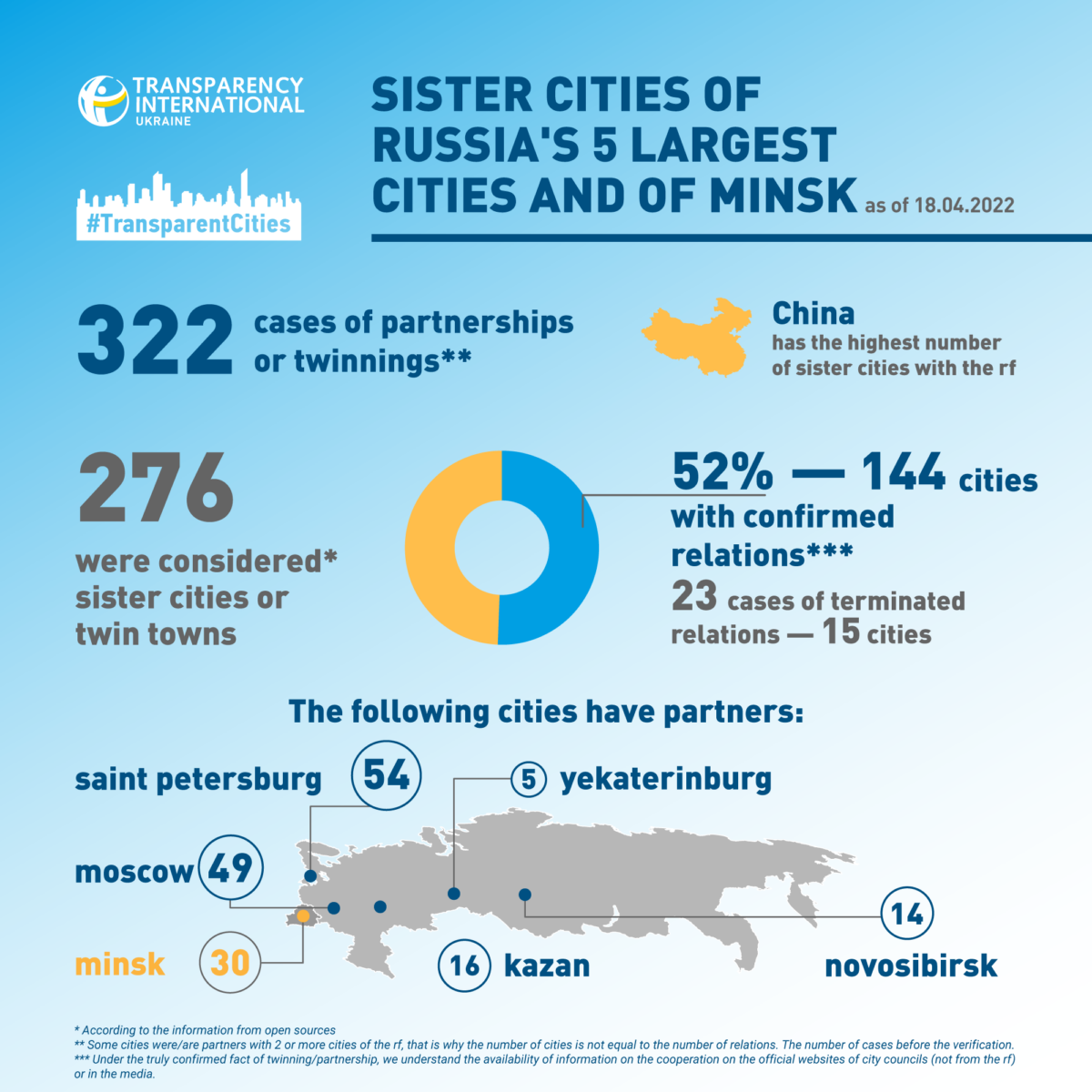 Details about the connections of these cities are on interactive infographics (works from a desktop). When you hover over a line, you'll see information about the connection between cities.

We call on cities around the world to break twinning with cities in russia and belarus! Do this before April 24 — World United Cities Day as a manifestation of your position regarding russia's armed aggression against Ukraine.
Termination of cooperation
By April 18, the cooperation had been terminated or suspended only in 23 cases. This was done by 15 cities (almost 10% of the total number of cities), namely: Warsaw, Gdańsk, Edinburgh, Kyiv, Odesa, Kraków, Manchester, Melbourne, Prague, Riga, Sendai, Tallinn, Turku, Chicago, Jūrmala.
Two other cities have intermediate status. Reykjavík has not formally terminated cooperation with moscow, but in fact it did since 2013. At the same time, the website of the Mykolayiv City Council did not indicate information about active or terminated cooperation with moscow.
The largest number of terminated twinnings or partnerships is with st. petersburg — 11 cases, with moscow — 7, with kazan — 2, with minsk — 1.
Who broke off twinning relations before the war began? Back in 2016, Kyiv unilaterally broke off partnerships with moscow and st. petersburg over the annexation of Crimea and the occupation of parts of the Donetsk and Luhansk oblasts. At the same time, Kharkiv remains in the twinning status with russian cities, as well as Donetsk and Sevastopol. In response to the occupation of Donbas and the annexation of Crimea, Prague City Hall terminated bilateral cooperation agreements with moscow and st. petersburg in 2014.
Who did terminate the twinning ties with russian and belarus in response to russia's armed aggression in 2022? Latvia, Estonia, and Poland are the countries that currently most support Ukraine during the war. At the same time, they are most active in severing their twinning and partnership relations with russian cities. Thus, Tallinn, Riga, and Jūrmala stopped cooperation with kazan, moscow and st. petersburg. Kraków, Warsaw, and Gdańsk are no longer twin cities with moscow and st. petersburg.
In Ukraine, there are also some positive changes: in Odesa, 5 plaques of russian twin cities were dismantled on Dumska Square — those of st. petersburg, taganrog, moscow, volgograd and rostov-on-don. Instead, they plan to add cities that actively help Odesa during the war.
Cities in the United States and Great Britain cease to cooperate with russian twin cities. For example, the mayor of Chicago suspended the status of moscow as a twin city after a full-scale invasion of Ukraine by russia. Edinburgh and Manchester have also terminated partnerships with st. petersburg.
Of the 23 twin cities of minsk (excluding 8 cities in russia), only 1 city, Sendai (Japan), broke off cooperation with it. Its leader expressed the indignation that Belarus was involved in the russian invasion of Ukraine and announced the suspension of partnership relations.
Interestingly, Kyiv has not yet officially terminated the cooperation agreement with minsk. However, on April 19, MPs of the "Holos" faction registered a draft decision to deprive minsk of the status of a sister city. We expect that in the near future, the MPs of the Kyiv City Council will vote this document. 
Continuation of cooperation
Europe. The cities of Germany, France, and Austria are in no hurry to terminate the agreements of friendship and twinning with the cities of russia. Berlin, Düsseldorf, Hamburg, Dresden, Hanover, Bonn, Paris, Strasbourg, Bordeaux, Vienna, and Graz continue to cooperate with moscow, st. petersburg, kazan and yekaterinburg.
The situation is similar with the cities of Italy and Spain. moscow, st. petersburg, and kazan are still partner cities for Rome, Venice, Genoa, Milan, Turin, Verona, Madrid, and Barcelona.
Among the Scandinavian countries, Finland has the largest number of sister cities with russia — 4 (Kotka, Tampere, Helsinki, and Turku). So far, only the latter has severed partnerships with st. petersburg.
In turn, in the countries of the Balkan Peninsula, 21 cities have partnership or twinning relations with moscow, st. petersburg, kazan, novosibirsk, and yekaterinburg. Among them are cities such as Athens, Belgrade, Ljubljana, Tirana, Istanbul, Varna, and Zagreb.
Brussels, in which most EU institutions are based and which has imposed more than one set of sanctions on russia, has not severed its partnership with moscow.
st. petersburg remains the twin city of Vilnius. By the way, the KCSA called on thelocal city authorities to stop the cooperation.
Bonn (Germany), Detroit (USA), Eindhoven (Netherlands), Nottingham (UK) and Łódź (Poland) are still twin cities with minsk.
In Turkey, as many as 4 cities (Ankara, Istanbul, Antalya, and Eskisehir) have the status of partners with the mentioned cities. At the same time, kazan is in friendly relations with all 4 Turkish cities. Istanbul is a twin city with moscow and st. petersburg, and Ankara has ties only with moscow.
Asia. Close cooperation between China and russia can be traced, in particular, in partnership between the cities. Thus, as many as 9 Chinese cities still have twinning or partnership ties with yekaterinburg, kazan, moscow, st. petersburg, and novosibirsk. Among them are major cities such as Guangzhou, Beijing, Shanghai, and Hangzhou. In addition, 5 Chinese cities have a twinning relation with minsk, namely Beijing, Changchun, Shanghai, and Shenzhen.
In Central Asia, 6 cities (Almaty, Nur-Sultan, Bishkek, Dushanbe, Ashgabat, and Osh) are twin cities and partners with kazan, moscow, st. petersburg, and novosibirsk.
South America. Here, cities such as Havana, Rio de Janeiro, and Buenos Aires have friendly relations with moscow and st. petersburg.
Our study has shown that there is a correlation between how harshly countries react to russia's aggression against Ukraine and how intensively cities in these countries sever twinning relations with russian cities. For example, these are municipalities in the Baltic States and Poland.
At the same time, a significant number of cities are still in the status of partners with the five largest russian cities and belarusian minsk. And this connection is maintained both by cities in Central and Western Europe that condemn russian aggression and impose sanctions, and cities in Central and East Asian countries that are traditionally friendly to russia.
At the same time, Turkish cities are neither in a hurry to stop or put on hold cooperation with russian cities.
Some Ukrainian cities have also not yet cut ties with their russian and belarusian partners. Of course, now the cities face completely different challenges. However, we are convinced that this issue will be resolved as soon as possible because it is impossible to be friends with someone who bombs and shells your community.
Twinning is the path to mutual success of cities. russia, including its cities and the tacit obedience of minsk, bring only destruction, death, crime, despair, and loss. And hardly any conscious municipality wants to see the bloodthirsty coat of arms of a russian city as its partner.
Friends, check the status of your city, the city of your friends and relatives abroad — whether they are brothers/partners of cities in russia or belarus.
Contact the authorities, write petitions, let's help cities get rid of this shameful status!