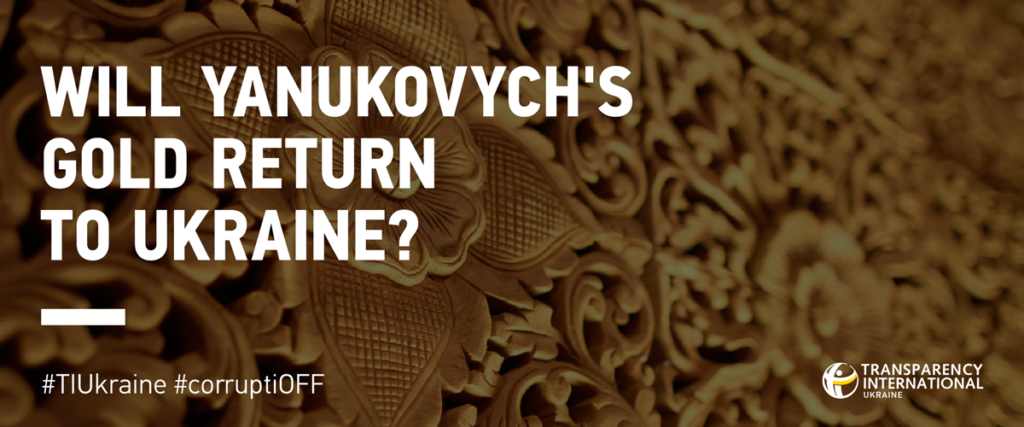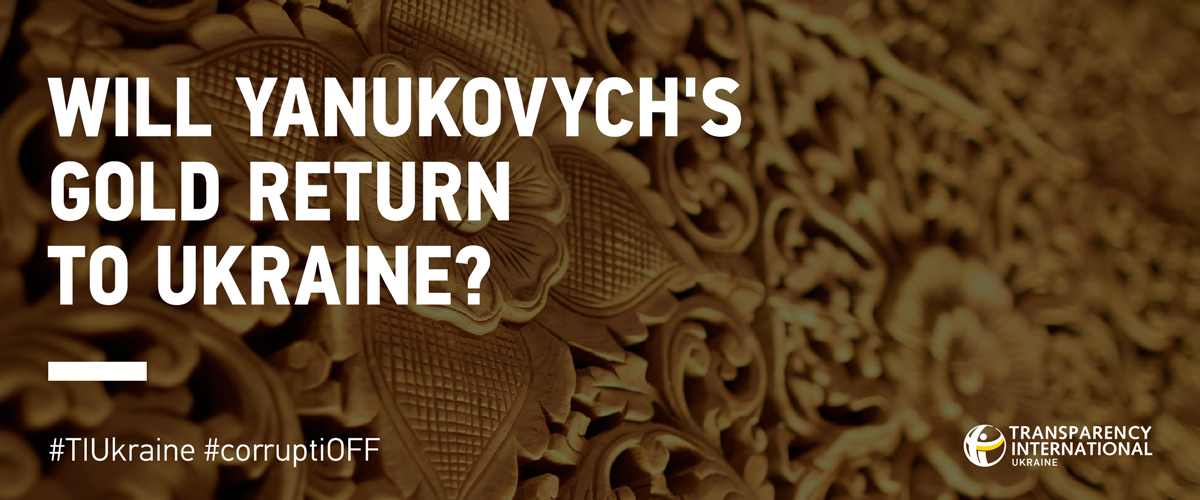 Yaroslav Yurchyshyn, Novoye Vremia
Over half a ton of gold belonging to Viktor Yanukovych's assets has been seized in a European country.
First, this was reported by the Deputy Prosecutor General Yevhen Yenin. Later, Prosecutor General Yurii Lutsenko revealed the details: the gold has been withdrawn from the safety deposit box of a Swiss bank. However, he failed to name either the owner of the treasure, or any investigation data that can enable return of these assets to Ukraine.
At first sight, this is great news, since, provided there is a court ruling on a case against the owners of the gold, Ukraine will be able to bring it back, even though a long and trying process is to be expected. That is what Tunisian authorities did in their day, bringing back part of the funds stolen by the family of dictator Ben Ali, who owned a quarter of the country's gross revenue. In that case, Switzerland alone returned $66 million to Tunisia.
Yet, numerous questions arise if we keep in mind the working style of Prosecutor General's Office.
Are there cases concerning the owners of this gold in Ukraine? We know, that the only open court case against Yanukovych and his inner circle is not about corruption but about treason. Thus, the return of the stolen funds is unlikely even in case of conviction.
Was the seizure of gold initiated by Prosecutor General's Office or by the Swiss? What is the legal status of this gold is Switzerland? After all, there is a possibility that this gold can be seized by Swiss law enforcement agencies and kept within the country.
Unfortunately, the scope of information and the way it has been presented to the society does not allow to understand the legal grounds for what is happening. Unfortunately, this behavior is typical of the current management of Prosecutor General's Office when the case has to do with investigation of high-level corruption by representatives of Yanukovych regime and the return of assets stolen by them.
Of course, Mr. Yenin is not obliged to provide further information on this case at the interview, nor is Mr. Lutsenko at the press-conference. However, judging by the prior experience with Prosecutor General's Office, we can hardly expect to receive any supplementary details from this law enforcement agency.
Just to mention one example, there was the case with the seizure of $1.5 billion of "Yanukovych organization" funds, where the court ruling is still being concealed. And it is impossible to say that it is done for witness protection, as Mr. Yenin commented in the interview. It is rather about the violation of basic requirements of legislation on public access to information.
Personal information of everyone involved in the proceedings has to be concealed in any decisions published in the Unified Register of Court Decisions. The sufficiency in law of the text of the ruling itself, as well as the list of firms and their beneficiaries from whose accounts the money was seized in the first place, are undoubtedly of exceptional public interest.
The information about assets of most prominent corrupt officials that have been seized, and especially those that might be returned, is of extreme importance for the society, first and foremost. The society wishes to understand when it can expect that at least some of the corrupt officials who spent years robbing the country will be held accountable.
Of course, it is also necessary for experts who will be monitoring the processes of investigation, return of assets and their subsequent use for the benefit of the Ukrainian people. Otherwise, any seized funds can easily turn into "Yanukovych's loaf" whose location remains unknown.
What is much worse is that Prosecutor General's Office does not share not only information on its achievements but also on its "failed" investigations. For instance, it was not Prosecutor General's Office that informed the Ukrainian society about ceased proceedings concerning Mykola Zlochevskyi or about Yurii Ivaniushchenko's name being removed from the EU sanction list. The Office representatives were supposed to provide a clear explanation about the reasons and consequences of these decisions. Instead, we find out about these things from media publications or happy news releases of former suspects.
That is why publication and systematic update of criminal proceedings concerning prominent corrupt officials of Yanukovych times remain an acute issue. TI proposed to make a public register of such investigations. But even though Yurii Lutsenko promised to create such a register to chair of the board of the global movement TI José Ugaz back in May, there is still none to be seen.
It is noteworthy that both in the case of information on investigation and seizure and return of assets, nobody is demanding Prosecutor General's Office to reveal investigation plans or breach secrecy of investigation. However, it is evident that the owners of any assets, both in Ukraine and abroad, are long aware of the situation and have the copies of respective service documents. Likewise, they are aware of the procedural decisions that have been made, notices of suspicion, pre-trial restrictions etc. Thus, the majority of this information, without going into excessive detail, can hardly hamper the investigation process.
Besides, the law prescribes the procedural time limit of one year, so the society should probably know how this limit is being observed during the fourth year of investigation.
What the society knows instead is basically that there are still some crimes of corrupt officials of Yanukovych times that Prosecutor General's Office is supposed to investigate almost four years after the Revolution of Dignity. As well as the fact that not a single indictment has been taken to court.
Therefore, the public asks more and more questions both to the quality of such investigations given a lack of information about any results and to the communication about such work on Prosecutor General's Office part.
And all of this is happening against the backdrop of inconceivable resources being used by Yanukovych's inner circle to clear their reputation and a disastrously low level of trust of the population to the authorities.
Still, law enforcement will have to report on the work they have done and results they have achieved, sooner or later – as well as on the scope of the returned and, most importantly, lost assets. It would be a bad thing if we all found out that there is nobody to hold accountable and the seized gold has turned out nothing but pyrite.
We hope that Prosecutor General Lutsenko will understand, after all, that when it comes to exposure of high-level corruption, civil society is his partner, not an enemy, and that the Ukrainian society will finally see the first trials of the corrupt "family" representatives at least this year.