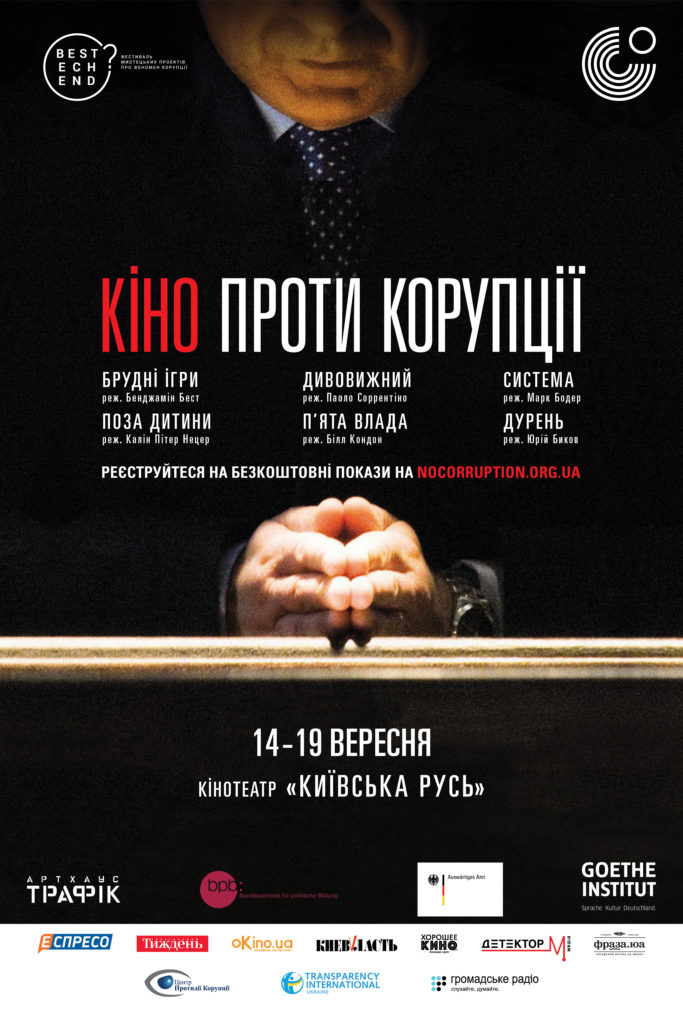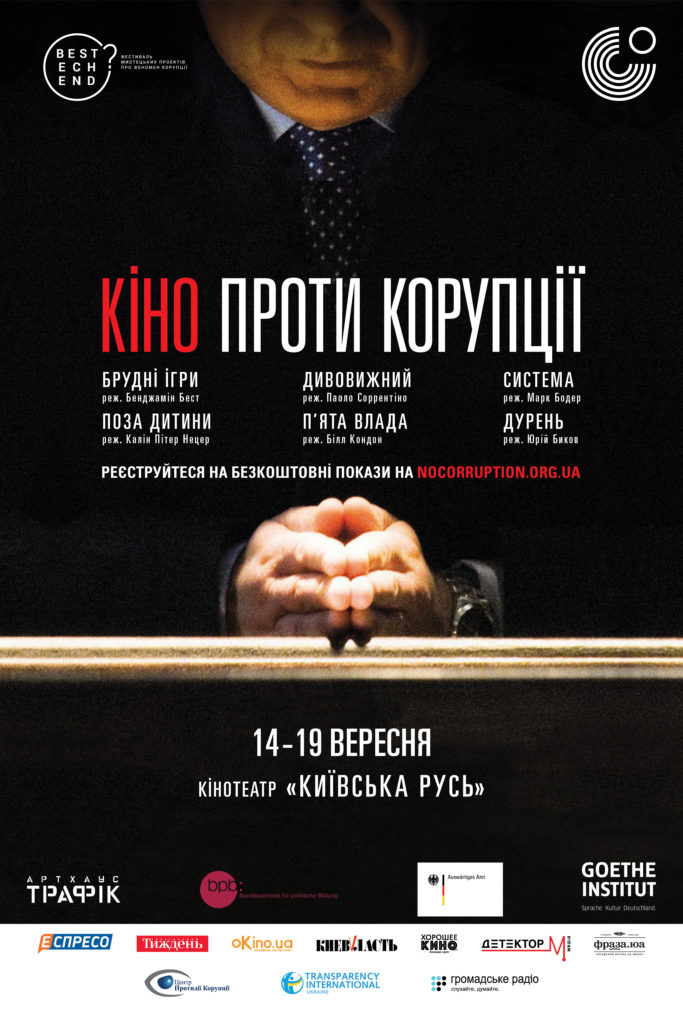 The festival will start on September 14 and take place in 6 Ukrainian cities. The program includes six European movies that research the nature of the corruption – from the blatant abuse of power by politicians and corporations to quieter everyday conflicts.
The movies represented at the festival are awardees of international cinema festivals and blockbusters in the world of documentary. Dirty Games is a documentary investigation on violation of human rights within the scope of major sporting events, as well as corruption schemes in soccer, boxing and NBA. The satirical drama by Paolo Sorrentino tells a story of the notorious Italian Prime Minister Giulio Andreotti, who has been elected for his position seven times. The movie has received the special prize of the jury at the Cannes festival. The hero of the action-packed German drama System is a young thief who, following a failed robbery, encounters the world of former state security agents of East Germany and representatives of the world lobby. Child's Pose is a Romanian drama about a car crash, whose culprit wants to get away and avoid the conviction. The movie was awarded with the Golden Bear and the prize of the International Federation of Film Critics (FIPRESCI) of the Berlin Film Festival. In the thriller The Fifth Estate, the part of WikiLeaks project founder, a known runaway and activist Julian Assange is played by British actor Benedict Cumberbatch (BBC Sherlock, Doctor Strange). Yuri Bykov's social drama Fool tells about indifference of the local authorities who put the life of 800 inhabitants of an old dormitory at risk. The movie, made in memory of Aleksei Balabanov, received three awards at the international film festival in Locarno.
The Cinema Against Corruption festival aims at showing the problem all too familiar for Ukrainians as an international phenomenon that is worth fighting against.
All the screenings are free to attend and require prior registration at noncorruption.org.ua. The festival will be opened in the Kyiv movie theater Kyivska Rus. There will be more screenings in Kryvyi Rih, Poltava, Sievierodonetsk, Zhytomyr and Zaporizhia. After Ukraine, the festival will take place in Moldova on October 19-21.
Activists and movie club managers can invite the festival to their city within the Arthouse Club project. To do this, you have to apply at club.arthousetraffic.com.
The festival is part of the joint project of Goethe-Institut Ukraine and Federal Agency for Civic Education Bestechend (Unconquerable) and is backed by the Ministry of Foreign Affairs of Germany.
Information support: Transparency International Ukraine, Anti-Corruption Action Center
Media partners: Espreso, Hromadskе radio, UkrainianWeek, oKino, KievVlast, KhorosheyeKino, Detector Media, Fraza.