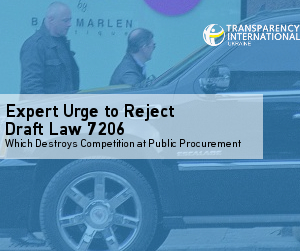 On October 17, 2017, a group of MPs from a number of factions registered draft law 7206. The authors of the document gave it the patriotic title "Buy Ukrainian, Pay Ukrainians," but its provisions lobby certain manufacturers under the populist pretext. On November 15, the draft law in question was approved before the first reading and may soon be considered at a parliamentary session.
MPs suggest giving certain preferences to "Ukrainian" business through introducing the so-called "criteria of the local component," which will be calculated on the basis of dubious formulas and will create considerable bureaucratic barriers for participants and customers of procurement alike – preparation of new questionable verification certificates, obstruction of submission of proposals etc.
The suggested "innovations" completely contradict Ukraine's international obligations. Namely, those to the World Trade Organization (in 2016, Ukraine joined the WTO Agreement on Government Procurement), to the European Union (the provisions of the draft law contradict the Association Agreement and the Free Trade Area, which came into effect on January 1, 2017).
On the other hand, this approach undermines the basis of one of the most successful reforms of the recent years – the system of public procurement ProZorro. Without guaranteed conditions for competition, procurement is at risk of once again turning into a closed market for "insiders." But this time, under the pretext of pseudo-patriotic protectionism. We are hereby bringing to MPs' notice that over 99% of participants and winners in the ProZorro system are Ukrainian companies. This number indicates that it is not necessary to introduce additional protection of Ukrainian manufacturers in public procurement.
We are convinced that the actual goal of the draft law is to have certain companies win tenders contrary to ProZorro principles. MPs want to create conditions for overpricing by enterprises which will be lobbied by certain groups. If the draft law is approved, the state will be overpaying taxpayers' money, while enterprises, without the impetus of competition, will lose motivation for development, for improvement of their products and modernization of production. Goods and services of lower quality for higher prices – those will be the consequences for Ukrainians should draft law 7206 be passed.
We call on MPs to forego rethinking the achievements of public procurement reform and reject draft law 7206 as one which allows for corruption, ruins competition in public procurement and contradicts Ukraine's international obligations.
Anti-Corruption Group of Reanimation Package of Reforms
Transparency International Ukraine
DOZORRO
Anti-Corruption Action Center
Automaidan
Eidos: Centre for Political Studies and Analysis
Center for Public Monitoring and Research
Public Control Platform
Institute of Analysis and Advocacy
Center "Anti-Corruption Platform"
Anticorruption Headquarter
Kryvyi Rih Investigation Center
Kharkiv Anti-Corruption Center
ProZorro Media Investigation Center
Center for Local Self-Government
Trypilskyi Krai
Zalisnytsia Bez Koruptsiyi
CoST Ukraine
100% Zhyttia network
Public Initiative "Za Chesnyi Tender"
Poltavska Platforma
Eastern European Academy of Sciences
Women's Anti-Corruption Movement
Filosofiia Sertsia
Moloda Cherkashchyna
Kelsen Public Rights Development Center