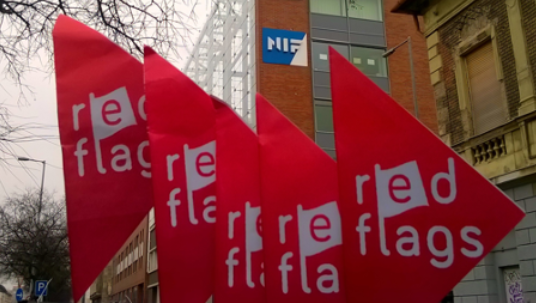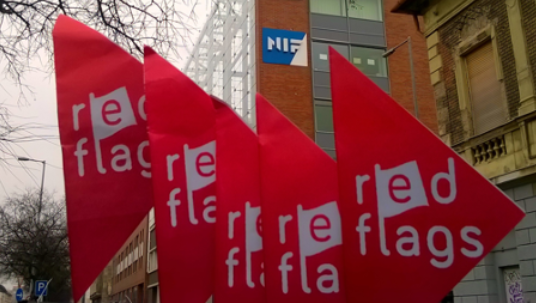 Situation in public procurement differs across countries, but very often it is associated with corruption risks. In this article, we share the experience of Hungarian NGO K-Monitor of how to control these risks.
Worldwide, public procurement sector is prone to corruption. That is why different countries are developing and implementing innovative mechanisms to track and control corruption risks in public procurement. We have already talked about the Tenders.Guru project, which was created by 5 non-governmental organizations from Poland, Hungary, Spain and Romania to prevent corruption in the field of public procurement. In Hungary, there is also another project called Red Flags, launched by K-Monitor and Transparency International Hungary in 2015 to increase transparency of public procurement.
Redflags.eu is a tool to detect risky public procurements based on 40 algorithmic indicators. The tool was designed by K-Monitor and Transparency International Hungary in 2015. Its main purpose was to create an early warning system for journalists and watchdogs to foster the investigation of suspicious tenders prior contracting in Hungary. The majority of indicators focus on contract notices, however, it also allows follow-up checks on procurements without prior notice or to evaluate final bids against price estimates and other details of the tender.
The system processes tenders on a daily basis from the European Tenders Daily (TED) database. Users can browse procurements on the site or subscribe to filters in order to receive notifications if tenders of interest are published.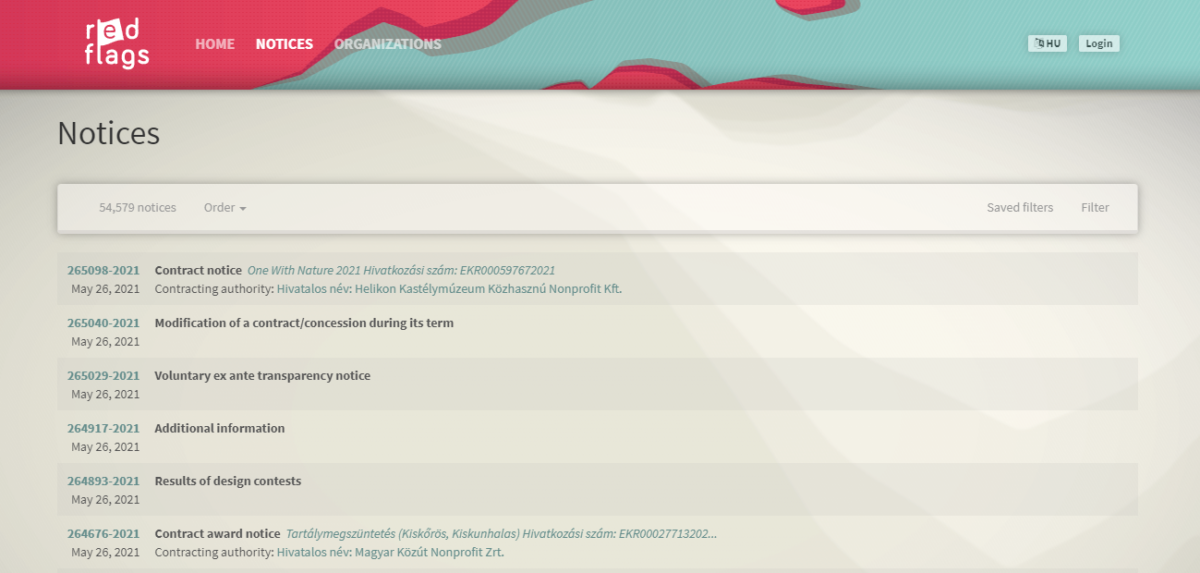 Redflags.eu is open source, its full documentation is published including API access to the database of over 50.000 Hungarian tenders conducted under the EU regime. The tool serves regularly as a base for news publication on problematic tenders, but is also a valuable resource for structured analysis.
The indicators were developed based on consultations with a pool of experts from government, business and academia, validated through statistical analysis and manually tested based on samples. Most algorithms are tailored to typical corruption risks of Hungarian procurement practice or legal compliance. Due to the lack of relevant external data sources, such as open company registry data or easy to access data from courts, almost all indicators are based on TED notices. An exception are pink flags that indicate procurements conducted or won by entities that are listed in K-Monitor's corruption and public spending database.
Risk indicators based on procurement calls flag procurements that have an exceptionally high estimated or contracted value, a low number of suppliers in framework agreements. Furthermore, an unreasonably long contract duration or the option to renew the contract several times are reasons for red flags as well. Another group of indicators focus on reference and abilities of bidders, a very common way to tailor tenders to a favoured bidder. Here the program looks at the level of required sales revenue, too narrow requirements of technical capacity, such as experiences with EU funded projects (what difference does the funding make?) or geographical restriction (eg. having a production site nearby). Other indicators look at the length of the bidding period or the type of procedures. Closed or accelerated procedures are considered to be a risk, especially if they are lacking a reasoning.
Indicators that look at award notices flag procurements with a low number of bidders, unsuccessful procedures, procedures without prior publication or significant differences between estimated and contracted prices.
The tool is mainly used by journalists and watchdog and serves regularly as a source for publication on problematic procurements.
K-Monitor piloted several applications of the tool. A couple of years ago K-Monitor presented a dashboard based on the tool that drew risk patterns of the biggest procuring entities in Hungary. The analysis pointed at typical corruption risks that regularly appear at certain types of contracting authorities, mainly in the construction sector.
Two years ago K-Monitor experimented with the development of a drum machine based on the risk indicators and even organized infomusic concerts with Hungarian Jazz musicians based on procurement data.
At the moment K-Monitor is working on indicator pilots based on Natural Language Processing within the tenders.guru project. K-Monitor staff and experts aim to develop new indicators by examining patterns in the texts of procurement notices.
This article was prepared by Sandor Lederer, co-founder and director of K-Monitor, within the project "Tackling corruption in public procurement in Ukraine and V4 countries with new approaches."
This article was prepared by Sandor Lederer, co-founder and director of K-Monitor, with the support of the Visegrád Foundation within the project "Tackling corruption in public procurement in Ukraine and V4 countries with new approaches."