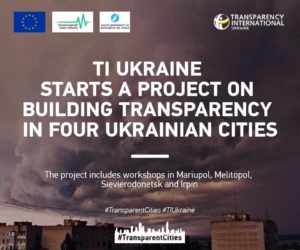 Transparency International Ukraine is starting to work on implementation of transparency in four Ukrainian cities – Mariupol, Melitopol, Sievierodonetsk and Irpin. TI Ukraine won a subgrant competition held by Center for Democracy and Rule of Law (CEDEM) with the support of the EU. CEDEM supported four civic projects, including TI Ukraine's project Make the City Transparent, Take Part in Government. 
Experts will share their experience and the best practices of increasing transparency and accountability as well as practical mechanisms for corruption prevention with local activists, journalists, representatives of city councils and everyone interested.
The project includes an information campaign that will help raise citizens' awareness of the possibilities and benefits of monitoring and control of the authorities. Besides, experts will teach the public in the cities how to improve transparency in education, social and housing services, as well as in land management and construction policy. These are the exact areas where many Ukrainian cities had extremely low levels of transparency.
Representatives of the local self-government, in their turn, will receive advice how to improve the position of their city in the rating of transparency of 100 Ukrainian cities and end up at the top.
Download press-release