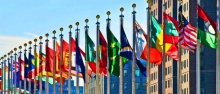 Transparency International Ukraine is joining the ParisDeclaration for Open Government Partnership, a collective action to restore democracy at the global summit on the Open Government Partnership Initiative (December 7-9, Paris). TI Ukraine will undertake commitments to work in the spheres of open public procurement, ending abuse of anonymous companies, and creating permanent dialogue mechanisms with civil society to advance implementation.
The French government along with the Open Government Partnership (OGP) Steering Committee encourage national governments and civil societies to put tasks which shall become additional in the agendas on open government in other countries and all over the world. The declaration aims to illustrate united efforts and tools for the promoting of open governance. These themes were determined as priorities in many National Action Plans on Open Government Partnership. The call for collective actions will be highlighted during the summit and presented to the mass media.
The Declaration is a major opportunity for national governments and NGOs to demonstrate their work, to support colleagues using practical tools and expertises to implement reform in open governance. The OGP Steering Committee expects governments and civil societies of the OGP member countries will take one to three of the 21 proposed collective commitments.
To sign collective commitments please answer the following questions:
– How is your government (national or regional) or civil society going to contribute towards the implementation of this collective commitment?
– Can you share a digital tool to help the implementation of this collective obligation? Can this tool be added to the set of established tools for OGP?
Considering the strategic priorities of TI global movement and the current activities of TI Ukraine, Transparency International Ukraine takes the following collective commitments:
●      open public procurement;
●      ending abuse of anonymous companies;
●      creating permanent dialogue mechanisms with civil society to advance implementation
Commenting on Ukraine's participation in the Paris Declaration, Olesia Arkhypska, a member of the OGP Coordination Council, and expert in governance of TI Ukraine stressed the following: "In July wecalled for the  transformation of the system for interactions between civil society and authorities and the development of transnational platform of stakeholders. We welcome the Paris Declaration, which provides the opportunity to take and, more importantly, implement commitments, as well as it is a strong challenge for all of us at the global level".  
The Ukrainian Cabinet of Ministers, considering the commitments, which will be determined in the Action Plan for implementing the Open Government Partnership in 2016–2018, propose to support the following collective actions.
The Open Government Partnership Initiative begun in 2011 as part of the UN General Assembly session in Brazil. Ukraine joined the initiative, having signed the declaration. Currently, 70 countries participate in implementation of the Initiative.
Recently Transparency International Ukraine presented the chronology of the Initiative implementation in Ukraine.