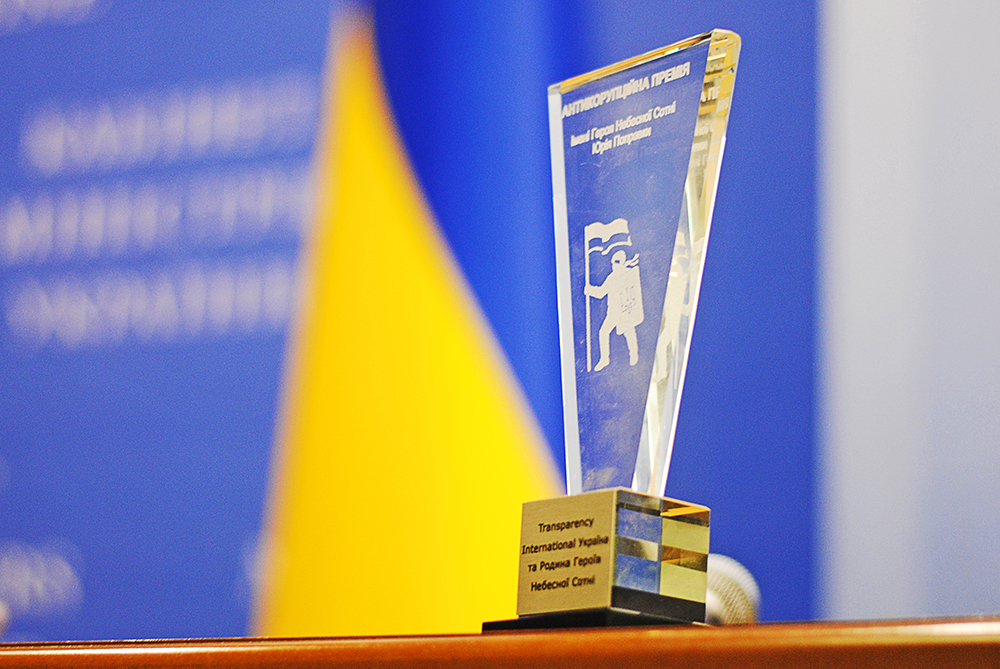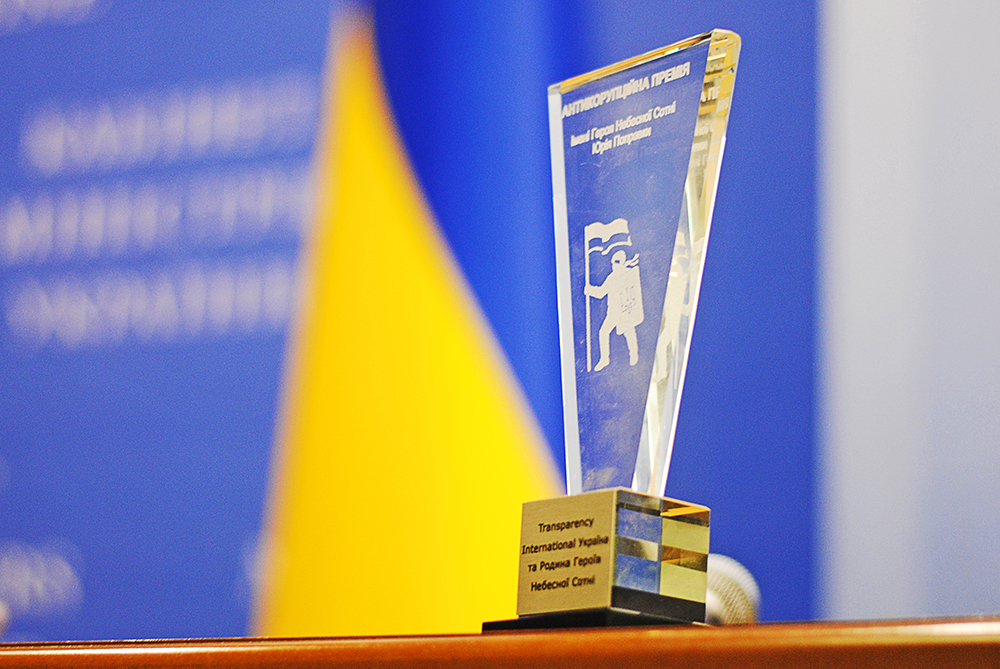 December 9th marks the annual International Anticorruption Day. Each year Transparency International Ukraine holds extensive activities on this day, aimed at drawing Ukrainians' attention to the problems of corruption, and to teach them anticorruption rules and to protecting their rights.
This year, TI Ukraine together with the families of the 'Heavenly Hundred Heroes' were presented with the anticorruption initiative special award, named in honor of Yurii Popravka, a Heavenly Hundred Hero (one of the martyrs of the Euromaidan), who showed exceptional courage during the Revolution of Dignity. The Yurii Popravka anticorruption award will be the best way to honor him and stress that his sacrifice was not made in vain.
The organizers of the anticorruption award intended to support activists, who are not afraid to go against corrupt system in their respective towns and struggle for their rights like the Heavenly Hundred Heroes for our right to live freely. The organizers received 50 applications and the jury selected the most active and effective people, who now inherit the helm from the Heavenly Hundred.
At a forum dedicated to the International Anticorruption Day, anticorruption NGOs and regional communities met to exchange experiences, the organizers awarded three winners in the following nominations: journalists: investigators and opponent of the system. Preferences were given to anticorruption activists trying to make changes at the regional level and do not have wide support of famous Ukrainian mass media. The winners were:
Natalia Zabolotna – opponent of the system
Natalia Zabolotna is a civil activist in Zaporizhzhia. She made 24 regional corrupt officials to bear liability for their actions, saved about 50 mln of budget funds and made significant correction to the Law "On Access to Public Information".
According to her inspection of the Zaporizhzhia regional clinical infectious hospital , law enforcement bodies opened a criminal proceeding afterwards. In 2016, specialists exposed schemes of orphans trafficking uncovered by Natalia. Due to her efforts in the defense sector, embezzlement in humanitarian assistance was stopped.
This woman is a real opponent of the current corrupt system. She was nominated by 11 persons this year.
Oleksandr Voloshyn – journalist – investigator
Oleksandr Voloshyn was an intern for the program "Schemes: Corruption in details" (Radio Svoboda). Some his materials became famous such as the story of the former Odesa prosecutor and ex-deputy prosecutor of Odesa region, Yurii Trunov, alleged abuse of representatives of a famous university of Odesa, whose honorary president is Kivalov, as well as relations of Odesa authorities with local business elites and criminals.
Currently Oleksandr is preparing material on abuse in procurement by one of Odesa university amounting to ten of millions of hryvnias. We hope that anticorruption award will help him avoid pressure from the system and stress that NGOs stand for him.
Viktor Smalii – opponent of the system
Viktor Smalii was a major opponent of the Yanukovych regime, one of the founders of Avtomaidan and ideologists of lustration. He was an active participant of Maidan and further events in Eastern Ukraine. He has a wide range of activities starting from legal assistance for war volunteers, protection of journalists to active involvement in the process of the Heavenly Hundred Order and implementation of the so-called "Savchenko's law". He contributed to make the criminal proceeding of the prosecutor's office on murders of Volodymyr Rybak, Yurii Diakovskyi and Yurii Popravka (Ukrainian activists). He covered of Russian militiamen on Ukrainian territory.
For his civil position he got in jail.Even in jail under the Yanukovych regime, he provided assistance for detainees. As a result result, they were set free.
The award was presented by Yaroslava Popravka, Yurii Popravka's mother
As Yaroslav Yurchyshyn, the Executive Director of TI Ukraine stressed: "We are sure that corruption is one of the most serious diseases in our society, which can be overcome by the change of attitude of ordinary Ukrainians from tolerance to its absolute rejection and struggle. So, together with families of the Heavenly Hundred Heroes we encourage each of you to defend your principles and ideals and not to be afraid to go against the system and build a new Ukraine free from corruption".
The organizers of the forum, where the awards were presented, were Nova Kraina Civil Platform, Reanimation Package of Reforms, joint government and civil initiative "Together against corruption", YouControl analytical platform, International Development Law Organization, Chesno movement, AXIOS center.