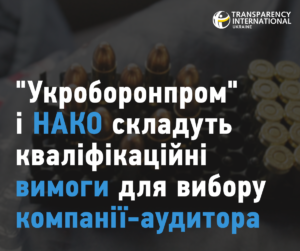 Experts of the State Concern Ukroboronprom and the Independent Defence Anti–corruption Committee (NAKO) will jointly define qualification requirements for holding a tender or engaging an international consulting company as a part of the reform strategy.
The involvement of a leading international company with global experience in transformation and optimization within the sector is an important process of reforming Ukroboronprom in accordance with the best international practices.
The Independent Defence Anti-corruption Committee established by Transparency International, after a number of working meetings with the management of Ukroboronprom, confirmed its readiness to take part in creating special qualification requirements for the international audit company, which will be selected during the tender for conducing an analysis of the Concern's financial and economic activity.
"In the framework of the defence and industrial reform implementation, an important step is the transformation of participating entrepreneurs of the State Concern Ukroboronprom and corporatization of the Concern's enterprises to the standards of corporate management approved by the OECD," stated Ukroboronprom Deputy Head Denys Hurak.
NAKO will in its turn assess the transparency of the consultant selection process and its compliance with the best international practices and standards. Preliminary consultations will last till the end of March. After that, Ukroboronprom will develop jointly with NAKO  the ToR and hold a tender on the procurement of the stated services.
Besides, the  Defence Anti-corruption Committee undertook a commitment to organize the work of consultants concerning the implementation of the international corporate standards and fundraising. NAKO will assist in a transparent collaboration with consultants and provide consultants for the implementation of OECD principles in the field of the Ukroboronprom management," said the anti-corruption NGO's Co-head Oleh Rybachuk.
#
Contact for media: Sevhil Musaieva, sevamusaeva@gmail.com, +380 502171817
The National Anti–corruption Defence Committee (NAKO) is a joint initiative established by Ukrainian activists, journalists and international experts to fight corruption in the Ukrainian defence sector.  The NAKO is a national-international project of Transparency International Defence & Security and Transparency International Ukraine, and is supported by the Ministry of Foreign Affairs of the Netherlands. http://bit.ly/2jls9iH